6 Ways to Quench Dehydrated Skin
Cold weather can wreak havoc on your skin -- here's our foolproof routine for nourishing a thirsty, dehydrated dermis
Posted on November 22, 2018
Written by: 100% PURE®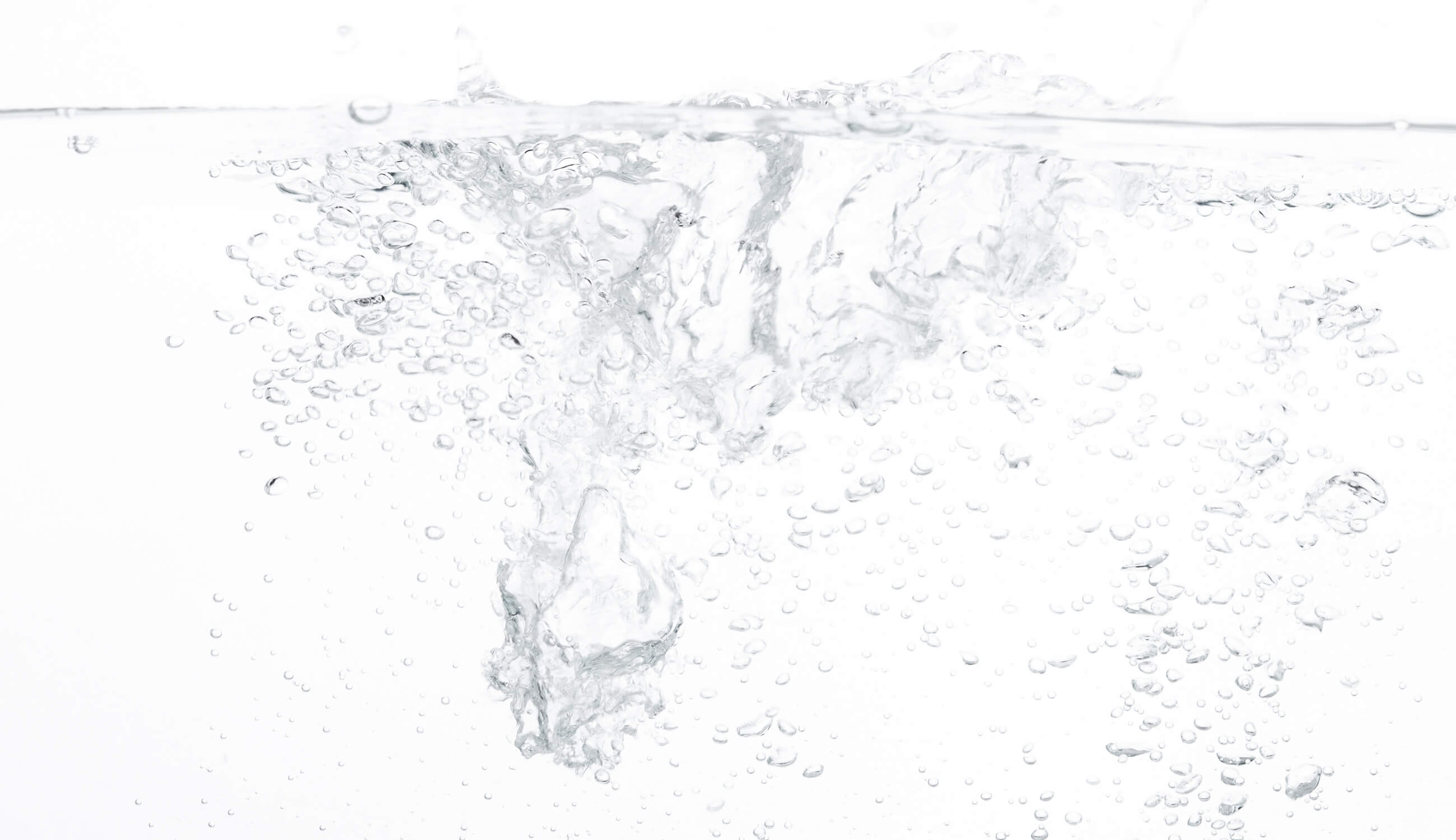 It may *technically* be fall, but our skin is already feeling the effects of the winter chill. The crisp arctic air feels refreshing in our lungs, but it's wicking the natural oils and moisture right off the surface of our skin. The rapid temperature changes and dry air can lead to dry irritated skin, breakouts, redness, blotchy skin tone. Let's not forget that tight, uncomfortable feeling that comes with having under-hydrated skin. We're happy to bring you a short skin care guide for quenching your thirsty, dehydrated skin with all the natural nutrients it needs to thrive. Check out the steps below to discover a richly moisturizing routine, complete with new and familiar skin care stars!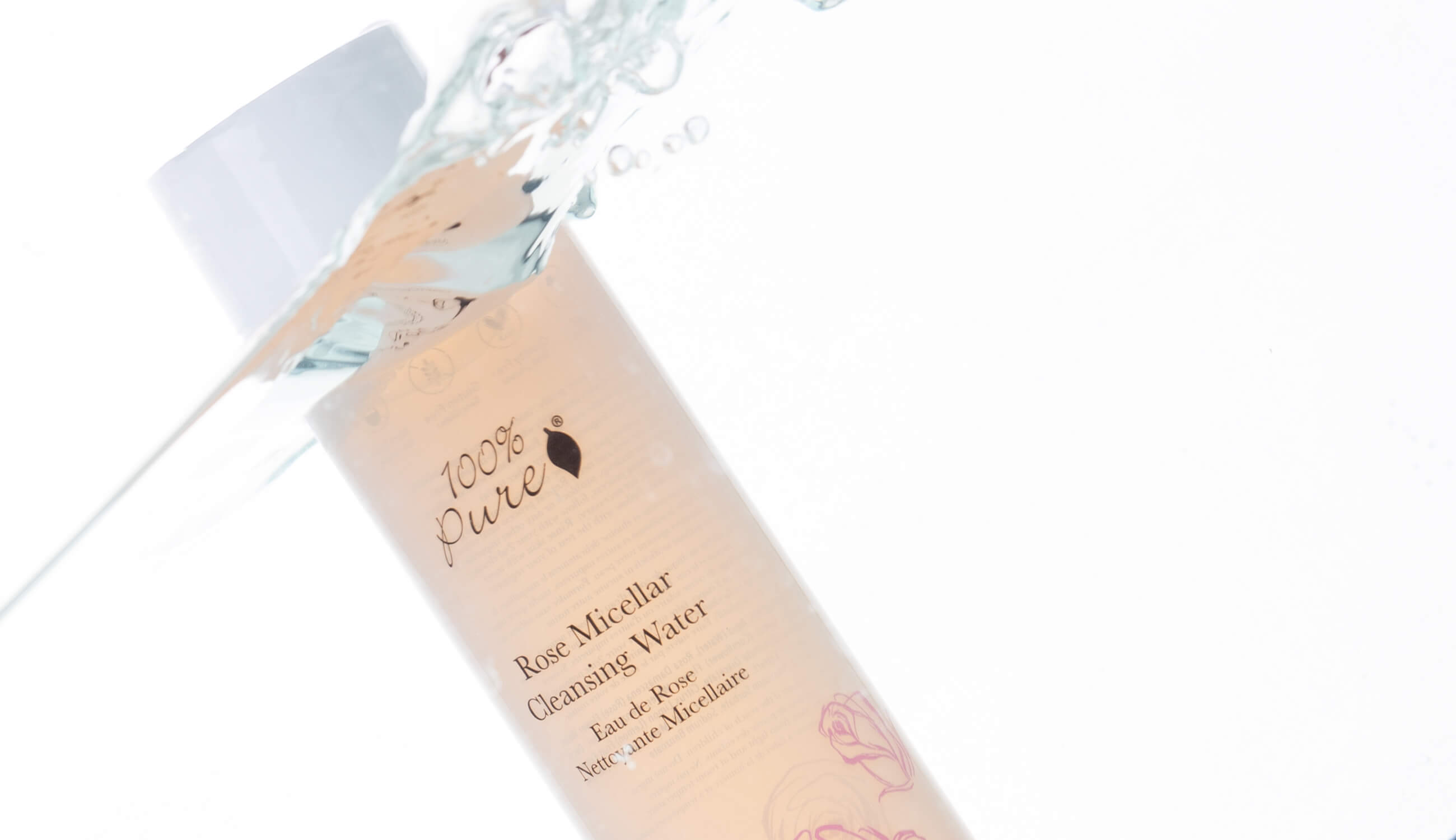 First Things First: Use a Hydrating Facial Cleanser
Say hello to your new favorite cleanser. Our Rose Micellar Water is a newcomer to the 100% PURE product range, but the ingredients are already besties with your skin. Soothe away redness with rose flower water, one of the prime ingredients in this micellar water. Lemon extract brings gentle antibacterial power and an angelic glow from the potent vitamin C. This ingredient fights age-causing free radicals and boosts collagen production in the skin for a plumper, smoother skin texture.
Another anti-aging powerhouse, grape leaf extract, helps with fine lines and dry skin while it deeply hydrates. Excellent for scarring and blemishes, juicy grape extract leaves skin with a more even tone and a deep quench of moisture surprising from such a cleansing product. Look to the glycerin, mallow and cornflower to soothe crepey skin and severe dehydration while this cleanser removes all the dirt, oil and debris right off of your skin. Simply saturate a cotton ball or pad, glide over skin in upward motions and see the brightened, hydrated results.
Next, Use a Hydrating Toner
The Restorative Sea Culture Hydrating Toner may already be a favorite in your daily beauty regimen, and for good reason. As a toner, it follows your cleanser with additional cleansing power to make sure pores are swept free of any stubborn dirt. As the first hit of moisture after cleansing, it sinks deep into the skin and hand-delivers key nutrients that play a major role in how our skin behaves and feels throughout the day. This natural and vegan toner features a balancing blend of herbal extracts, deeply hydrating waters and acids, and a couple sea-sourced ingredients for all you sirens out there.
The base of this toner is chia seed water which is anti-aging, anti-inflammatory and rich in fatty acids for hydrated, more youthful skin. Natural astringent witch hazel helps fight acne, clear bacteria and reset skin for the perfectly primed surface for your serum. Sea kelp blasts away dryness and softens skin while detoxifying algae contributes anti-aging minerals that help our skin behave its best. Blood orange, bergamot, lavender and sage neutralize any remaining bacteria, brighten the skin and calm irritation.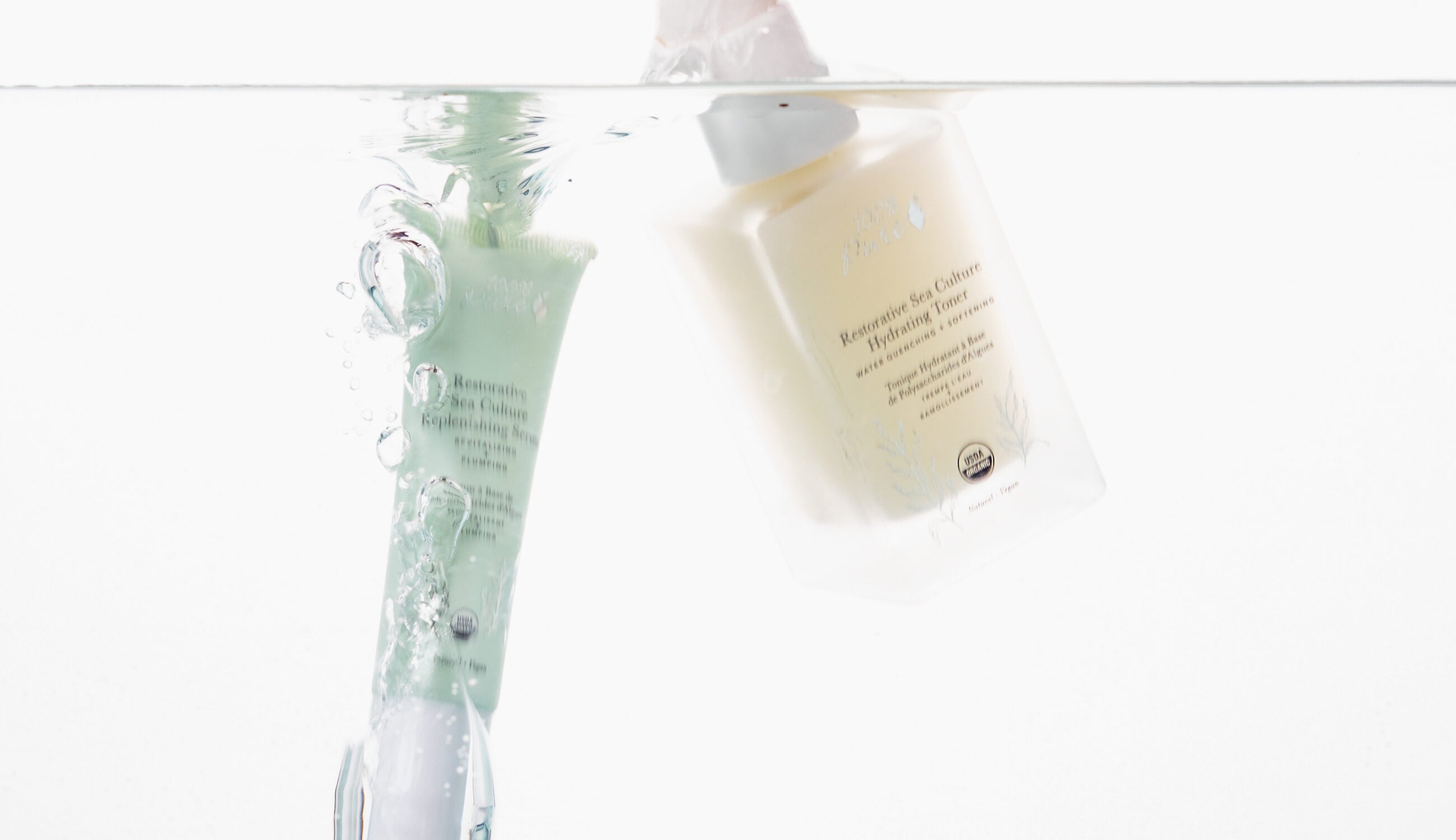 Use a Serum to Deeply Nourish Dehydrated Skin
We know all the ingredients and benefits of the first two products have you drooling, and this next step is sure to not disappoint. The Restorative Sea Culture Replenishing Serum has a few of our favorite ingredients from the toner: mineral-rich sea kelp to help the skin retail moisture, anti-aging algae to condition the skin and chia water for all that soothing power. Enjoy the intensely hydrating hyaluronic acid and glycerin in this serum to act as humectants, preserving and pulling additional moisture into the skin. This serum also includes that similar blend of essential oils namely brightening blood orange, toning cedarwood, balancing bergamot and calming lavender. Use this serum morning, night and even as a midday refresher on clean skin to get ahead of cold weather dryness fast and get back to bouncy, glowing hydrated skin strong enough to take on any temperature.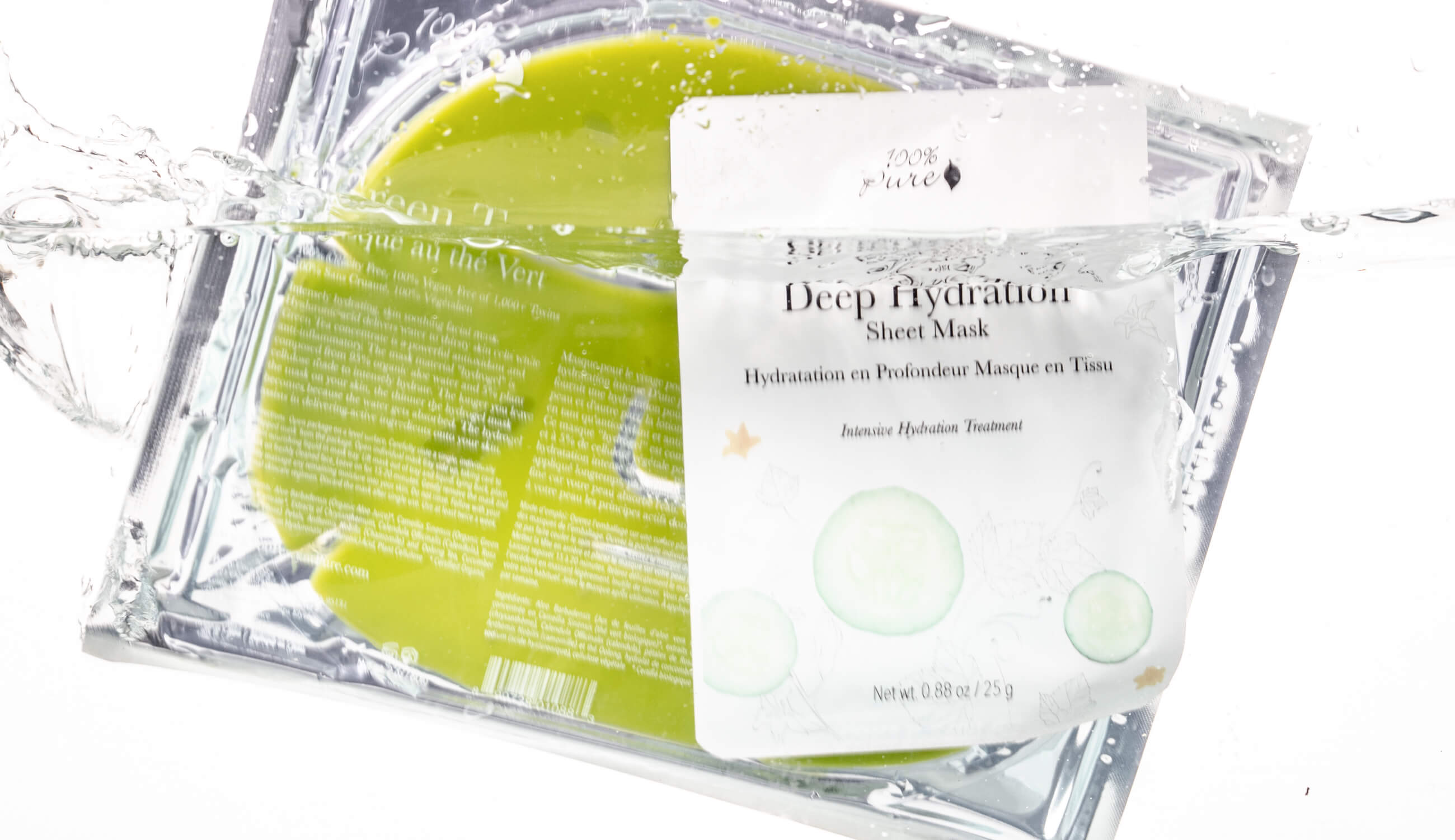 Apply an H2O-Packed Mask
This is the point in your routine when you get the ultimate spa treatment with a super hydrating sheet mask. Choose from one of our two top recommendations, either our Green Tea Water Bomb face mask or the Deep Hydration Sheet Mask.
Deep Hydration Mask blends soothing aloe, hydrating cucumber along with hyaluronic acid and vegetable glycerin for mega moisture. Anti-aging, antioxidant ginseng along with retinol derived from vitamin A and a luxurious blend of florals including ylang ylang, chamomile, honeysuckle and everlasting flower oil soften and soothe skin while delivering the most hydration possible for skin so smooth and hydrated it feels like silk.
Another mask option is our Green Tea Water Bomb mask. The green and oolong teas in this skin topper make for great anti-aging results with protecting antioxidants natural to the tea. Cucumber and hyaluronic acid work together to hydrate our skin while rose, chrysanthemum and chamomile soothe any inflammation, redness and unbalanced skin behavior for a reset on our skin.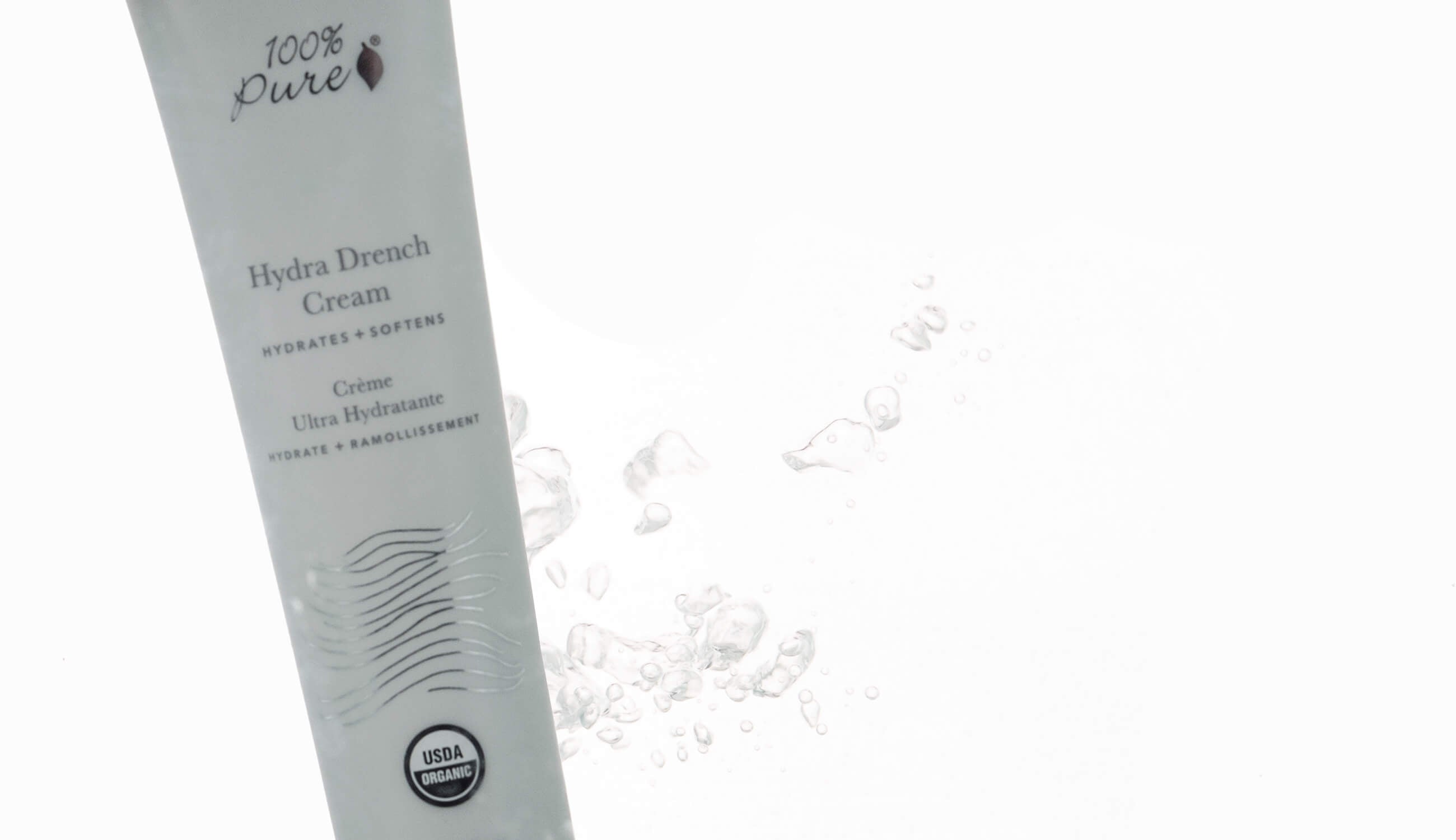 Use an Oil-to-Water Balanced Moisturizer
Finish up with our luxurious Hydra Drench Cream. While it is deeply moisturizing, very hydrating and soothing for the skin, the formula feels lightweight and sinks in easily for fast results. One of the key players in this cream is our chia seed gel. It hydrates like aloe vera or hyaluronic acid, but tones and tightens with all the protein and omegas naturally found in the seeds. The creamy texture comes from the blend of the chia gel, coconut oil and shea butter and the natural, transformative fragrance comes from the floral and herb extracts working to calm and balance skin. This combined with the rose water, glycerin, hyaluronic acid and cactus extract blast the skin with moisture that makes us feel refreshed and ready to apply our SPF and beauty products.
If you've done some *almost* irreversible damage to your skin during the start of the cooler months, don't fret. Our Retinol Restorative Overnight Balm acts as a miracle worker while you sleep. Rich and fatty avocado butter and carrot-derived retinol boost radiance and plump the skin for that bouncy texture and softer feel.
Make Sure Your Makeup Finishes the Job
The last step is totally optional, but we wanted to provide you with a beauty option that maintains your hydrated skin goals. We make the best foundation for dry skin, because it includes natural ingredients, fruit pigment as opposed to fillers and synthetics, and hydrating elements from aloe and fruit oils. The Hydra Drench moisturizer acts as the perfect primer thanks to the glycerin in the formula, and this foundation feels like a soothing, creamy dream without weighing us down. Use all of these steps together or pick the products that you're itching to try the most to ensure your skin makes it through the harsh winter weather.
We carefully hand-select products based on strict purity standards, and only recommend products we feel meet this criteria. 100% PURE™ may earn a small commission for products purchased through affiliate links.
The information in this article is for educational use, and not intended to substitute professional medical advice, diagnosis, or treatment and should not be used as such.
Sign up to our email newsletter for more blog updates and exclusive discounts.
< Older Post | Newer Post >