6 Great Stocking Stuffer Ideas
We've got some great stocking stuffers just in time for the holidays!
Posted on November 3, 2022
Written by: 100% PURE ®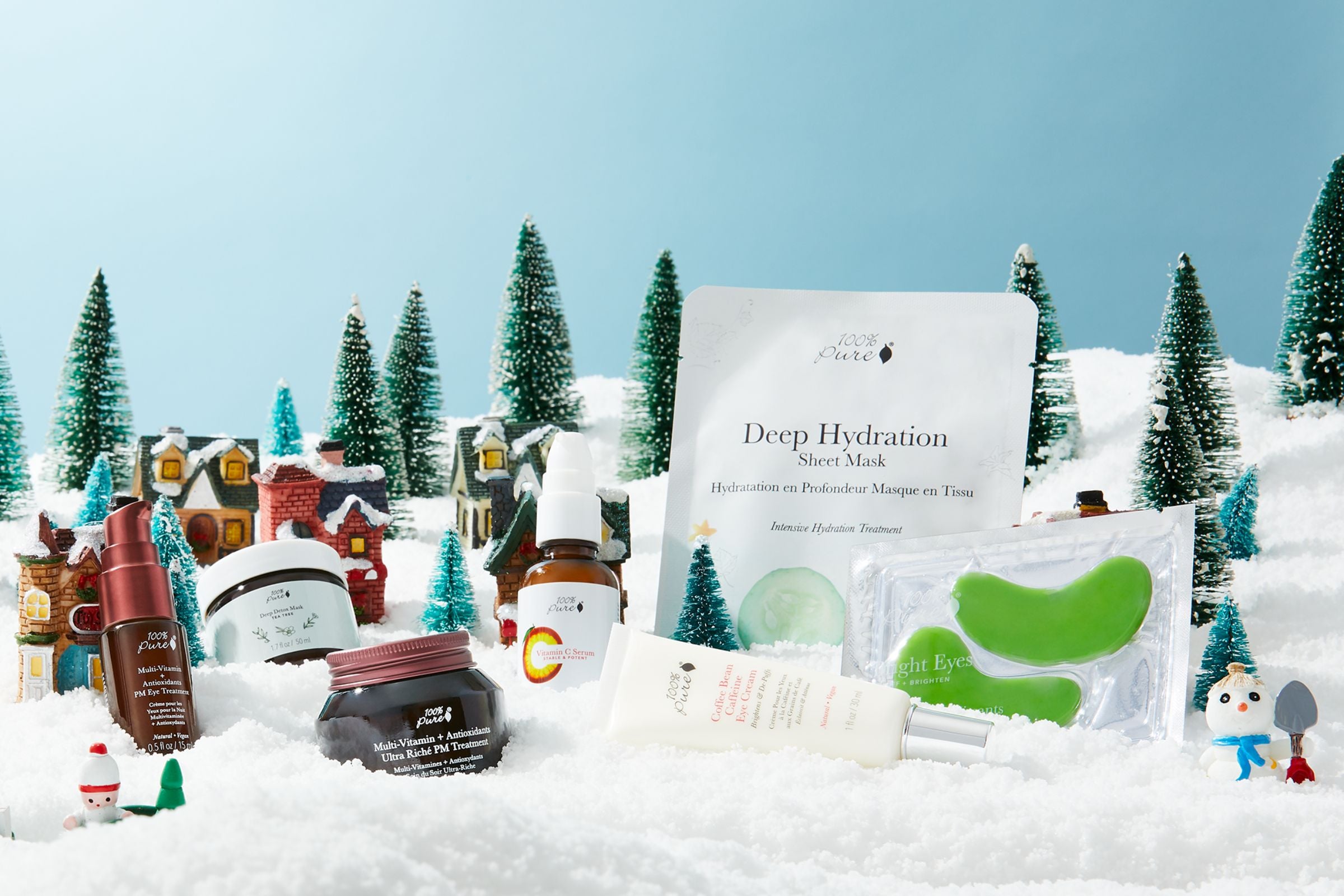 Maybe it's biased of us to say it, but there's no better stocking stuffer than beauty goodies. Whether it's body care, makeup, or even nail polish, there's something out there for every loved one.
But let's make those stockings even better with vegan, cruelty-free beauty products!

Here is our guide to stocking stuffer ideas for women in 2022!
Nail Polish
Nail polishes are stocking stuffers we all enjoyed as teens, but they're just as great as stocking stuffer ideas for women! Make their manis even better with some of our vegan, cruelty-free nail polishes, which we've made without the twenty common toxins found in conventional formulas.
During the holidays, we especially recommend some ultra festive shades like our Oat Milk, Over the Maroon, and Blackberry Woods. But if you're looking for some serious bang for your buck, look no further than the BFF Nails Bash bundle.
Candles
Maybe you have that family member or friend who has everything they need when it comes to skincare and beauty. In that case, make their evening routine extra special with a Soy Wax Candle.
Each candle is made with an assortment of essential oils for some natural aromatherapy, and features upcycled glass and a cotton wick. For someone who loves warm, citrusy blends, we recommend our Citrus Grove Soy Wax Candle. For those who could use a little de-stressing, we recommend our Forest Rain Soy Wax Candle.
Finally, our Summer Sunset Soy Wax Candle is perfect for those who love a morning candle, featuring the aromatic herb blend of rosemary and lavender, along with the energizing boost of bergamot.
Newsletter
Subscribe
for more blog updates and exclusive discounts
Lipsticks & Balms
Lippies make the perfect stocking stuffer ideas for women, especially when you stick with hydrating formulas. Help the women in your lives protect their lips from the cold dry air with hydrating lipsticks like our Fruit Pigmented® Pomegranate Oil Anti-Aging Lipstick, which provides plumping, nourishing benefits. Meanwhile, our Fruit Pigmented® Lip Glosses provide a luxe shine with the bonus of juicy lips thanks to vitamin E and antioxidants.
Or, if you're looking for some truly nourishing lip savers, our lip balms protect and hydrate with skin-loving botanicals. Our Lysine + Herbs Lip Balm includes the amino acid lysine to soothe burning and itching, while our Organic Mint Lip Balm softens and cools with vitamin E, peppermint and eucalyptus. Or for a lip balm that's as fruity as it's restoring, our Cherry formula calms the lips with calendula and coconut oil.
Can't decide on a lip balm? Enjoy them all in our My Lips BFF bundle.
Eyeshadow Palettes
For the makeup lover in your life, you can't go wrong with a solid eyeshadow palette. Fill their stocking with any of our Fruit Pigmented palettes, which include the following:
Fruit Pigmented® Rose Gold Palette
Whether it's for the holiday parties or creating an everyday look, this rose gold, metallic-rich features shades that will flatter every skin type. Featuring pigments from antioxidant-rich fruits, vegetables, and other skin-loving botanicals, this palette includes a highlighter, blush, and three stunning eyeshadow shades.
Fruit Pigmented® Better Naked Palette
For someone who loves that subtle clean girl look, our Better Naked Palette makes the perfect choice. With rosy hues, taupes and nudes, this palette is perfect for that glowing, radiant finish
Fruit Pigmented® Berry Naked Palette
Nothing says "winter" like some stunning berry shades. With metallic tones, nudes, and blushes, this vibrant palette is versatile enough for creating both daytime and nighttime looks. Our Berry Naked Palette is a collection of classically flattering nude, blush, and metallic tones.
Skincare
Nothing says "I love you" during the holiday season like high-quality, natural skincare products. Whether that friend or special-someone is just getting into skincare or they're a full-on fanatic, you can't go wrong with a skincare bundle that'll save you some money.
Watermelon + Cucumber Hydration Kit
This is the trio that will provide not only fresh, watermelon-y goodness, but also the benefits of long-lasting, plumping hydration. This kit features our Watermelon Cucumber Water Locking Mist, our Watermelon Cucumber Water Locking Moisturizer, and our Watermelon Cucumber Water Locking Serum. Formulated with hyaluronic acid derived from sweet potatoes and polyglutamic acids from natto beans.
Retinol Restorative Duo
With this retinol duo, you're giving loved ones the gift of an anti-aging double-whammy. This retinol duo features our Multi-Vitamin + Antioxidants PM Eye Treatment, which deeply moisturizes and nourishes the eye area with vitamins and retinol. Complete it with our Retinol Restorative Neck Cream, which works to fade the appearance of fine lines and wrinkles, while squalane and hyaluronic promote a plumper, glowing appearance.
Fruit Pigmented® Berry Naked Palette
If your friend or family member is new to skincare, start them off right with the Overnight Essentials Trio! This set keeps it simple while doing it all with our bestselling Multi-Vitamin + Antioxidants Potent PM Serum, which uses a synergistic blend of stabilized vitamins to reduce the appearance of wrinkles and promote elasticity. This serum pairs beautifully with the Retinol Restorative Overnight Balm, which locks in moisture with plant oils while retinol renews. To top it off, complete it with the Green Tea Water Bomb Mask for a night of hydrating self-care.
Body Care
As much as winter is about the festivities, it's also about the cold, dry weather. We also tend to wash our hands more often (hello, flu season), which can leave our hands chapped and dehydrated.
Help your loved ones keep their skin soft and hydrated this year with these body care favorites.
Mini Body Scrub Trio
Treat your family and friends to this mini trio of our bestselling body scrubs, which include Lavender, Coconut, and Blood Orange. Divide them among friends or give them all to a special someone!
Virgin Coconut Shower Gel & Body Cream
Give them a mini tropical vacation with our Virgin Coconut set. This nourishing duo features our light and refreshing Virgin Coconut Shower Gel, which gently lifts dirt while replenishing dry skin. Complete the set with our silky-smooth Virgin Coconut Body Cream.
Animals Rescue Set - Multi Masking Duo
Give your loved ones the gift of hand protection this year with our non-greasy hand cream duo. Made with nourishing cocoa butter, avocado and shea butters, these antioxidant-rich hand creams promote smooth, supple skin with the added aromatherapy benefits.
We carefully hand-select products based on strict purity standards, and only recommend products we feel meet this criteria. 100% PURE™ may earn a small commission for products purchased through affiliate links.
The information in this article is for educational use, and not intended to substitute professional medical advice, diagnosis, or treatment and should not be used as such.
Sign up to our email newsletter for more blog updates and exclusive discounts.
< Older Post | Newer Post >