5 Benefits of Using Witch Hazel on Your Skin
The ultimate ingredient for oily or acne-prone skin.
Posted on January 11, 2023
Written by: 100% PURE®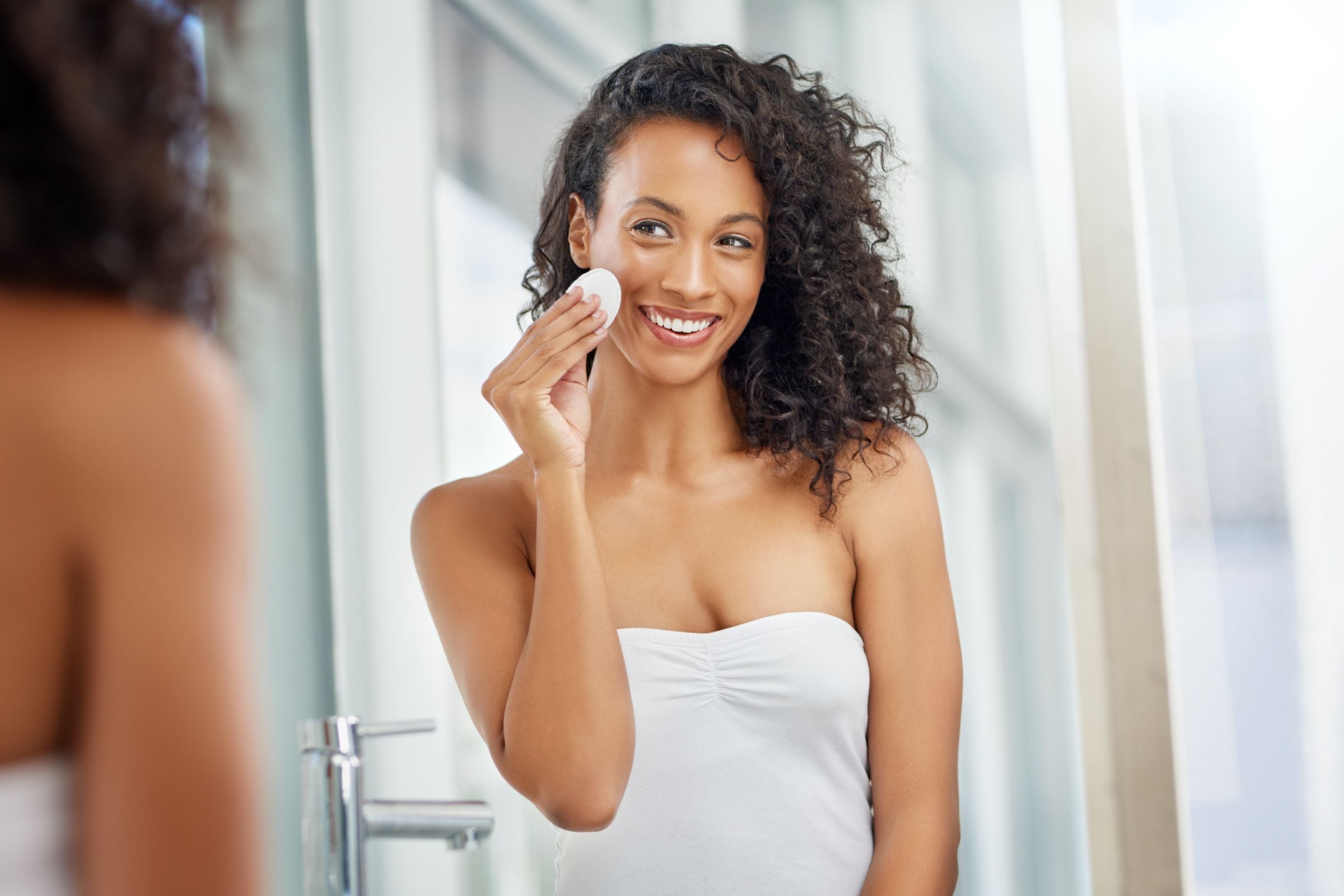 What is Witch Hazel?
For centuries plants have been used to solve skin woes. One such herb, that is a favorite among the skincare community is Witch Hazel. The clear liquid is extracted from the bark, leaves, and twigs of Hamamelis Virginiana. This yellow-flowered herb is mostly found in China and America. Witch Hazel is also called a natural astringent as it not only cleanses the skin but also tightens the pores. Due to its multi-purpose nature, witch hazel is used in many skincare products.
What is Witch Hazel used for?
Witch hazel is proven to heal minor skin issues like inflammation, acne, insect bites, irritation, dryness, and much more. Beauty experts recommend it for solving skincare issues like under-eye puffiness, active acne, open pores, uneven skin tone, etc.
Can Witch Hazel dry out the skin?
Witch hazel is best suited for oily skin as it can soak the excess oil. However, if this natural ingredient is used more frequently it can dry out the skin. This is why it's only best to use witch hazel till you are facing an issue and leave it as soon as the problem gets solved.
How to know if Witch Hazel is good for your skin?
It's always daunting to try a new skincare ingredient as the internet is filled with mixed reviews of everything. You might be wondering if witch hazel is good for your face. The best way to know is to do a patch test.
Before the patch test, read all the ingredients mentioned in the product to check that it doesn't has something you are sensitive to. Once this step is done, take the witch hazel product and apply it on a small portion of your skin. The best area to try it would be either your neck or hand.
If there is no adverse reaction on your skin after a few hours, then you can add it to your skincare routine.
5 Benefits of Witch Hazel
If you want to learn how witch hazel benefits the skin in detail then keep reading, below we have discussed its benefits in detail.
1. Relieves Inflammation

The anti-inflammatory properties in Witch Hazel help kill bacteria and quickens the process of cell regeneration. People apply it directly onto the inflamed skin and then it works its magic to reduce its appearance. The skin could be inflamed due to any reason like sunburn or allergic reaction, the tannins and polyphenols in witch hazel would heal it nonetheless. It's one of the few FDA-approved ingredients that are safe to apply topically.
2. Reduces Skin Iraritation

Witch hazel has anti-inflammatory properties, which makes it great to use for minor skin irritations. As it's gentle on irritated skin, a lot of diaper rash creams have it as an active ingredient. Another skin condition that massively benefits from the temporary relief that witch hazel provides is hemorrhoids. The medicinal plant is also great for treating poison ivy and nettle stings. The best way to calm the irritated skin is by using a gel or ointment that contains witch hazel. Apply the content of the product on your skin with delicate hands. The tannins present in witch hazel will quickly help the irritation.
3. Fights Acne

Oily skin is never truly safe from getting acne. As soon as the pores get clogged due to excessive oil, sebum, and dead skin cells, the acne starts flaring up. Witch-Hazel can soak up the extra oil. Due to its antibacterial properties, it helps in deep cleaning the acne infection. Witch hazel also tightens the blood vessels and that reduces the redness of the skin.
Newsletter
Subscribe
for more blog updates and exclusive discounts
4. Alleviates Scalp Sensitivity

You know a skincare ingredient is a must-try when it works well for the skin of both your face and scalp. Skin conditions like psoriasis and eczema make the scalp extremely sensitive to any product that touches it. It even makes it difficult for the person to use regular shampoo and conditioners, this is why dermatologists recommend special products that are effective for extra-sensitive scalps. Witch Hazel can even be applied directly on the scalp to eradicate the sebum and dead cell build-up. For sensitive scalps, it is highly recommended to use witch hazel by diluting it in water. After using it, your scalp will be clean with no flakes and dandruff with reduced redness.
5. Protects Against Skin Damage

The medicinal plant is a natural disinfectant which is why it works efficiently in healing cuts and wounds. As an antiseptic agent, it cleans the cut and doesn't let the infection spread. Also unlike alcohol, it doesn't irritate the skin witch hazel calms it. This is why if you spot a zit or your pimple starts bleeding, wipe it with witch hazel-based toner.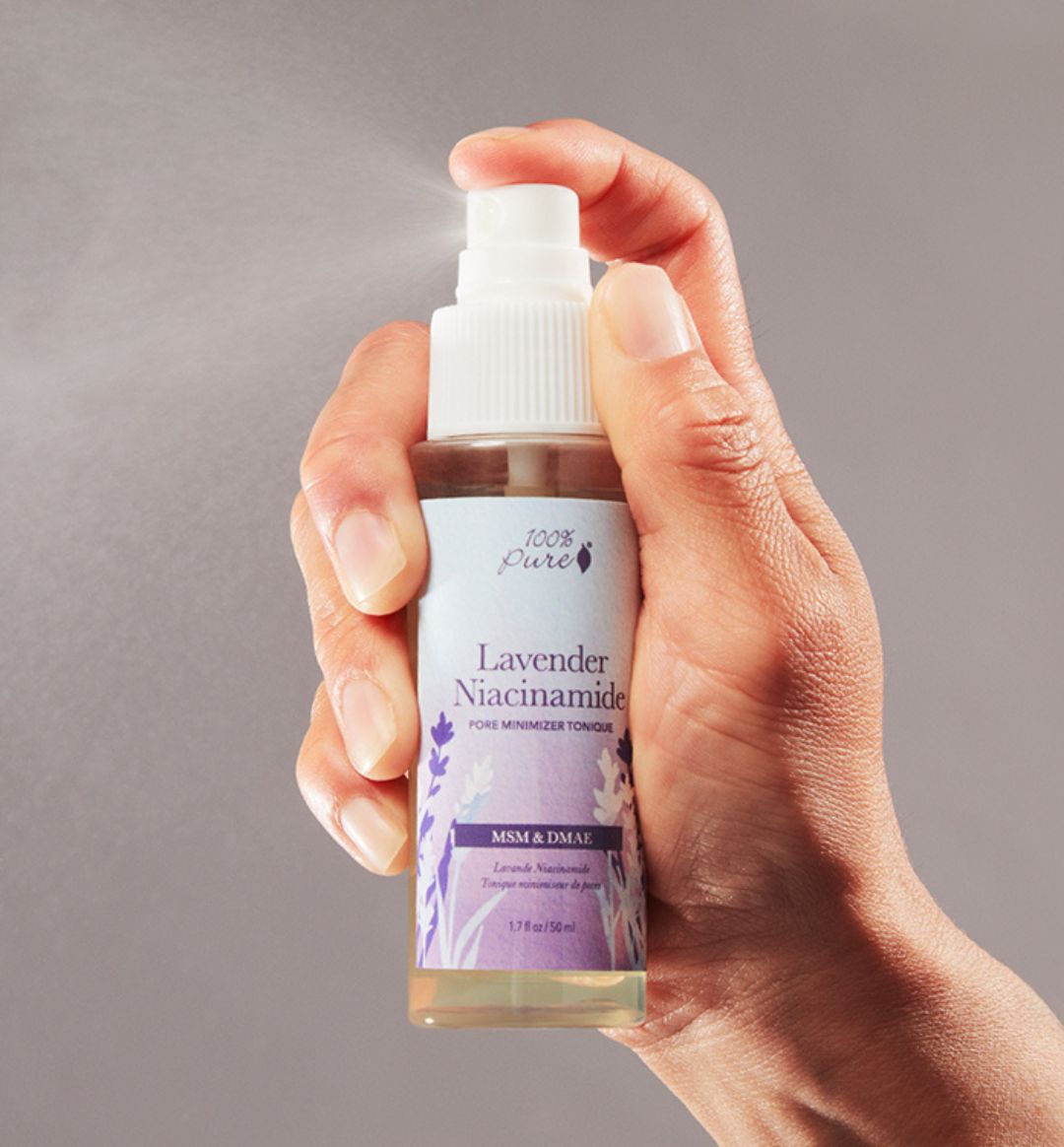 100% Pure Witch Hazel Products
The vision of 100% Pure is to bring skincare and beauty products that are made from nature's wealthy resources without causing any harm. The best way to do that is to protect our plants and research their properties. As witch hazel is an herb that has not only beauty benefits but medicinal advantages, 100% Pure created multiple products from it. Below, we have listed our must-try products that have witch hazel as one of the main ingredients.
Puristry Flower Water Toner

This toner is made from all the natural flower beauties like rose hydrosol, calendula hydrosol, and witch hazel. Purify your skin with this toner and get a healthy glow. The best way is to use it with a cotton pad right before applying a moisturizer.
Tea Tree & Willow Clarifying Astringent

This clarifying astringent hydrates the skin and nourishes it. The antibacterial and antiseptic properties of this astringent are best for calming inflamed and irritated skin. You only need a little amount of the product and then spread it onto your face and neck.
Anti-Acne Sheet Mask

As the name suggests, this sheet mask is meant to stop acne and prevent future breakouts. The combination of witch hazel and salicylic acid deeply cleans the skin from all impurities and bacteria. Also, the sheet mask is made from bamboo cloth and is completely safe to use for even sensitive skin.
Lavender Niacinamide Pore Minimizer Tonique

The tonic made from the natural astringent shrinks the enlarged pores better than some painful chemical treatments. It also helps in improving skin elasticity and firmness. The best way is to spray the mist. However, if you don't like direct spraying then wipe it with a cotton pad right before using a moisturizer.
FAQs about Benefits of Witch Hazel
Q. Is witch hazel good for improving skin tone?

The natural astringent is great for improving the natural tone and texture of skin tone. It erases the marks of external aggressors like sunburn due to sun rays, hyperpigmentation, age spots, and discoloration.
Q. Can I use witch hazel daily?

Skincare products like toners, moisturizers, and cleansers that use very low concentrations of witch hazel can be used daily. However, high-concentration witch hazel shouldn't be used every day as it can dry your skin too much.
Q. Is using a moisturizer compulsory after using witch hazel?

Yes, it's best to apply a hydrating moisturizer after use.
We carefully hand-select products based on strict purity standards, and only recommend products we feel meet this criteria. 100% PURE™ may earn a small commission for products purchased through affiliate links.
The information in this article is for educational use, and not intended to substitute professional medical advice, diagnosis, or treatment and should not be used as such.
Sign up to our email newsletter for more blog updates and exclusive discounts.
< Older Post | Newer Post >