https://purity-res.cloudinary.com/image/fetch/q_auto:best,f_auto,fl_lossy,w_auto,c_limit,dpr_auto/https://cdn.shopify.com/s/files/1/0648/1955/products/OQMNtVDUR7GsNh9RpGzc.png?v=1548176229
https://purity-res.cloudinary.com/image/fetch/q_auto:best,f_auto,fl_lossy,w_auto,c_limit,dpr_auto/https://cdn.shopify.com/s/files/1/0648/1955/products/er8Emt8jSF6tom6oeMec.png?v=1548176229
https://purity-res.cloudinary.com/image/fetch/q_auto:best,f_auto,fl_lossy,w_auto,c_limit,dpr_auto/https://cdn.shopify.com/s/files/1/0648/1955/products/IAj0jmkcRd6J0i2E2Fr6_152190d2-f132-43f1-932b-f901913dc17f.png?v=1548176229
https://purity-res.cloudinary.com/image/fetch/q_auto:best,f_auto,fl_lossy,w_auto,c_limit,dpr_auto/https://cdn.shopify.com/s/files/1/0648/1955/products/h7ymEgQVChOkwbv2gDEw_1acfd72d-c10c-4cae-a2c1-17ad4143cbc1.png?v=1548176229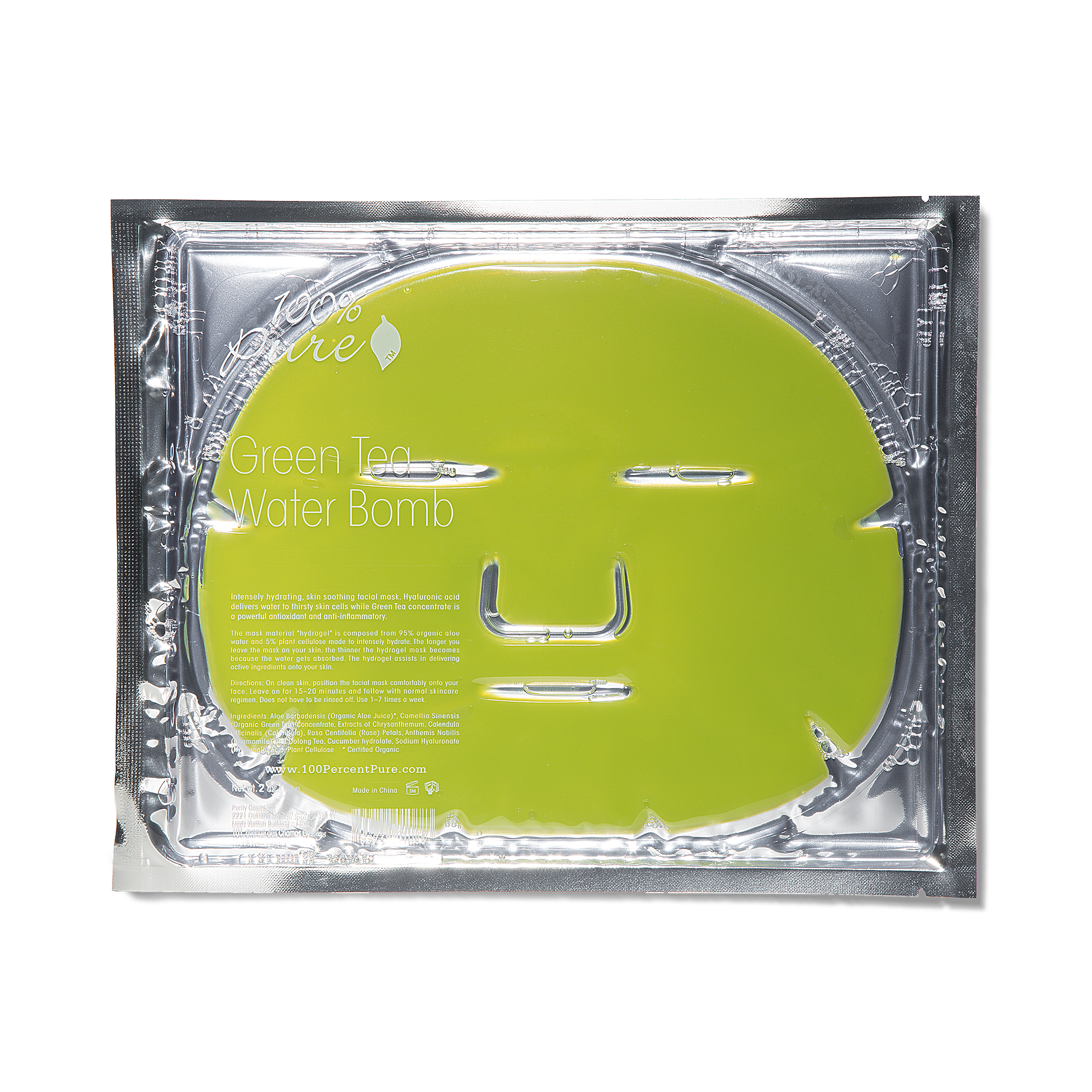 Green Tea Water Bomb Masks
Natural

Vegan

Cruelty Free

Gluten Free
Hydrating mask quenches thirsty skin while green tea adds soothing anti-inflammatory benefits. Composed of 95% organic aloe juice and 5% plant cellulose.
Intensely hydrating, skin-soothing facial mask. Hyaluronic acid delivers water to thirsty skin cells while Green Tea concentrate is a powerful antioxidant and anti-inflammatory. The mask material "hydrogel" is composed from 95% organic aloe water and 5% plant cellulose made to intensely hydrate. The longer you leave the mask on your skin, the thinner the hydrogel mask becomes because the water gets absorbed. The hydrogel assists in delivering active ingredients onto your skin.

Directions

Open package on a level surface. Carefully slide a single, individually wrapped mask from the package. Open individual mask tray side up, taking care to retain nourishing liquid in mask tray. Lift mask out of tray and liquid. Lying back, place mask on freshly cleaned face. Leave on for 15-20 minutes. Gently remove the mask and lightly massage any remaining moisture into your skin. Do not rinse. Follow with your normal skincare regimen. Discard the mask after single use. Use at least twice a week.

Every ingredient we use is beneficial, here are a few:

Chrysanthemum

Chrysanthemum promotes a smooth complexion.

Cucumber Hydrosol

Cucumber Hydrosol tightens skin.

Oolong Tea

Oolong Tea diminishes wrinkles with antioxidants.

Hyaluronic Acid

Hyaluronic Acid encourages collagen production and improves skin hydration.

Green Tea

Green Tea tones and protects with antioxidants.

Complete list of ingredients:

Aloe Barbadensis (Organic Aloe Juice)*, Camellia Sinensis (Organic Green Tea) Concentrate, Extracts of Chrysanthemum, Calendula Officinalis (Calendula), Rosa Centifolia (Rose) Petals, Anthemis Nobilis (Chamomile) and Oolong Tea, Cucumber hydrolate, Sodium Hyaluronate (Hyaluronic) Acid, Plant Cellulose * Certified Organic
By using hashtag #100percentpure or #nodirtybeauty, I hereby grant to 100% PURE (Purity Cosmetics), it subsidiaries, agents and affiliates, the unlimited worldwide, perpetual, unending right to use, reproduce, distribute, and convey my image/photograph in any format or medium now known or subsequently developed, to modify and edit my image/photograph, to combine my image/photograph with other images, video, audio, text and other media, to create derivative works incorporating, including or based on my image/photograph. This grant shall be construed broadly.
---
Green Tea Water Bomb Masks
has a rating of
4.6
stars based on
188
reviews.
Customer Reviews
Wanted to love it!
So I really really wanted to love this mask and I did enjoy the feeling of it on my skin but wasn't a fan of how it fit. I know they can't make a mask to fit everyone but I couldn't really get it to go where I needed like on the sides of my nose! I found it difficult to put on and take out of the package as well which actually came kind of deformed from being shipped. Glad I tried it but in the future I think I will go with something else. I still love this brand so much!
My number one favorite!
This mask makes my face look and feel juicy and plump. I sleep with is over night and when I wake up I look so refreshed.
The Bomb!
I love using this product as well as the does it all sheet mask. These masks are super hydrating and make your skin feel plumb and silky smooth after you use it. I feel my skin glows after using these masks and my makeup looks more vibrate. Highly recommend this as a weekly treat to pamper yourself
L
12/04/2018
Lauren
Feels so amazing!
I love these masks. They make my skin feel so good.
Nice
Nice mask great as a gift. very moisturizing
Complete the Package
Continue Shopping →