https://purity-res.cloudinary.com/image/fetch/q_auto:best,f_auto,fl_lossy,w_auto,c_limit,dpr_auto/https://cdn.shopify.com/s/files/1/0648/1955/products/xO54vMYSCqftjHXQvi2w.png?v=1540408669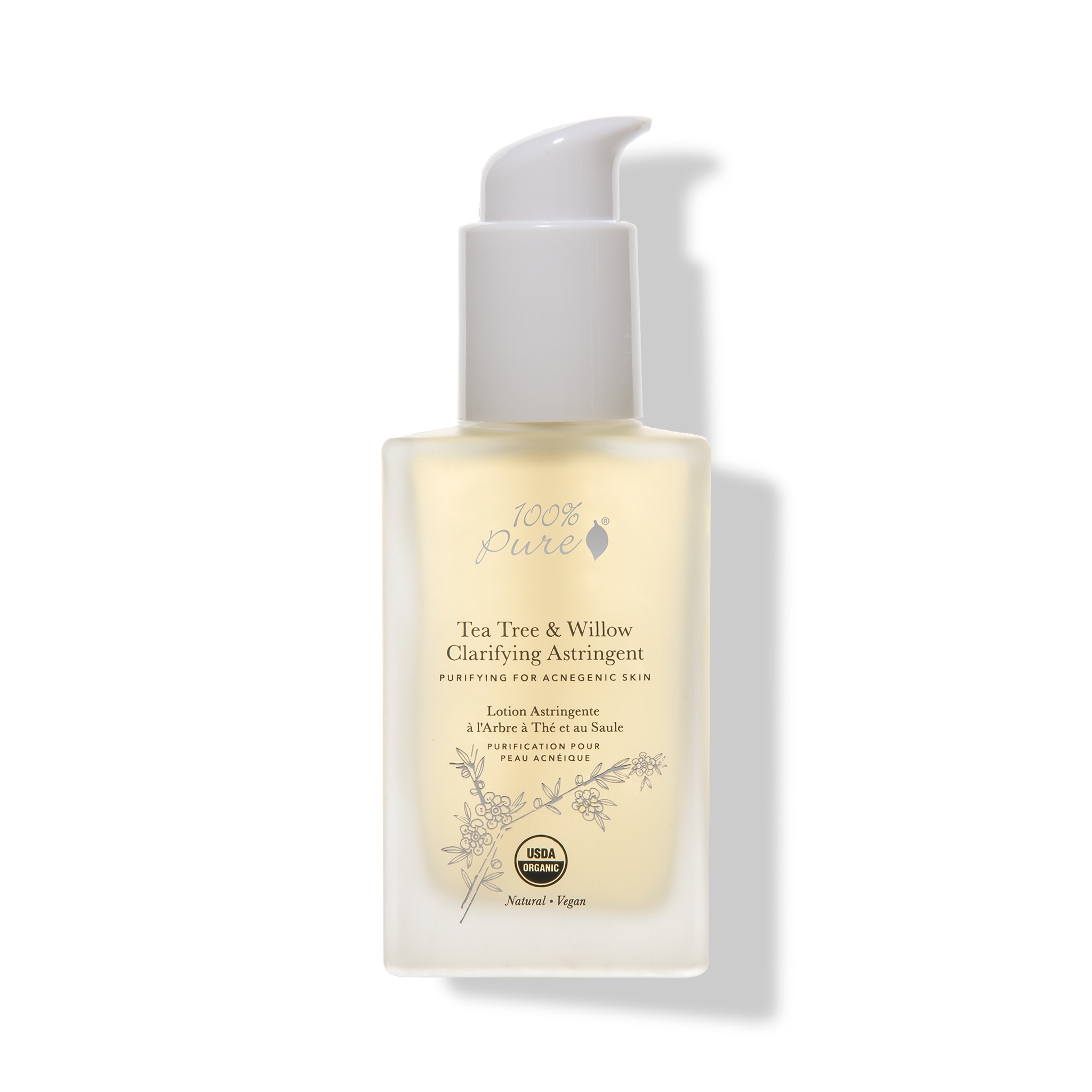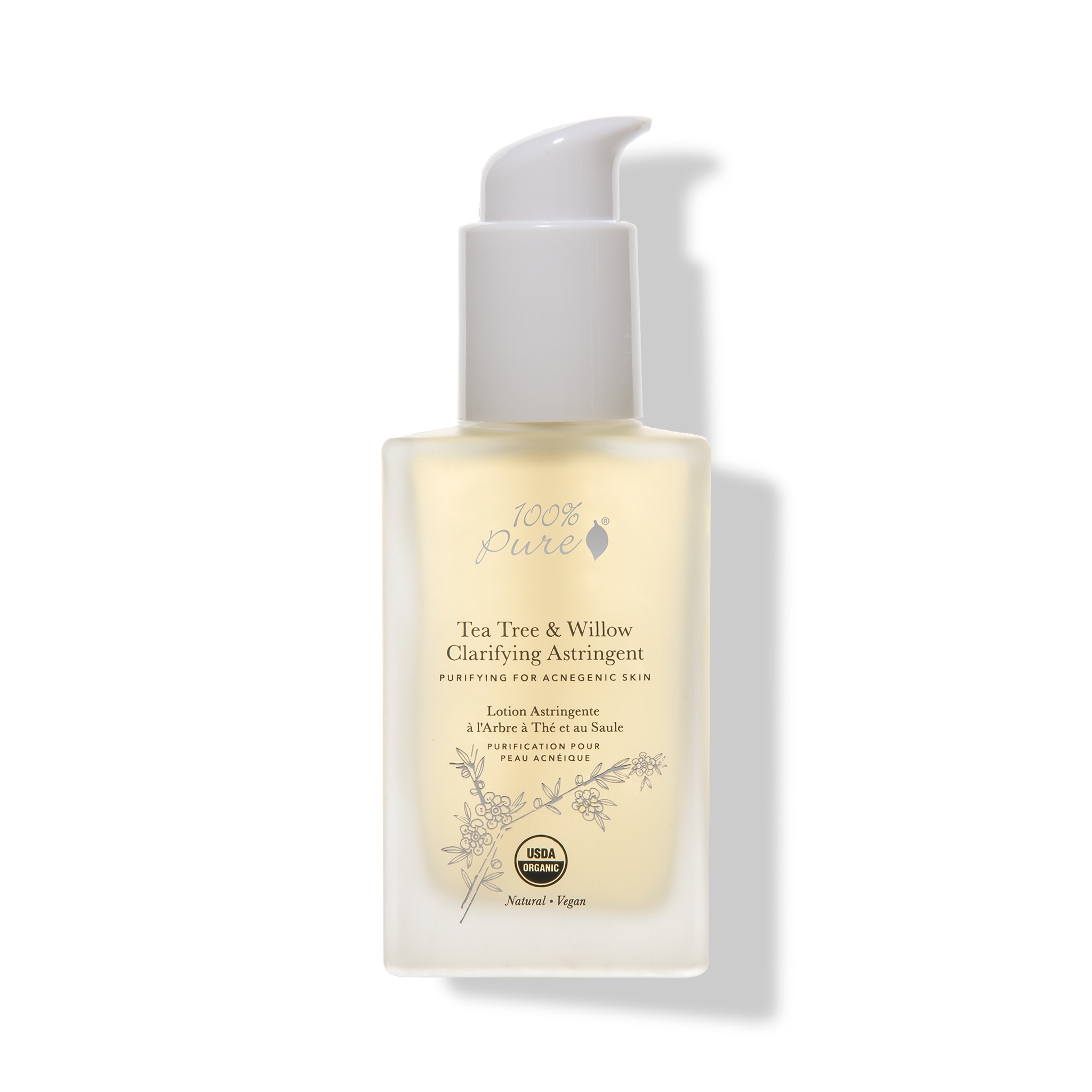 Tea Tree & Willow Clarifying Astringent
Natural

Vegan

Cruelty Free

Gluten Free
Non-stripping, hydrating toner made with tea tree, willow, and other antibacterial herbs to soothe and clarify acne-prone skin while fighting future breakouts.
For Oily, Combination Skin Types

Tea tree and willow work alongside other antibacterial and antiseptic herbs to soothe and clarify acne-prone skin, while helping to fight against future breakouts. This anti-inflammatory toner nourishes, hydrates, softens, and purifies without stripping, dehydrating, or irritating.

Directions

After cleansing, pump half dollar-sized amount onto clean hands and pat onto face (including eye lids / around eyes) and neck. Or, pump onto cotton pad and gently sweep onto skin and neck.

Every ingredient we use is beneficial, here are a few:

Neem

Neem fights and treats acne scars.

Rosemary

Rosemary moisturizes and heals.

Willow Bark

Willow Bark reduces appearance of pores and wrinkles.

Witch Hazel

Witch hazel balances oil production in skin.

Tea Tree

Tea Tree clears impurities and tones.

Complete list of ingredients:

Organic Melaleuca Alternifolia (Tea Tree) Leaf Water, Organic Hamamelis Virginiana (Witch Hazel), Organic Glycerin, Organic Lonicera Japonica (Honeysuckle) Flower Extract, Organic Melaleuca Alternifolia (Tea Tree) Leaf Oil, Organic Laminaria (Algae) Extract, Organic Rosmarinus Officinalus (Rosemary) Leaf Extract, Organic Salix Alba (Willow) Bark Extract, Organic Azadirachta Indica (Neem) Leaf, Organic Carum Petroselinum (Parsley) Leaf, Organic Arctium Lappa (Burdock) Root Extract, Organic Curcuma Longa (Turmeric) Root Extract, Organic Mahonia Aquifolium (Oregon Grape) Root Extract, Sodium Hyaluronate
Customer Reviews
products
pores
anyone
skin
serum
bottle
toner
face
cleanser
moisturizer
Great after a long day
I use this after washing my face with a cleanser and it does a great job cleaning whatever the cleanser missed. It leaves my skin feeling refreshed!
Makes my skin so happy!
I use one pump at night and sometimes half a pump in the morning. I LOVE how it makes my skin feel. Smells so good and I have really seen a difference in my skin. The pimples are not showing up as often, my face is less red and puffy, and any pimples that do exist have been shrinking!
06/09/2019
Anabelle Martinez
Clear complexion
Was very shocked with how much this calmed and cleared my skin. I don't have a lot of blemishes, more inflamed skin with small blemishes that come out during summer. This works very well with my skin issues! The only downside is the price and how little product you get. The 4 oz lasted me almost 2 weeks. But none the less, the product does what it says. For me, that's worth the price
perfect for acne skin
I've been dealing with pimple off and on especially near the period time. this product is a life saver. can't live with out it. I don't like the tea tree smell, however, it helps my skin when it needed.
Gentle astringent that helps with acne
My face feels so healthy after I wash with the acne cleanser and then put this on. It is gentle enough that it does not bother my vert sensitive skin, yet helps keep my skin clear. The only thing I didn't like about this amazing product is that is was shipped wrapped in bubble wrap in a box filled with Styrofoam peanuts. I thought the packing material would be more sustainable seeing as that is such a value to the company. It is why I decided to try them out, so it would be nice seeing that mission in the shipments.
Complete the Package
Continue Shopping →