https://purity-res.cloudinary.com/image/fetch/q_auto:best,f_auto,fl_lossy,w_auto,c_limit,dpr_auto/https://cdn.shopify.com/s/files/1/0648/1955/products/XobaMkrUSbKD6KZxAOaQ.jpg?v=1545420193
https://purity-res.cloudinary.com/image/fetch/q_auto:best,f_auto,fl_lossy,w_auto,c_limit,dpr_auto/https://cdn.shopify.com/s/files/1/0648/1955/products/RXdub6HTFiKbzUWSsfPu.jpg?v=1548177331
https://purity-res.cloudinary.com/image/fetch/q_auto:best,f_auto,fl_lossy,w_auto,c_limit,dpr_auto/https://cdn.shopify.com/s/files/1/0648/1955/products/eWAbkCbQ3OD505S5WfIQ.jpg?v=1548177331
https://purity-res.cloudinary.com/image/fetch/q_auto:best,f_auto,fl_lossy,w_auto,c_limit,dpr_auto/https://cdn.shopify.com/s/files/1/0648/1955/products/GIr7je9SM62PR2Qd4j5H.jpg?v=1548177331
https://purity-res.cloudinary.com/image/fetch/q_auto:best,f_auto,fl_lossy,w_auto,c_limit,dpr_auto/https://cdn.shopify.com/s/files/1/0648/1955/products/bAqCAykhSMKxAxnXc0E7.jpg?v=1548177331
https://purity-res.cloudinary.com/image/fetch/q_auto:best,f_auto,fl_lossy,w_auto,c_limit,dpr_auto/https://cdn.shopify.com/s/files/1/0648/1955/products/t815PzC8R8OpPuwf74Sw.jpg?v=1548177331
https://purity-res.cloudinary.com/image/fetch/q_auto:best,f_auto,fl_lossy,w_auto,c_limit,dpr_auto/https://cdn.shopify.com/s/files/1/0648/1955/products/y6yZQQ0Qg6gINNLFWCCw.jpg?v=1548177331
https://purity-res.cloudinary.com/image/fetch/q_auto:best,f_auto,fl_lossy,w_auto,c_limit,dpr_auto/https://cdn.shopify.com/s/files/1/0648/1955/products/HtSoEq0URHCzmD6lVKZZ.jpg?v=1548177331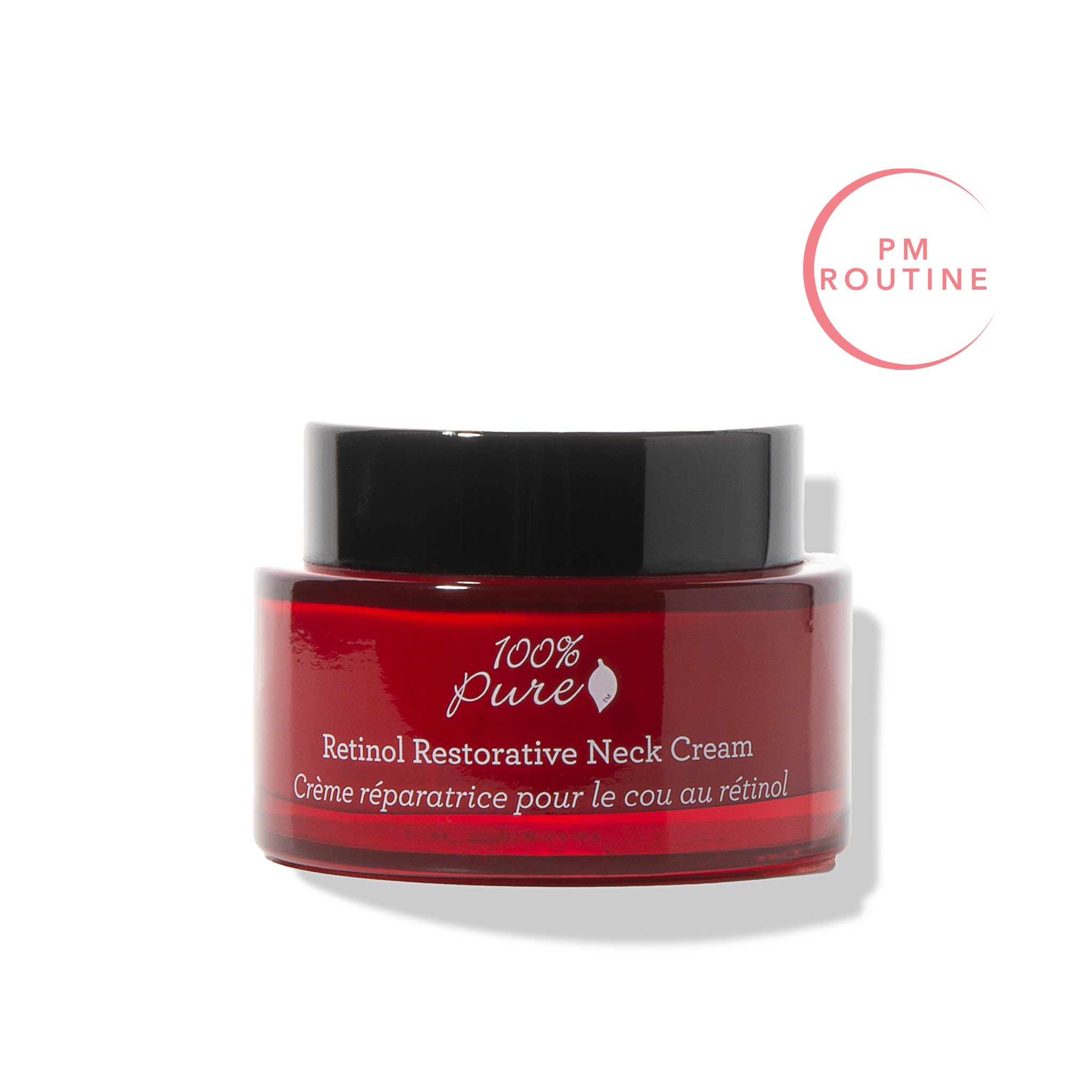 Retinol Restorative Neck Cream
Fruit Pigmented®

Natural

Cruelty Free

Gluten Free
Promotes elasticity for a firmer, more lifted neck. Retinol reduces appearance of lines and wrinkles; olive squalane and hyaluronic acid enhance suppleness.
Just add Coconut Butter Soap to your cart, meet $45.00 threshold to unlock, and use code COCOBUTTER at checkout! While supplies last.
Youth-revitalizing neck cream concentrated with hydrolyzed quinoa promotes elasticity for a firmer, more lifted neck. Retinol reduces the appearance of lines and wrinkles, niacinamide brightens and balances tone, and olive squalane and hyaluronic acid lock in hydration for smooth, supple skin.

Directions

Apply a quarter-sized amount onto neck in upward strokes in the PM.

Every ingredient we use is beneficial, here are a few:

Ceramide

Ceramide plumpens and locks in moisture.

Beta Glucan

Beta Glucan soothes and reduces redness.

Olive Squalane

Olive squalane moisturizes and soothes irritated skin.

Quinoa

Quinoa reduces dark spots with B vitamins.

Retinol

Retinol diminishes fine lines and wrinkles.

Complete list of ingredients:

Glacial Water Infused with Organic Herbal Blend of Rosa Canina (Rosehip) Extract, Matricaria Chamomilla Leaf (Chamomile) Extract, Equisetum Arvense (Horsetail) Extract, Calendula Officinalis Flower (Calendula) Extract, Arctium Lappa (Burdock) Root Extract*, Polyglyceryl-2 Dipolyhydroxystearate (Essential Fatty acid from Plant Oil), Helianthus Annuus (Sunflower) Seed Oil, Citrus Grandis (Grapefruit) Seed Extract, Rosmarinus Officinalis (Rosemary) Leaf Extract, Limnanthes Alba (Meadowfoam) Seed Oil, Persea Gratissima (Avocado) Oil, Hydrolyzed Quinoa, Coffea Arabica (Green Coffee) Oil, Olive Squalane, Hyaluronic Acid, Ceratonia Siliqua (Locust Bean) Gum, Butyrospermum Parkii (Shea Butter), Theobroma Cacao (Cocoa) Seed Butter, Retinol (Vitamin A), Beta Glucan, Ceramide, Niacinamide, Natural Flavor, Glucose (Sugar), Glucose Oxidase (Sugar Enzyme) and Lactoperoxidase (Milk Enzyme)
Retinol Restorative Neck Cream
has a rating of
4.5
stars based on
101
reviews.
Customer Reviews
neck
skin
neck cream
results
face
products
cream
scent
ingredients
formula
03/26/2019
natalia garcia
Great neck creme
I havnt noticed much difference in my neck yet but I love this creme. It is very hydrating!
good product
Like using this product. Goes on nicely, comes with a fair amount of product. Feels thick enough for it to be concentrated but doesn't leave a residue or feel too thick. Would recommend. Also use it as a spot treatment for acne.
NO MORE TURKEY NECK
The first time I used this product on loose waddle turkey neck skin, my neck skin tightened and lifted. I turn 60 this year and now experience that sagging loose skin just under the chin aka "turkey neck". I have tried other creams saw no results and was afraid of the ingredients in those other products. As stated previously the first time I applied this cream that sagging skin lifted and I was happy. I love this cream. This neck cream worked for me. Please know that there has been improvement in my skin since using this product. I'm not rich but I think this product is worth the cost. Love that I can trust the ingredients in the product. I also want to say "Thank You" to the scientist or chemist who came up with this formula because it works.
02/01/2019
Cynthia Graves
My neck is no longer thirsty
I just finished the jar (takes me a long time to go through product). This was the first product I've purchased which is just for the neck. Normally I bring down to my neck whatever products I've applied on my face. The disadvantage in this practice is that I go through my facial products more quickly. The skin on my neck really is different, it's thicker. I liked this product and found it very moisturizing. I also thought the scent was pretty. A little goes a long way with this. Will likely reorder in the near future.
Great moisturizer
I use this in my neck and face and love it's moisturizing properties. Works really well for me and will last a long time!
Complete the Package
Continue Shopping →