https://purity-res.cloudinary.com/image/fetch/q_auto:best,f_auto,fl_lossy,w_auto,c_limit,dpr_auto/https://cdn.shopify.com/s/files/1/0648/1955/products/O5y1tJaR0ZjJhoHfzUsw.png?v=1536608541
https://purity-res.cloudinary.com/image/fetch/q_auto:best,f_auto,fl_lossy,w_auto,c_limit,dpr_auto/https://cdn.shopify.com/s/files/1/0648/1955/products/iUuis1HQQNqLIpQ3edMW.jpg?v=1544741245
https://purity-res.cloudinary.com/image/fetch/q_auto:best,f_auto,fl_lossy,w_auto,c_limit,dpr_auto/https://cdn.shopify.com/s/files/1/0648/1955/products/vVhJoGmSf6Df2gMMSplg.jpg?v=1544741245
https://purity-res.cloudinary.com/image/fetch/q_auto:best,f_auto,fl_lossy,w_auto,c_limit,dpr_auto/https://cdn.shopify.com/s/files/1/0648/1955/products/xmKMtCUlRmFMuPykV5jl.jpg?v=1544741245
https://purity-res.cloudinary.com/image/fetch/q_auto:best,f_auto,fl_lossy,w_auto,c_limit,dpr_auto/https://cdn.shopify.com/s/files/1/0648/1955/products/zwEpfcGSBmicOSL9ERs0.jpg?v=1544741245
https://purity-res.cloudinary.com/image/fetch/q_auto:best,f_auto,fl_lossy,w_auto,c_limit,dpr_auto/https://cdn.shopify.com/s/files/1/0648/1955/products/8eI2NsdaSj6OYZ9Equt6.jpg?v=1544741245
https://purity-res.cloudinary.com/image/fetch/q_auto:best,f_auto,fl_lossy,w_auto,c_limit,dpr_auto/https://cdn.shopify.com/s/files/1/0648/1955/products/4MIMP09FTM2s1bAEqJmE.jpg?v=1544741245
https://purity-res.cloudinary.com/image/fetch/q_auto:best,f_auto,fl_lossy,w_auto,c_limit,dpr_auto/https://cdn.shopify.com/s/files/1/0648/1955/products/OxPqVj7gQle0lWjqRewA.jpg?v=1544741245
https://purity-res.cloudinary.com/image/fetch/q_auto:best,f_auto,fl_lossy,w_auto,c_limit,dpr_auto/https://cdn.shopify.com/s/files/1/0648/1955/products/BqCIEgf2SeC531nFXxmO.jpg?v=1544741245
https://purity-res.cloudinary.com/image/fetch/q_auto:best,f_auto,fl_lossy,w_auto,c_limit,dpr_auto/https://cdn.shopify.com/s/files/1/0648/1955/products/A9j09aeoTkCA0azXl5kX.jpg?v=1544741245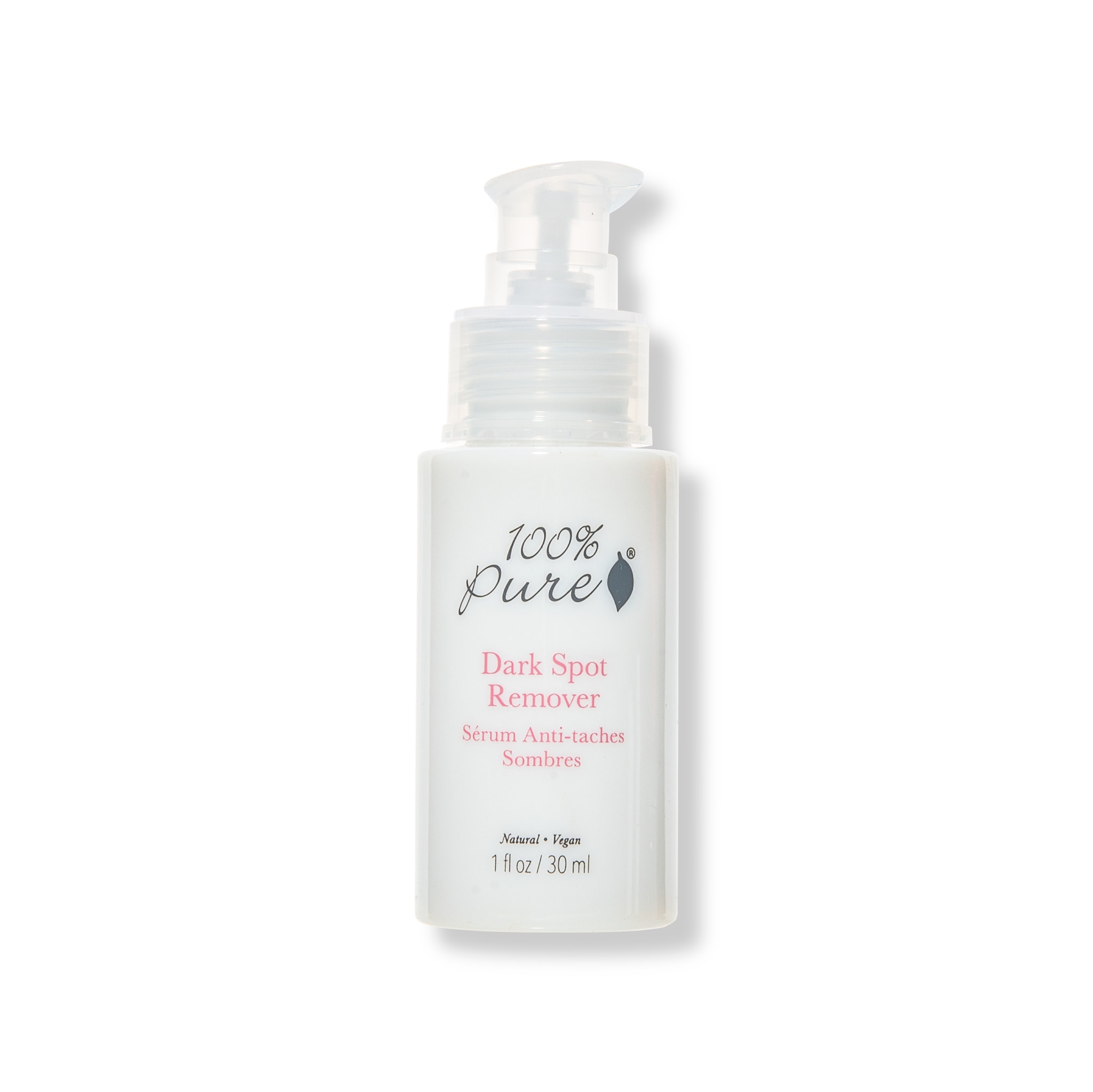 Dark Spot Remover
Natural

Vegan

Cruelty Free

Gluten Free
Directions

Apply on cleansed skin all over face, underneath moisturizer. Although it can be used for spot treatment, apply all over skin for best results.

Every ingredient we use is beneficial, here are a few:

Bearberry

Bearberry protects against sun spots and free radical damage.

Red Algae

Red Algae moisturizes and brightens dark spots.

Papaya

Papaya promotes skin renewal.

Lime

Lime reduces acne scars.

Matsutake Mushroom Extract

Matsutake Mushroom Extract lessens hyperpigmentation.

Complete list of ingredients:

Aloe Barbadensis (Aloe Juice) Leaf Extract, Rice Ferment Filtrate (Sake), Myrica Cerifera (Bayberry) Fruit Extract, Tricholoma Matsutake (Matsutake Mushroom) Extract, Loofah Cylindrica (Vegetable Cellulose), Citrus Aurantifolia (Lime) Fruit Extract, Ascorbyl Palmitate (Vitamin C), Glycyrrhiza Glabra (Licorice) Root Extract, Papain (Papaya Papain) Extract, Carrageenan (Chondrus Crispus), Asparagopsis Armata (Red Algae) Extract, Rosa Canina (Rosehip) Seed Oil, Xanthan Gum, Lonicera Caprifolium (Japanese Honeysuckle) Extract
By using hashtag #100percentpure or #nodirtybeauty, I hereby grant to 100% PURE (Purity Cosmetics), it subsidiaries, agents and affiliates, the unlimited worldwide, perpetual, unending right to use, reproduce, distribute, and convey my image/photograph in any format or medium now known or subsequently developed, to modify and edit my image/photograph, to combine my image/photograph with other images, video, audio, text and other media, to create derivative works incorporating, including or based on my image/photograph. This grant shall be construed broadly.
---
Dark Spot Remover
has a rating of
4.1
stars based on
262
reviews.
Customer Reviews
skin
spots
difference
face
products
little
company
acne scars
smell
makeup
brightening
This works on my skin to make it appear brighter and to even out my freckled skin. I have 2 at all times so that I won't worry about running out.
Love it
I noticed my skin was brighter and more even toned within 2 weeks. However, the difference was more noticeable to me when I STOPPED using it! (And not in a good way)...time to restock :)
02/11/2019
Jakarelly P.
United States
Brightening my skin!
I have olive skin and am prone to sun spots, I feel like this leaves my skin brighter and helps with my dark spots!
So far loving it
So far I am loving this product. Still too early to see major differences but I am using it all over as recommended. It leaves a hydrated feeling and a little goes a long way!
Magic Eraser
Loved this product tremendously. The texture, no fragrance, easy to apply and leaves my face feeling smooth. Takes about a week or two before you start noticing major changes to your dark spots, but before you know it you'll forget you even had them in the first place. A little goes a long way.
Complete the Package
Continue Shopping →