https://purity-res.cloudinary.com/image/fetch/q_auto:best,f_auto,fl_lossy,w_auto,c_limit,dpr_auto/https://cdn.shopify.com/s/files/1/0648/1955/products/P97J5sbSKmYi2yqqMcBQ.jpg?v=1546974485
https://purity-res.cloudinary.com/image/fetch/q_auto:best,f_auto,fl_lossy,w_auto,c_limit,dpr_auto/https://cdn.shopify.com/s/files/1/0648/1955/products/lb1xwgPRQ1uLUpkMHxZJ.jpg?v=1546974485
https://purity-res.cloudinary.com/image/fetch/q_auto:best,f_auto,fl_lossy,w_auto,c_limit,dpr_auto/https://cdn.shopify.com/s/files/1/0648/1955/products/s3oXxFG8Qo0CZ9D2W5BA.jpg?v=1546974485
https://purity-res.cloudinary.com/image/fetch/q_auto:best,f_auto,fl_lossy,w_auto,c_limit,dpr_auto/https://cdn.shopify.com/s/files/1/0648/1955/products/3P3nNjpFRMa3fvN82vLP.jpg?v=1546974485
https://purity-res.cloudinary.com/image/fetch/q_auto:best,f_auto,fl_lossy,w_auto,c_limit,dpr_auto/https://cdn.shopify.com/s/files/1/0648/1955/products/ej9MAWRCSW7mc8QjkTAs.jpg?v=1546974485
https://purity-res.cloudinary.com/image/fetch/q_auto:best,f_auto,fl_lossy,w_auto,c_limit,dpr_auto/https://cdn.shopify.com/s/files/1/0648/1955/products/S4eGd6WTCeaHordvVwzd.jpg?v=1546974485
https://purity-res.cloudinary.com/image/fetch/q_auto:best,f_auto,fl_lossy,w_auto,c_limit,dpr_auto/https://cdn.shopify.com/s/files/1/0648/1955/products/chexQ9Q2Tj2AjlnsPHV4.jpg?v=1546974485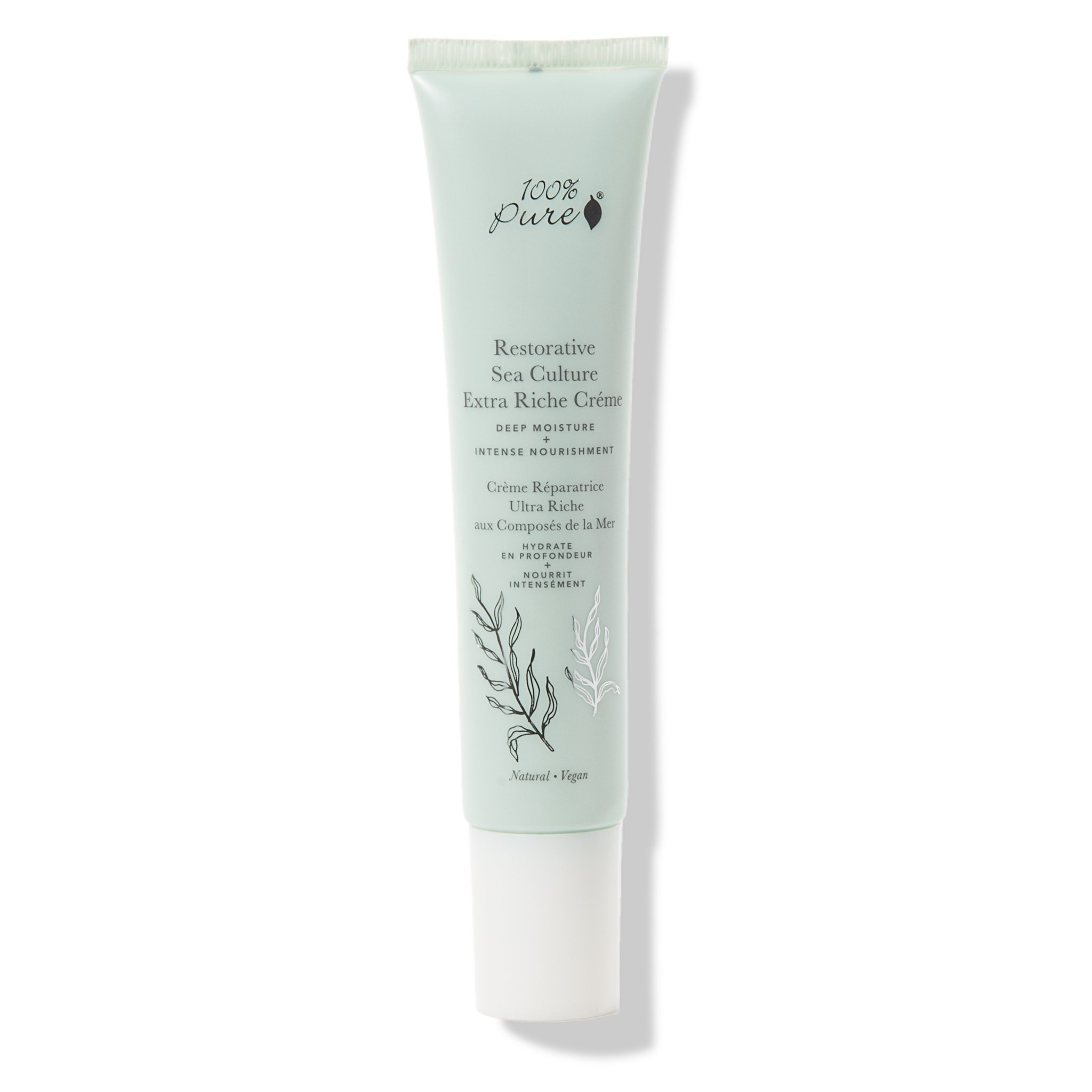 Restorative Sea Culture Extra Riche Créme
Natural

Vegan

Cruelty Free

Gluten Free
Rich, luxurious cream drenches skin in deep moisture, delivers nutrient-rich sea minerals and vitamins, and plumps skin with hydrating seaweed polysaccharides.
For Normal, Dry Skin Types

Rich, luxurious face cream drenches skin with deep moisture while delivering nutrient-rich sea minerals, antioxidants, amino acids, vitamins, and other beneficial trace elements for a healthier, softer complexion. Skin-plumping seaweed polysaccharides and red algae lock in long-lasting hydration for abundantly supple, nourished skin.

Directions

After cleanser and serum, apply quarter sized amount to face and neck. Gently massage and press into skin, taking care not to pull or tug. Can be used AM and PM.

Every ingredient we use is beneficial, here are a few:

Cassia Angustifolia

Cassia Angustifolia locks in moisture and plumps skin.

Beta Glucan

Beta Glucan soothes and reduces redness.

Alteromonas

Alteromonas reduces inflammation.

Bacurri

Bacurri softens and nourishes with skin.

Sea Buckthorn

Sea Buckthorn enriches with essential nutrients and moisture.

Complete list of ingredients:

Organic Hippophae Rhamnoides (Sea Buckthorn) Water, Organic Glycerin, Organic Butyrospermum Parkii (Shea Butter), Organic Platonia Insignis (Bacurri) Seed Butter, Organic Cocos Nucifera (Coconut) Oil, Organic Simmondsia Chinensis (Jojoba) Seed Oil, Cetearyl Olivate, Sorbitan Olivate, Cassia Angustifolia Seed Polysaccharide, Chrysanthellum Indicum (Golden Chamomile) Extract, Alteromonas Ferment Extract, Jojoba Esters, Helianthus Annuus (Sunflower) Seed Wax, Acacia Decurrens Flower Wax, Polyglycerin-3, Beta-Glucan, Algin, Organic Lonicera Japonica (Honeysuckle) Extract, Xanthan Gum, Organic Essential Oil Blend: Citrus Aurantium Bergamia (Bergamot) Fruit Oil, Cedrus Atlantica (Cedarwood) Bark Oil, Vetivera Zizanoides (Vetiver) Root Oil, Citrus Sinensis (Blood Orange) Oil, Salvia Officinalis (Sage) Oil, Lavandula Angustifola (Lavender) Oil
Restorative Sea Culture Extra Riche Créme
has a rating of
4.4
stars based on
133
reviews.
Customer Reviews
skin
products
face
cream
moisturizer
wonders
foundation
stuff
ingredients
feel
Great product! Lousy company.
This product doesn't make my face feel oily, yet keeps my skin moisturized. Too bad this company is so poorly run that they can't keep products in stock. I will probably move to another company--one that makes excellent products and is reliable. In other words, the business end of 100% pure is pathetic.
Great for dry/sensitive skin!!
I struggle with dry and sensitive skin, sometimes leaving me with dry patches or red rashes after using wrong products. I've had a try and fail relationship with face moisturizers for years, until I started using this one! It is super gentle on my skin (all natural ingredients for the win!), but deeply moisturizes it still. It is the best one I've ever tried!!
Great product
I have very dry skin on my face and everything that I have tried just would not moisturize my face enough. I thought I would give this a try as it is supposed to be a rich cream and it works wonders! My skin has not been dry since I have been using it and I have actually seen my skin repair its dry spots while using it. My skin does not get as dry as usual with use.
Give it a Try
I bought this because of the great reviews. Anyways, I was disappointed to learn how sticky it felt on my skin. I do not have oily skin nor dry, but I have learned to use this cream only at night because whenever I would use this cream as moisturizer my foundation would quickly peel off like residue. Other than that it does work well.
Lovely moisture
I bought this because New England winters can be unpredictable and harsh. The cold weather & random warm days dry out my skin badly. This has helped immensely. I generally use it during the day. I found it to absorb into my skin nicely, it definitely doesn't take much.
Complete the Package
Continue Shopping →