https://purity-res.cloudinary.com/image/fetch/q_auto:best,f_auto,fl_lossy,w_auto,c_limit,dpr_auto/https://cdn.shopify.com/s/files/1/0648/1955/products/c0e296e9a66648f666509dc59b0390d5.png?v=1532043595
https://purity-res.cloudinary.com/image/fetch/q_auto:best,f_auto,fl_lossy,w_auto,c_limit,dpr_auto/https://cdn.shopify.com/s/files/1/0648/1955/products/kBgN60jQ2q7azwAkgvmw.jpg?v=1546984128
https://purity-res.cloudinary.com/image/fetch/q_auto:best,f_auto,fl_lossy,w_auto,c_limit,dpr_auto/https://cdn.shopify.com/s/files/1/0648/1955/products/tsmewIxgS6TXtYGodsbI.jpg?v=1546984128
https://purity-res.cloudinary.com/image/fetch/q_auto:best,f_auto,fl_lossy,w_auto,c_limit,dpr_auto/https://cdn.shopify.com/s/files/1/0648/1955/products/62q4GmPtR6qtwJf0psjJ.jpg?v=1546984128
https://purity-res.cloudinary.com/image/fetch/q_auto:best,f_auto,fl_lossy,w_auto,c_limit,dpr_auto/https://cdn.shopify.com/s/files/1/0648/1955/products/GEAemJsaQciCUgNZONBK.jpg?v=1546984128
https://purity-res.cloudinary.com/image/fetch/q_auto:best,f_auto,fl_lossy,w_auto,c_limit,dpr_auto/https://cdn.shopify.com/s/files/1/0648/1955/products/9TDhVjYjQhOS4JHRrkd8.jpg?v=1546984128
https://purity-res.cloudinary.com/image/fetch/q_auto:best,f_auto,fl_lossy,w_auto,c_limit,dpr_auto/https://cdn.shopify.com/s/files/1/0648/1955/products/SFPitMn6QCe0dnInWKVN.jpg?v=1546984128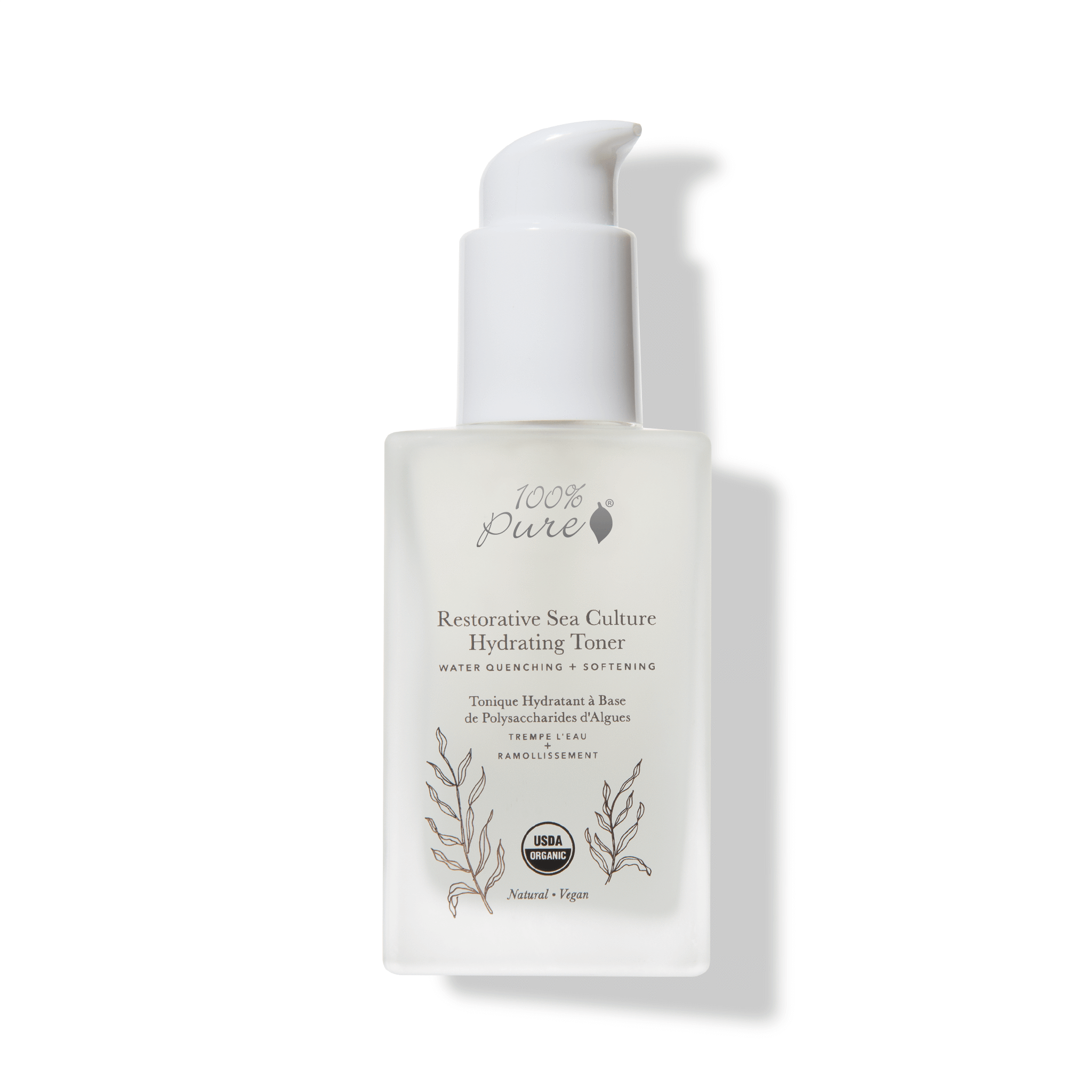 Restorative Sea Culture Hydrating Toner
Natural

Vegan

Cruelty Free

Gluten Free
Water-drenching toner softens, plumps, and hydrates skin using a base of gelatinous algin from mineral rich seaweed, sourced from unpolluted waters.
For Normal, Dry Skin Types

Intensely water-drenching elixir softens, plumps, and hydrates thirsty skin using a base of gelatinous chia and algin from seaweed. Seaweed from unpolluted waters retains the purest sea minerals and nutrients for your skin.

Directions

After cleansing, pump half dollar sized amount onto clean hands and pat onto face (including eye lids / around eyes) and neck. Or, pump onto cotton pad and gently sweep onto skin and neck.

Every ingredient we use is beneficial, here are a few:

Glycerin

Glycerin locks in moisture and reduces fine lines.

Hyaluronic Acid

Hyaluronic Acid encourages collagen production and improves skin hydration.

Algae

Algae locks in moisture and nutrients.

Sea Kelp

Sea Kelp enriches skin and hair with essential minerals.

Chia Seed Water

Chia Water moisturizes and heals.

Complete list of ingredients:

Organic Salvia Hispanica (Chia) Water, Organic Hamamelis Virginiana (Witch Hazel), Organic Glycerin, Organic Laminarian (Algae) Extract, Hydrolyzed Candida Saitoana (Yeast Ferment), Organic Macrocystis Pyrifera (Sea Kelp) Extract, Organic Lonicera Japonica (Honeysuckle) Flower Extract, Xanthan Gum, Hyaluronic Acid, Organic Essential Oil Blend: Citrus Aurantium Bergamia (Bergamot) Fruit Oil, Cedrus Atlantica (Cedarwood) Bark Oil, Vetivera Zizanoides (Vetiver) Root Oil, Citrus Sinensis (Blood Orange) Oil, Salvia Officinalis (Sage) Oil, Lavandula Angustifola (Lavender) Oil
By using hashtag #100percentpure or #nodirtybeauty, I hereby grant to 100% PURE (Purity Cosmetics), it subsidiaries, agents and affiliates, the unlimited worldwide, perpetual, unending right to use, reproduce, distribute, and convey my image/photograph in any format or medium now known or subsequently developed, to modify and edit my image/photograph, to combine my image/photograph with other images, video, audio, text and other media, to create derivative works incorporating, including or based on my image/photograph. This grant shall be construed broadly.
---
Restorative Sea Culture Hydrating Toner
has a rating of
4.4
stars based on
153
reviews.
Customer Reviews
Great toner
This is a great toner and goes well with my other serums. Nice large bottle.
JG
11/28/2018
Jesse G.
United States
Sometimes, it's all I need....
This is a winter go-to. There are many days when I don't even need moisturizer on after using this toner. I have oily skin.
Best ever!
Oh my gosh! This is the only toner that will keep my skin moisturized in the winter. The one downside is my pump is defective on my most recent bottle!
Best ever!
Oh my gosh! This is the only toner that will keep my skin moisturized in the winter. The one downside is my pump is defective on my most recent bottle!
Fab!
I have used this product for a while and I love it! I have had bad experiences with toners they have dried my skin out or they feel like a film over my skin. This toner doesn't dry my skin at all and it doesn't leave any film over my face. I really love this product it has became a part of my morning and night routine for sure!
Complete the Package
Continue Shopping →