https://purity-res.cloudinary.com/image/fetch/q_auto:best,f_auto,fl_lossy,w_auto,c_limit,dpr_auto/https://cdn.shopify.com/s/files/1/0648/1955/products/96bda55ff12ba0a8b3f28237627cb800_72291f5d-a7aa-4339-9d16-2c7d0fb4cb56.png?v=1530052581
https://purity-res.cloudinary.com/image/fetch/q_auto:best,f_auto,fl_lossy,w_auto,c_limit,dpr_auto/https://cdn.shopify.com/s/files/1/0648/1955/products/aOsy5FMuSJmUNCcoK82d.jpg?v=1544741284
https://purity-res.cloudinary.com/image/fetch/q_auto:best,f_auto,fl_lossy,w_auto,c_limit,dpr_auto/https://cdn.shopify.com/s/files/1/0648/1955/products/IZPUcxwATsq494BTg2Vn.jpg?v=1544741284
https://purity-res.cloudinary.com/image/fetch/q_auto:best,f_auto,fl_lossy,w_auto,c_limit,dpr_auto/https://cdn.shopify.com/s/files/1/0648/1955/products/3Q5qncV5QYO4Em5Tq5tZ.jpg?v=1544741284
https://purity-res.cloudinary.com/image/fetch/q_auto:best,f_auto,fl_lossy,w_auto,c_limit,dpr_auto/https://cdn.shopify.com/s/files/1/0648/1955/products/7Fhd2M86R3aobeh98ihF.jpg?v=1544741284
https://purity-res.cloudinary.com/image/fetch/q_auto:best,f_auto,fl_lossy,w_auto,c_limit,dpr_auto/https://cdn.shopify.com/s/files/1/0648/1955/products/kYaWEDxPSHe4fmHqcRlU.jpg?v=1544741284
https://purity-res.cloudinary.com/image/fetch/q_auto:best,f_auto,fl_lossy,w_auto,c_limit,dpr_auto/https://cdn.shopify.com/s/files/1/0648/1955/products/v1nW77M3TG2U2O1gXWYL.jpg?v=1544741285
https://purity-res.cloudinary.com/image/fetch/q_auto:best,f_auto,fl_lossy,w_auto,c_limit,dpr_auto/https://cdn.shopify.com/s/files/1/0648/1955/products/Df06URkSsG0NYEGym8ip.jpg?v=1544741285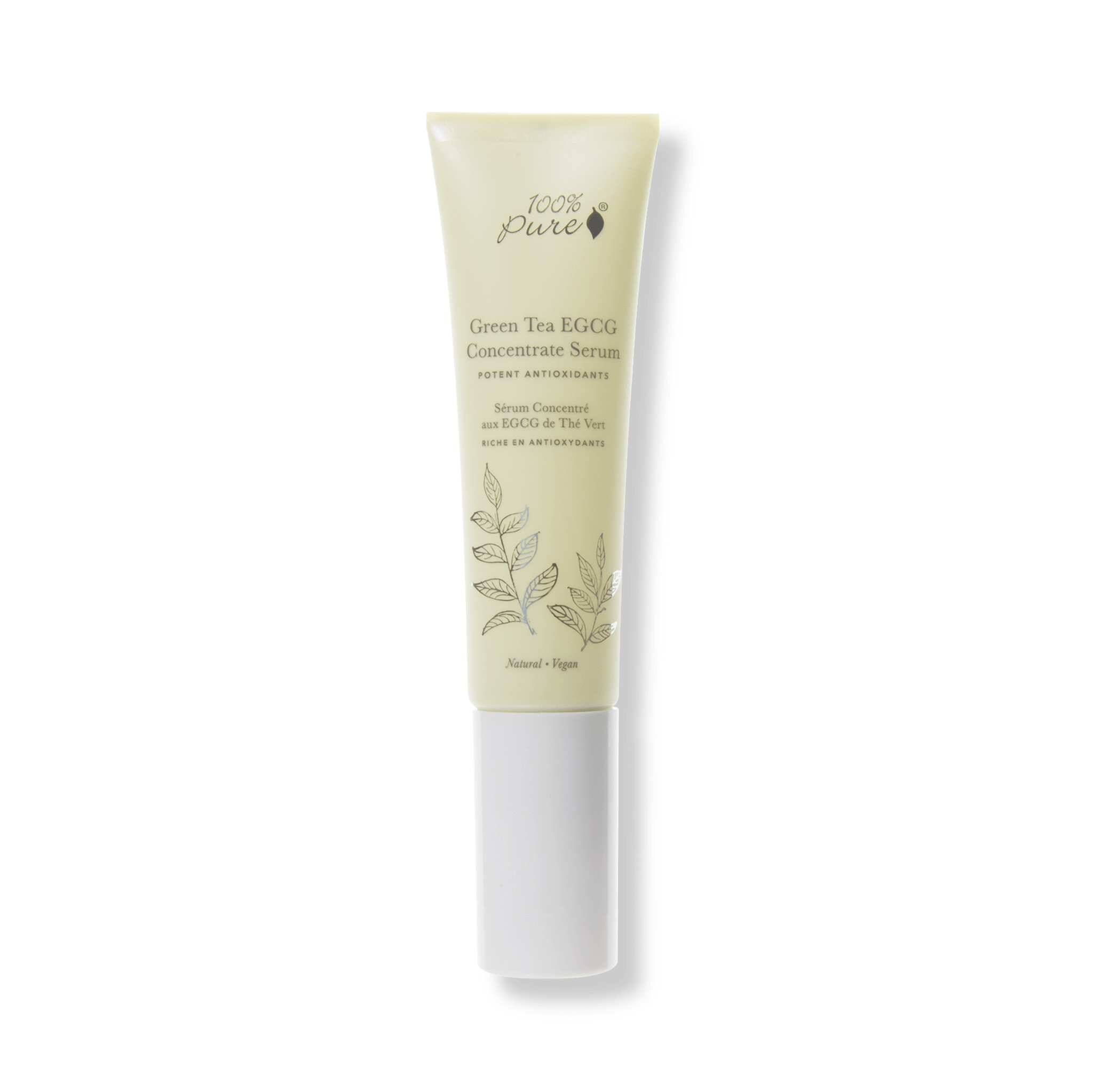 Green Tea EGCG Concentrate Serum
Natural

Vegan

Cruelty Free

Gluten Free
Lightweight, hydrating serum concentrated with EGCG, the key antioxidant in green tea that can delay signs of aging, and caffeine to tone, brighten, and depuff.
For Normal, Dry, Oily, Combination Skin Types

Daily protective serum concentrated with organic green tea and a potent dose of EGCG, the key phytonutrient in green tea. Green tea is an antioxidant that can help to delay signs of aging such as sagging skin, sun damage, age spots, lines, and wrinkles. Green tea's caffeine content can also calm redness, reduce the appearance of dark circles and puffiness under eyes, and enliven dull complexions.

Directions

After cleansing and toning, gently pat a quarter sized amount of serum onto face (including eye area) and neck. Serums may be layered. Use AM and PM.

Every ingredient we use is beneficial, here are a few:

Acai

Acai heals and protects with antioxidants.

Goji Berry

Goji Berry boosts collagen production and skin elasticity.

EGCG

EGCG protects from free radical damage.

Green Tea

Green Tea tones and protects with antioxidants.

Yerba Mate

Yerba Mate boosts skin firmness and elasticity with antioxidants.

Complete list of ingredients:

Organic Aloe Barbadensis (Aloe) Water, Organic Glycerin, Organic Lonicera Japonica (Honeysuckle) Flower Extract, Xanthan Gum, Hyaluronic Acid, Organic Ilex Paraguariensis (Yerba Mate), Organic Rosa Canina (Rosehip) Oil, Organic Persea Gratissima (Avocado Oil) Organic Camelia Sinensis (Green Tea), Organic Euterpe Oleracea (Acai), Organic Lycium Barbarum (Goji Berry), Olive Squalane, EGCG, Organic Essential Oil Blend: Citrus Aurantium Bergamia (Bergamot) Fruit Oil, Cedrus Atlantica (Cedarwood) Bark Oil, Vetivera Zizanoides (Vetiver) Root Oil, Citrus Sinensis (Blood Orange) Oil, Salvia Officinalis (Sage) Oil, Lavandula Angustifola (Lavender) Oil
Green Tea EGCG Concentrate Serum
has a rating of
4.7
stars based on
124
reviews.
Customer Reviews
skin
serum
face
moisturizer
texture
amount
moisture
cream
ingredients
toner
amazing!
this serum is very lightweight. the packaging with the pump makes sure you're easily able to get out the last drip. would definitely recommend. great smell.
Lovely cream, but broke me out
This is a lovely cream. The texture is smooth and light and can be worn during the day since it's not greasy. The packing is perfect. It's a tube with a pump which stays air-tight. The only problem for me was I think this caused me to get some small bumpy pimples on my forehead and jaw. It could be the avocado oil since that oil isn't in my other skin care products. If the ingredients work for you, I would recommend.
Great serum ever
I have been using this serum for about 1 month now, and I'm in love. It is very nice texture and smell amazing. Absorb into skin very quick and not greasy at all. It would be nice if using with the cream as well. Highly recommended.
good product
I don't know if I can tell a noticeable difference with this product. I like to use it as a morning serum and in the evening I use the retinol serum. It doesn't irritate or break me out and the texture is nice. I would recommend.
03/02/2019
Karleena Ailie
Soothing and lightweight!
I bought this product on black Friday. I have been using it daily. It is very light weight, not sticky feeling, helps plump up my face. I use it right after washing my face with the rice water cleanser and toner. I'm quickly approaching 30 and really wanted to get a good skin care routine down. I will continue to purchase this serum, it is doing wonders so far.
Complete the Package
Continue Shopping →