https://purity-res.cloudinary.com/image/fetch/q_auto:best,f_auto,fl_lossy,w_auto,c_limit,dpr_auto/https://cdn.shopify.com/s/files/1/0648/1955/products/96bda55ff12ba0a8b3f28237627cb800_72291f5d-a7aa-4339-9d16-2c7d0fb4cb56.png?v=1530052581
https://purity-res.cloudinary.com/image/fetch/q_auto:best,f_auto,fl_lossy,w_auto,c_limit,dpr_auto/https://cdn.shopify.com/s/files/1/0648/1955/products/aOsy5FMuSJmUNCcoK82d.jpg?v=1544741284
https://purity-res.cloudinary.com/image/fetch/q_auto:best,f_auto,fl_lossy,w_auto,c_limit,dpr_auto/https://cdn.shopify.com/s/files/1/0648/1955/products/IZPUcxwATsq494BTg2Vn.jpg?v=1544741284
https://purity-res.cloudinary.com/image/fetch/q_auto:best,f_auto,fl_lossy,w_auto,c_limit,dpr_auto/https://cdn.shopify.com/s/files/1/0648/1955/products/3Q5qncV5QYO4Em5Tq5tZ.jpg?v=1544741284
https://purity-res.cloudinary.com/image/fetch/q_auto:best,f_auto,fl_lossy,w_auto,c_limit,dpr_auto/https://cdn.shopify.com/s/files/1/0648/1955/products/7Fhd2M86R3aobeh98ihF.jpg?v=1544741284
https://purity-res.cloudinary.com/image/fetch/q_auto:best,f_auto,fl_lossy,w_auto,c_limit,dpr_auto/https://cdn.shopify.com/s/files/1/0648/1955/products/kYaWEDxPSHe4fmHqcRlU.jpg?v=1544741284
https://purity-res.cloudinary.com/image/fetch/q_auto:best,f_auto,fl_lossy,w_auto,c_limit,dpr_auto/https://cdn.shopify.com/s/files/1/0648/1955/products/v1nW77M3TG2U2O1gXWYL.jpg?v=1544741285
https://purity-res.cloudinary.com/image/fetch/q_auto:best,f_auto,fl_lossy,w_auto,c_limit,dpr_auto/https://cdn.shopify.com/s/files/1/0648/1955/products/Df06URkSsG0NYEGym8ip.jpg?v=1544741285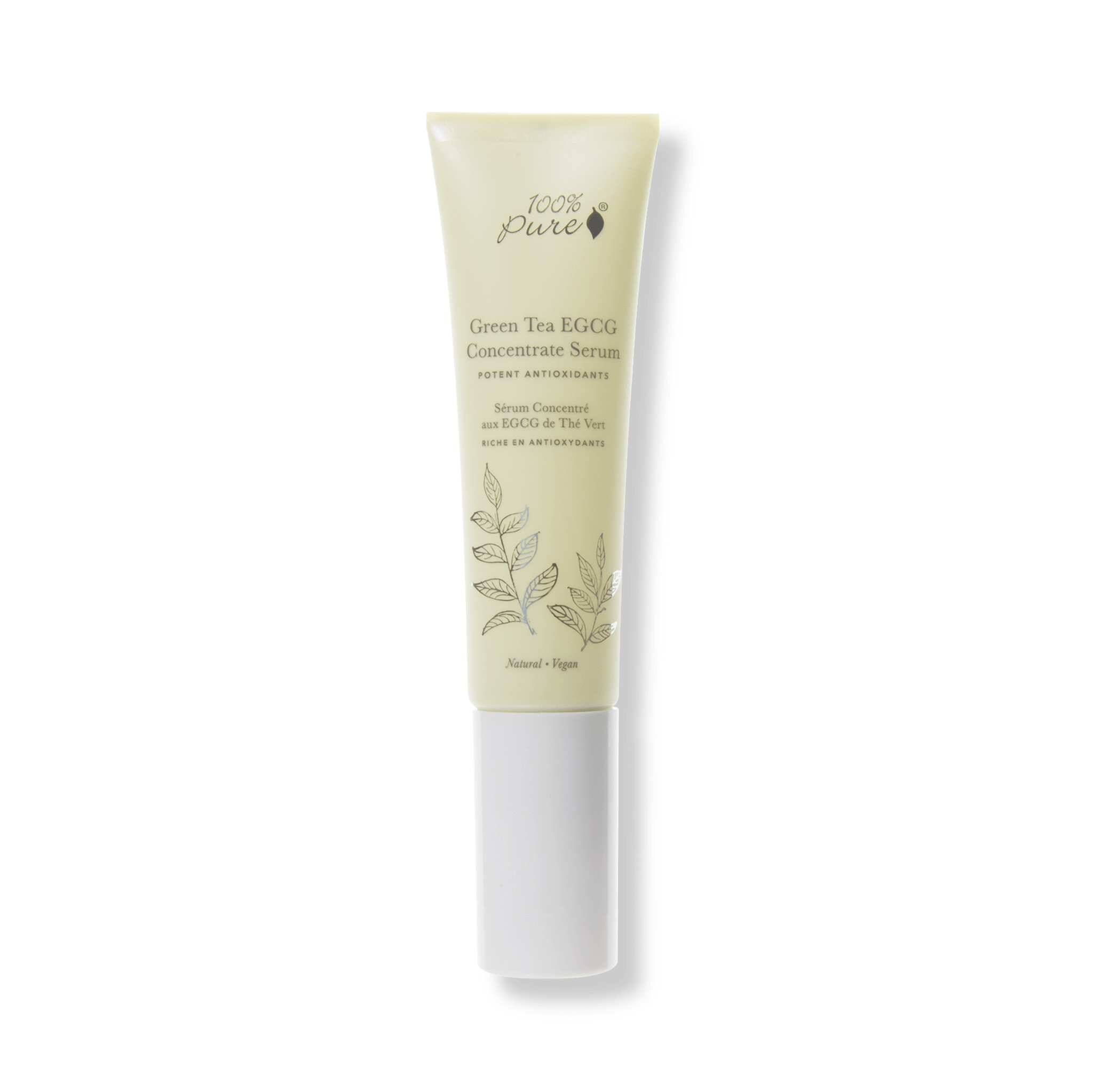 Green Tea EGCG Concentrate Serum
Natural

Vegan

Cruelty Free

Gluten Free
Lightweight serum concentrated with EGCG, the active ingredient in green tea that can delay signs of aging, and caffeine from green tea to brighten and depuff.
For Normal, Dry, Oily, Combination Skin Types

This serum is concentrated with organic green tea and a potent dose of EGCG, the critical phytochemical and active ingredient in green tea. Green tea is an antioxidant that delays signs of aging such as sagging skin, sun damage, age spots, lines, and wrinkles. Green tea's caffeine content reduces appearance of dark circles and puffiness under eyes, and enlivens dull complexions.

Directions

After cleansing and toning, gently pat a quarter sized amount of serum onto face (including eye area) and neck. Serums may be layered. Use AM and PM.

Every ingredient we use is beneficial, here are a few:

Acai

Acai heals and protects with antioxidants.

Goji Berry

Goji Berry boosts collagen production and skin elasticity.

EGCG

EGCG protects from free radical damage.

Green Tea

Green Tea tones and protects with antioxidants.

Yerba Mate

Yerba Mate boosts skin firmness and elasticity with antioxidants.

Complete list of ingredients:

Organic Aloe Barbadensis (Aloe) Water, Organic Glycerin, Organic Lonicera Japonica (Honeysuckle) Flower Extract, Xanthan Gum, Hyaluronic Acid, Organic Ilex Paraguariensis (Yerba Mate), Organic Rosa Canina (Rosehip) Oil, Organic Persea Gratissima (Avocado Oil) Organic Camelia Sinensis (Green Tea), Organic Euterpe Oleracea (Acai), Organic Lycium Barbarum (Goji Berry), Olive Squalane, EGCG, Organic Essential Oil Blend: Citrus Aurantium Bergamia (Bergamot) Fruit Oil, Cedrus Atlantica (Cedarwood) Bark Oil, Vetivera Zizanoides (Vetiver) Root Oil, Citrus Sinensis (Blood Orange) Oil, Salvia Officinalis (Sage) Oil, Lavandula Angustifola (Lavender) Oil
By using hashtag #100percentpure or #nodirtybeauty, I hereby grant to 100% PURE (Purity Cosmetics), it subsidiaries, agents and affiliates, the unlimited worldwide, perpetual, unending right to use, reproduce, distribute, and convey my image/photograph in any format or medium now known or subsequently developed, to modify and edit my image/photograph, to combine my image/photograph with other images, video, audio, text and other media, to create derivative works incorporating, including or based on my image/photograph. This grant shall be construed broadly.
---
Green Tea EGCG Concentrate Serum
has a rating of
4.7
stars based on
114
reviews.
Customer Reviews
Powerhouse in a bottle
I enjoyed this serum. It made my skin feel great. I used it AM &PM. I wish the tube was bigger so I wouldn't have to purchase it so often!
Great as a day time moisturizer
I've used this product for roughly a month now. It's very lightweight on my skin. It strikes a great balance because some lightweight moisturizers leave me feeling like I put nothing on my skin 10-20 minutes after applying. With this I feel I have enough moisture but it's not overdone or underdone. I'm excited to see how it does in the Texas summer.
Just Right
This is a great serum! The consistency is just right, light and creamy. Like a nice light moisturizer. My skin can get a little overwhelmed and irritated if I use too many products or too heavy a moisturizer, so I've been using this serum as a daytime moisturizer and it is perfect. I wondered if it would be enough moisture for my combo skin this winter, and it is. I just add a tiny bit of an actual moisturizer if I have areas that are feeling dry, but most of the the time this serum is enough. Not sure if I've noticed any difference or improvement in the appearance of my skin because of this product, but the nice formula has me reordering.
Works well
Works well with skin. Feels good going on.
A Favorite Serum
I've been using the Green Tea EGCG moisturizer since summer and decided to try the serum too. Absolutely love it! I use it at night after cleansing/toning with Fermented Rice Water Cleanser/Toner, and layering with the Multi-Vitamin PM serum. During the day layer with Vitamin C serum. Green Tea EGCG Serum has a creamy consistency and my face feels wonderful after using it!
Complete the Package
Continue Shopping →