https://purity-res.cloudinary.com/image/fetch/q_auto:best,f_auto,fl_lossy,w_auto,c_limit,dpr_auto/https://cdn.shopify.com/s/files/1/0648/1955/products/Ib0OiyQKQrKkIiuHD9SL.png?v=1556133555
https://purity-res.cloudinary.com/image/fetch/q_auto:best,f_auto,fl_lossy,w_auto,c_limit,dpr_auto/https://cdn.shopify.com/s/files/1/0648/1955/products/kUcIFbLIQCmLmFUznANi.png?v=1556133555
https://purity-res.cloudinary.com/image/fetch/q_auto:best,f_auto,fl_lossy,w_auto,c_limit,dpr_auto/https://cdn.shopify.com/s/files/1/0648/1955/products/geb81O9zTaGJJ7mxageD.png?v=1556133555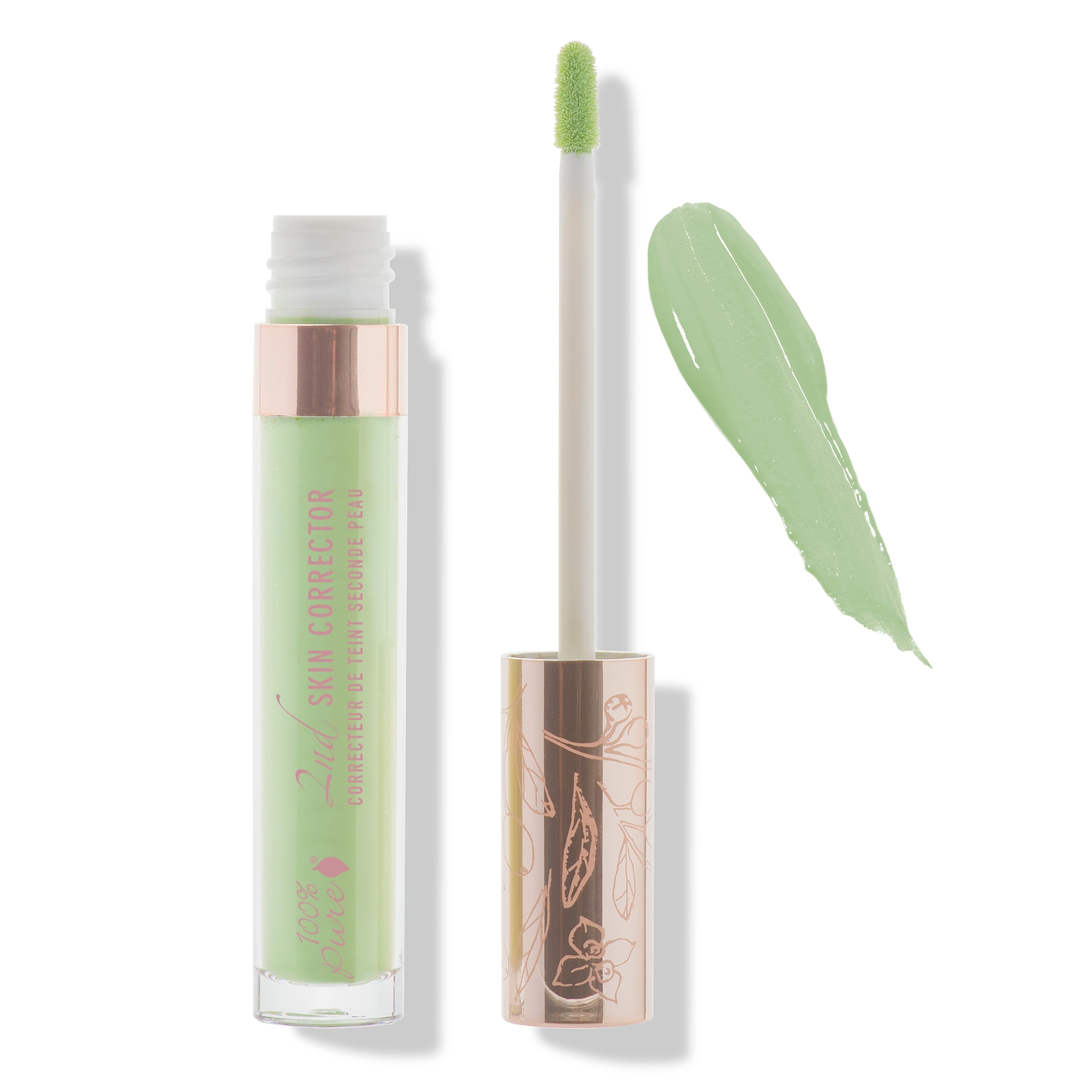 2nd Skin Corrector
Fruit Pigmented®

Natural

Vegan

Cruelty Free

Gluten Free
Ultra blendable color correctors made with hydrating olive squalane and natural pigments to banish redness, brighten your complexion, and correct dark circles.
Medium to Full Coverage
Satin Finish

Creamy color correctors made in a concealing base of ingredients like turmeric, matcha green tea, and real fruit pigments. A base of nourishing olive squalane helps to give an ultra lightweight finish that feels like real skin, while delivering complete color-correcting coverage. This luxurious and silky formula won't crease, cake, or accentuate lines and wrinkles.

Peach: The illuminating peach color corrector perfectly brightens dark circles and dull skin.

Yellow: The yellow color corrector dramatically corrects blue / purple hues and lightens dark under eye circles.

Green: The matcha green tea color corrector perfectly corrects redness.

Coverage

Finish

Directions

Before foundation, apply directly under the eyes, to the chin, forehead, or onto dark spots and imperfections. Gently blend into skin with cruelty-free kabuki brush or clean fingers.

Complete list of ingredients:

Olea Europaea (Olive) Squalane, Pigmented Extracts of Prunus Persica (Peach), Prunus Armeniaca (Apricot), Theobroma Cacao (Cocoa) Beans, Punica Granatum (Pomegranate), Rubus Idaeus Fruit (Raspberry), Prunus Serotina (Wild Cherry), Coffea Arabica (Coffee) Beans, and Camellia Sinensis (Micronized Black Tea) Leaves, Oryza Sativa (Rice) Starch, Camellia Sinensis Leaf (Matcha Green Tea) Extract, Camellia Sinensis Leaf (Green Tea) Extract, Lonicera Caprifolium Flower and Lonicera Japonica (Honeysuckle) Flower Extract, Rosmarinus Officinalis (Rosemary) Extract, Origanum Vulgare (Oregano) Extract, Thymus Vulgaris (Thyme) Extract, Hydrastis Canadersis (Goldenseal) Extract, Lavandula Angustifolia (Lavender) Extract, Calendula Officinalis (Calendula) Extract, Tocopherol (Vitamin E), Bamboo Silica, Mica
2nd Skin Corrector
has a rating of
4.6
stars based on
8
reviews.
Customer Reviews
skin
peach
yellow
texture
corrector
shade
Skin Concealer
consistency
correctors
green
Nice Formula
This has a beautiful consistency it doesn't settle into lines or emphasize texture, it's hydrating and works well under other products. I bought the corrector in yellow and unfortunately I'll be returning. I have some darkness under my eyes not super bad but I'd like correction. But the yellow isn't doing it for me. I've always used a peach corrector for my under eyes (for reference I have light-medium skin with neutral undertones and blue purple under eye darkness) and this is my first time using yellow. I chose yellow due to the description. I'd like to try it again in peach and see how peach corrects my under eyes because the formula is really good.
Perfect color for my dark circles!
I bought the Peach for my undereyes and it works really well underneath my 2nd skin concealer. Makes such a huge difference than when I use the 2nd skin concealer by itself! I'm always amazed when I put this on how much brighter my undereyes look. Some days I swear I could use this on its own. The color is just perfect and very natural looking. Highly recommend : )
Have been waiting a long time for these!
This brand is the only makeup I use, so I have been needing a color corrector and did not want to use a poisonous brand! I am using the yellow (and the peach) and my whole face has changed! People always told me how tired I look...nice, right? These correctors have completely brightened up my whole appearance and I am just delighted with them. They are definitely a face changer!!
Covers dark circles well, but...
This left a stain on my beauty blender, and I can't seem to get the yellow off. I have combination skin with generally dry skin under my eyes. Application is very smooth and has a satin finish but this ended up drying out my under-eye area. Setting it with finishing powder brought out the flakiness. I highly recommend that you make sure that your skin is moisturized well before applying this, particularly the under-eye area.
A-mazing!
I have been using the corrector in Peach for my under eye circles for two weeks now, and all I can say is that it is magic. I have tried so many 'peachy' correctors and none has worked like this. If I'm in a rush, I don't even have to use a concealer on top of it--the pinky-peachy shade dissolves as the product gets absorbed. A+ from me--I'm a fan! I ordered the yellow corrector today.
Complete the Package
Continue Shopping →