The Best Plant-Based Meats
Every Vegetarian Should Know About
Posted on September 2, 2022
Written by: 100% PURE®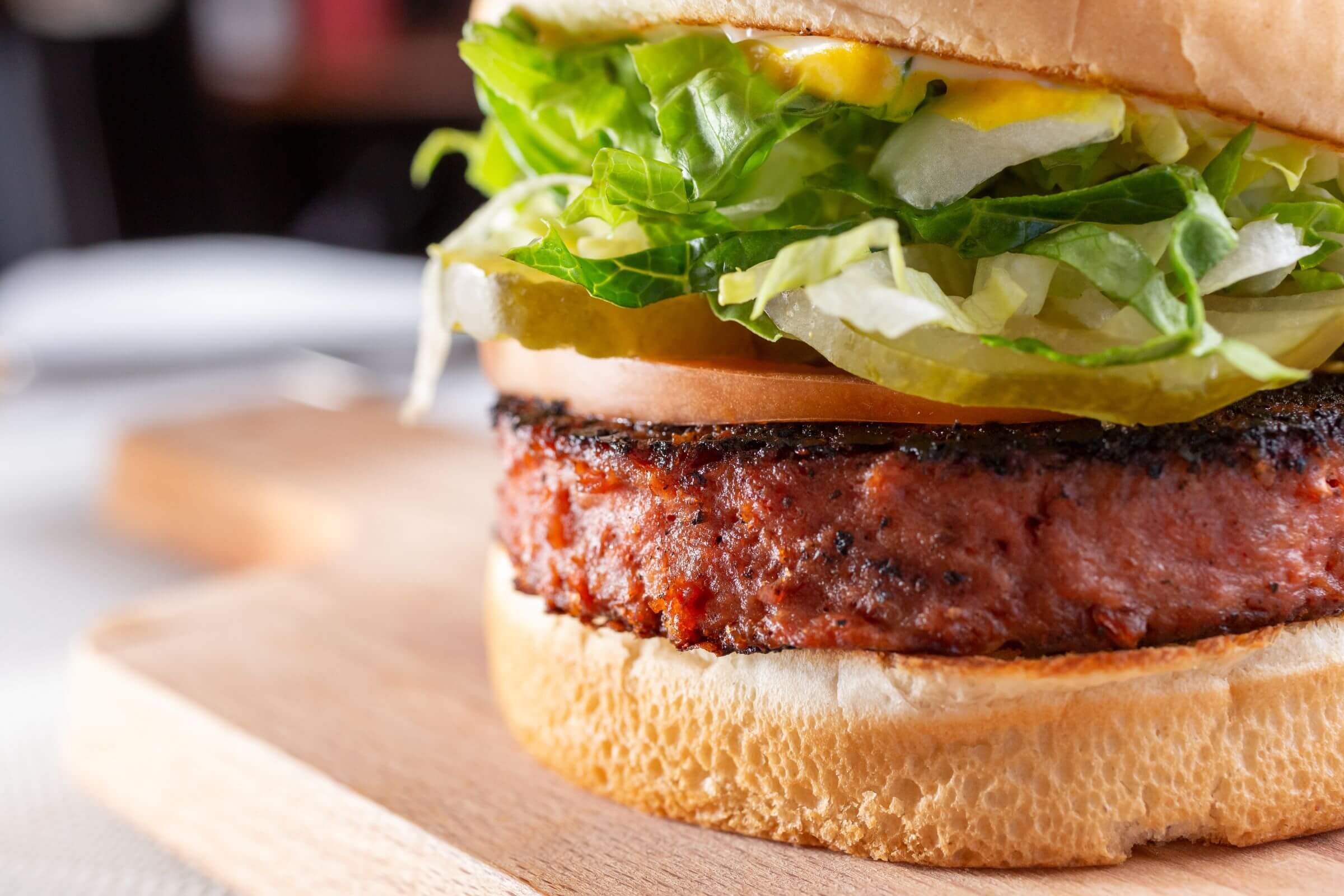 It's no secret that plant-based meats are high in demand right now. As the research on the benefits continue to grow, and as more delicious options are available than ever before, even self-proclaimed carnivores are giving it a try.
But many of us still wonder: what is plant-based meat, anyway? And is it actually healthy?
In a broad definition, plant-based meats are any food that's meant to mimic the taste, look, and texture of meat, without actually containing any.
Plant-based meats are actually nothing new, but as more studies, like this one, demonstrate it as a more sustainable (and more humane) protein source than animal farming, more individuals are jumping on the tradition of meatless Monday; what's more, some folks are even going fully plant-based altogether.
As far as health benefits go, however, this can often depend on the plant-based meat in question, as well as your own nutritional needs. For instance, you may have a gluten allergy, and should stick to pea protein and soy products. Or perhaps you're looking to keep your daily protein intake up–luckily, there are many protein-packed options available.
Today, we're sharing our favorites in plant-based meat; each option below is packed with protein, low in saturated fats, and absolutely delicious.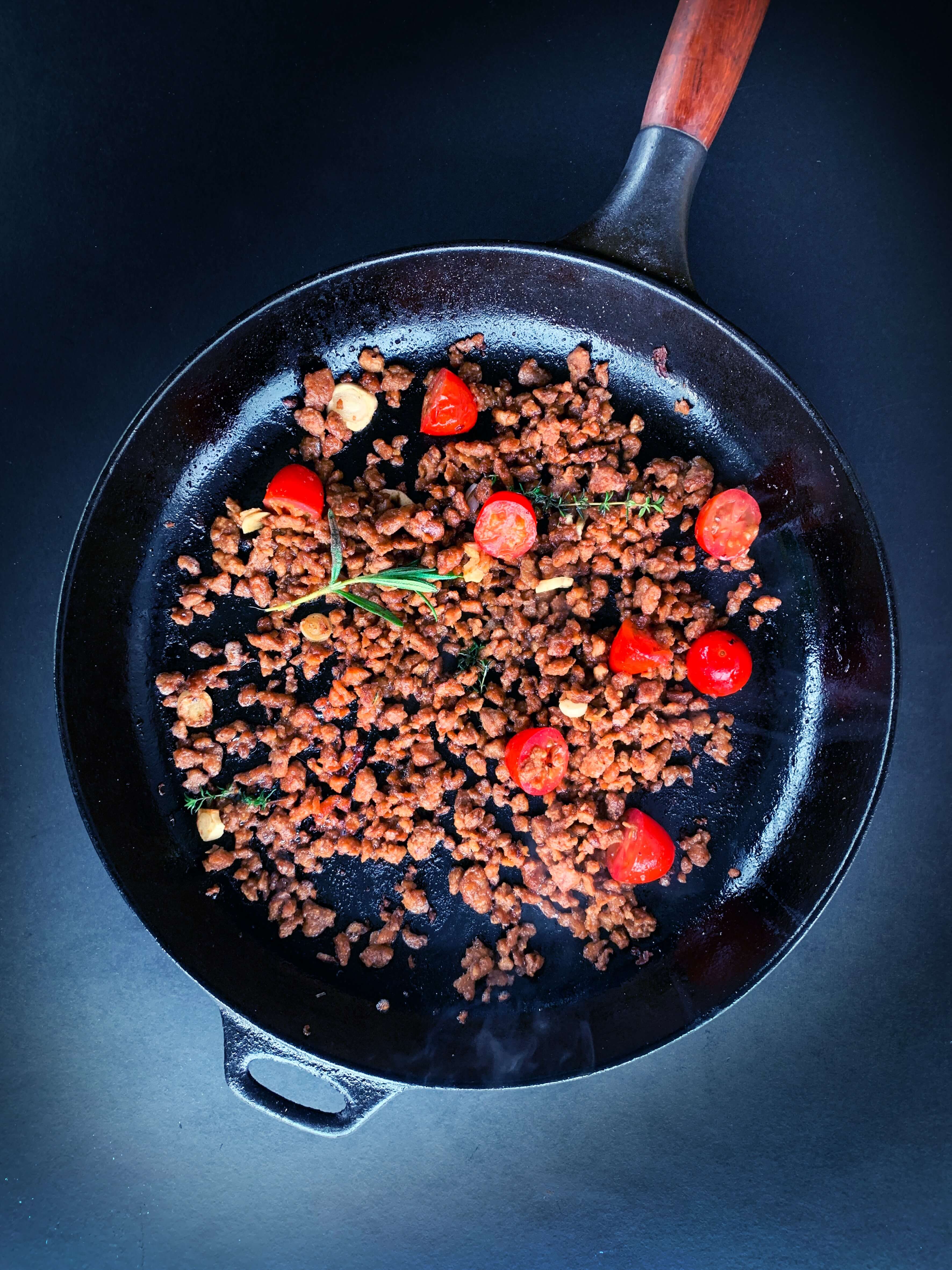 Ground Beef
Fire up the grill and toast those buns!
There are lots of plant-based patties that are, shall we say, "plant-forward" on the palate (we're looking at you, Morningstar). But when you seek a plant-based burger that looks, cooks, and tastes like beef, we know what to bring to the barbeque.
Here are some of our favorite plant-based meats that can be used as a ground beef alternative.
Beyond Ground Beef
Beyond uses bits of cocoa butter to mimic flecks of fat, which melt beautifully into this plant-based meat. And with the help of beet juice, this patty even "bleeds".
These patties don't just pack a punch with flavor, but also protein, at 20 grams each! And those with gluten and soy allergies can rejoice, because this plant-based meat uses pea protein for its hearty nutrition. And to compete even more with animal meat, these patties contain 35% less saturated fat.
Impossible Burgers
Maybe you're introducing plant-based meats to your loved ones, and some of them might be more of a challenge to impress.
Sometimes, it takes an impossible burger to please that impossible family member.
Not only do these burgers cook strikingly like beef, but they're also free of the cholesterol, hormones, and antibiotics you'll find in virtually all meat on the market.
And according to thick, each patty is a valuable source of iron and fiber, and contains over 20 grams of protein. Better yet, they're gluten-free!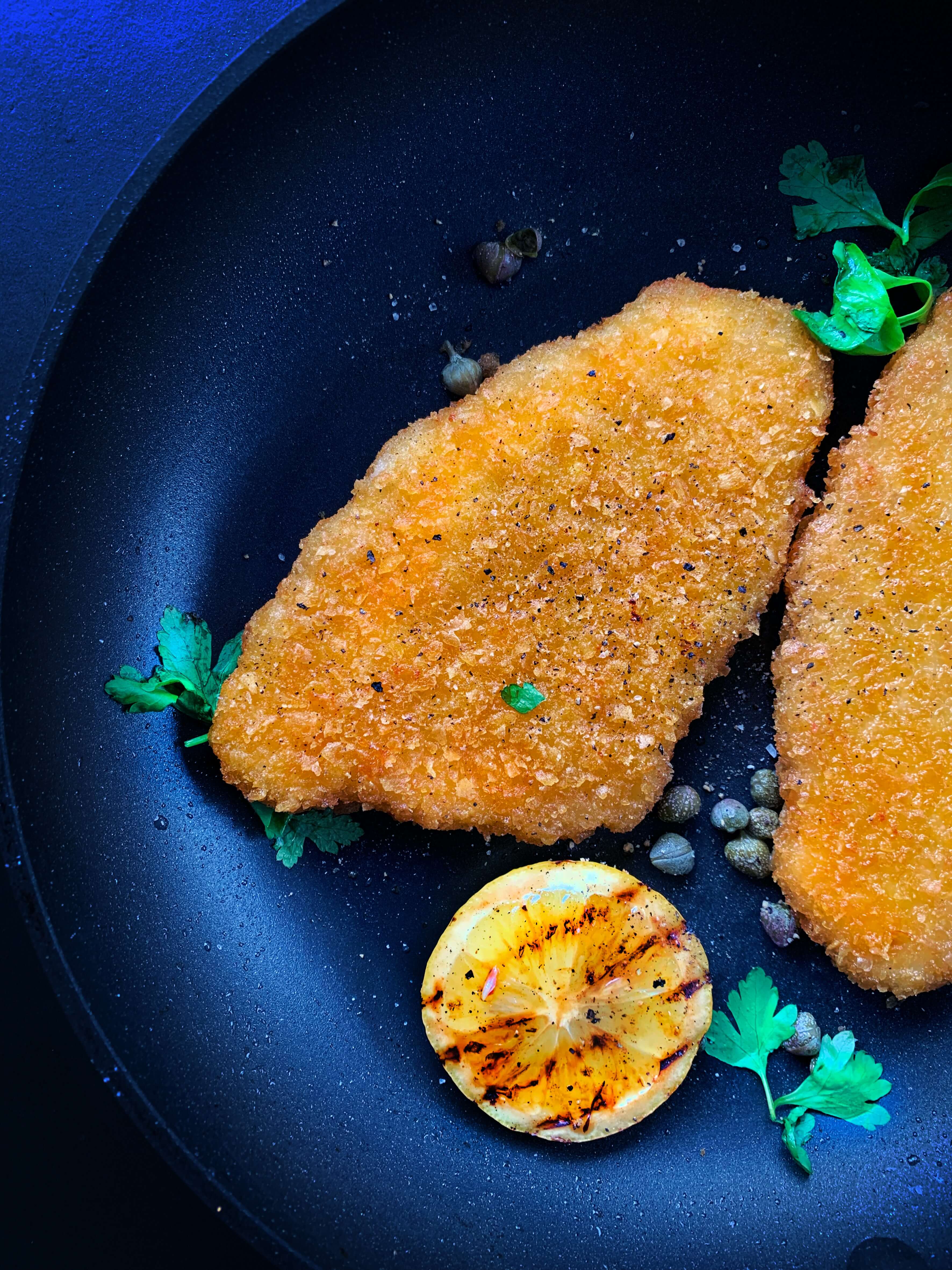 Chicken
We say "it tastes like chicken" for a reason. The flavor of chicken is familiar, and it can be as basic or as dressed-up as we want it to be.
When we searched for the best chicken-style plant-based meats, we stuck with the ones that have mastered the flavor. Bland, dry chicken substitute is nowhere on our list!
Gardein Ultimate Plant-Based Chick'N Filet
Gardein is easily one of the leaders when it comes to brands that make great chicken alternatives. And with these massive plant-based chick'n patties, even the biggest meat lovers will be satisfied.
Gardein's Ultimate Plant-Based Chick'N Filets come in a resealable bag of three, and are made of bitter wheat gluten for a protein-packed texture that strongly resembles chicken. These patties are particularly impressive because they never have a rubbery, chewy, or soggy texture, and there's no strong "plant-based meat" aftertaste.
It's worth noting, though, that due to their generous sizing, you'll need to take a little more time to cook these chick'n patties. That being said, they're delicious whether you bake or air-fry them.
Lightlife Plant-Based Chicken Fillets
Lightlife is known for making excellent plant-based meats for sandwiches–specifically, plant-based deli meats resembling ham or turkey. These chick'n patties, however, are remarkably hefty, and you can feel it the second you pick up the box at the store.
Like the ones from Gardein, these plant-based meat patties are made from wheat gluten, which provides a protein-rich, neutral flavor that's reminiscent of chicken, and they can be baked or air-fried. We especially love them air-fried, as the outer layer does a great job crisping up for a crispy, juicy bite.
Newsletter
Subscribe
for more blog updates and exclusive discounts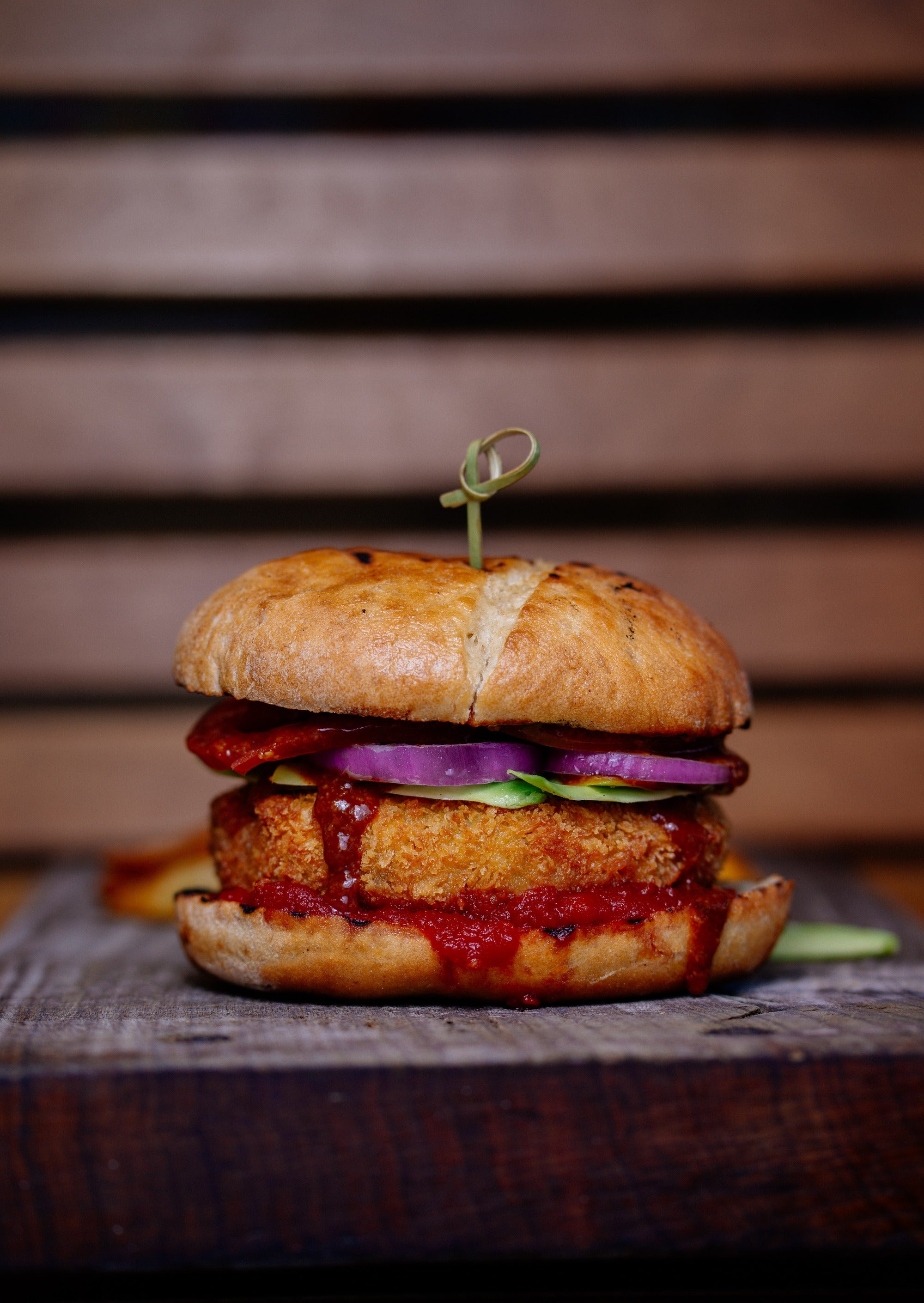 Fish
When we talk about plant-based meats, we usually think of veggie burgers and chick'n patties. But we've got great news for seafood lovers: there are even plant-based alternatives to fish!
Whether you love crab cakes at cocktail parties, or you're a lover of sushi, you're sure to find a plant-based option. Today, we're covering alternatives to two of the most universally-loved types of seafood: tuna and salmon.
Good Catch Tuna, Naked in Water
To us, this plant-based tuna alternative is much akin to the Starkist tuna meal in a bag. Like its fish-derived muse, it's downright fantastic in sandwiches.
In addition to pea protein, this plant-based meat of the sea uses chickpeas, soybeans, fava beans, and lentils to create that flakey, savory texture; it's also what gives it 16 grams of protein per serving.
Good Catch Tuna is the perfect plant-based meat to bring as your office lunch (no cooking required), and it's also great for introducing kids to vegan options.
Like real tuna, Good Catch offers their plant-based alternative in packets packed with oil or, for a lower-calorie option, water. Whichever you choose, it's a super versatile option that's great in sandwiches, wraps, and vegan spicy tuna rolls.
Sophie's Kitchen Salmon Burgers
These Salmon Burgers from Sophie's Kitchen make the perfect option for a catch of the day that's fish-free, gluten-free and soy-free. Mildly seasoned with dill and lemon, this plant-based meat does an excellent job mimicking the taste and flaky texture of salmon, and it's high in protein. Made from pea protein, these salmon burgers offer 18 grams of protein while staying relatively low-calorie.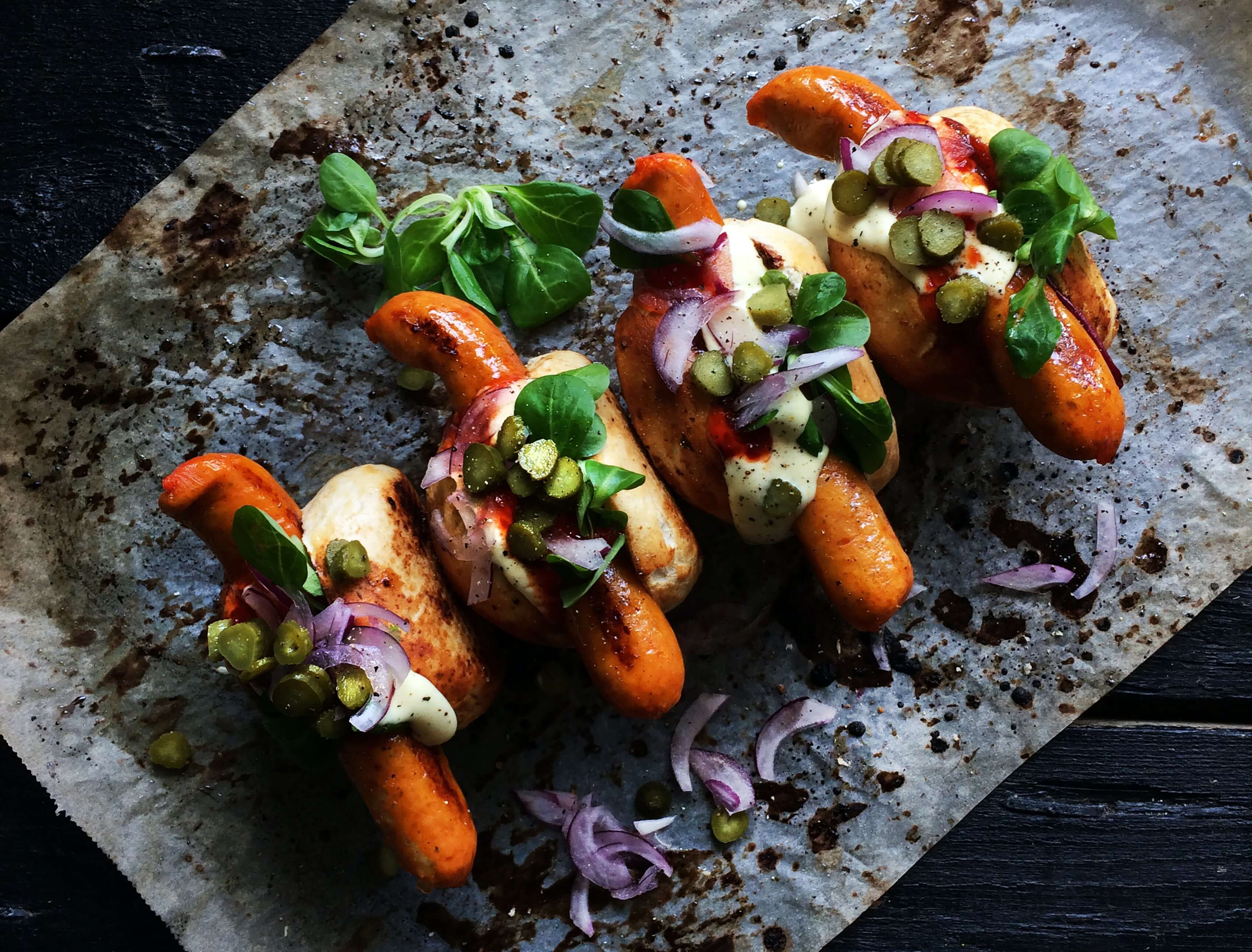 Pork/Sausage
Out of all the meats, pork is often the trickiest to mimic when it comes to plant-based alternatives.
While brands like Beyond and Impossible have mastered the bleeding burger, food experts have yet to create a vegan bacon that sizzles, melts, and crisps up like the real thing.
Until we find the perfect vegan bacon, we'll have to build our plant-based breakfasts around some other mouth-watering options. Luckily, there are some delicious choices in plant-based chorizo and pork shoulder, which we've listed below.
Abbot's Butcher Spanish Smoked Chorizo
Abbot's Butcher makes their plant-based chorizo with pea protein, which is pre-seasoned with tomato, garlic, and smoked paprika for a savory, zesty flavor–no actual butchering is involved with this plant-based meat.
Incredibly versatile and not too spicy, this vegan smoked chorizo is easy to add to scrambles, breakfast tacos, empanadas and more. Even meat lovers are sure to love this one!
Asante Plant-Based Pastor (Pork Shoulder)
Asante has recreated al pastor as a plant-based meat, and it perfectly captures that texture and taste you know and love.
Like traditional al pastor, this plant-based meat is slow-cooked to create a consistency that falls off your fork in the best way possible. And consisting of wheat and pea protein, this plant-based meat is much lower in calories than your traditional al pastor.
The secret behind its smoky, tangy flavor lies in the seasoning, consisting of peppers, cumin, apple cider vinegar, and orange juice. The result: the perfect plant-based meat for your next taco Tuesday.
We carefully hand-select products based on strict purity standards, and only recommend products we feel meet this criteria. 100% PURE™ may earn a small commission for products purchased through affiliate links.
The information in this article is for educational use, and not intended to substitute professional medical advice, diagnosis, or treatment and should not be used as such.
Sign up to our email newsletter for more blog updates and exclusive discounts.
< Older Post | Newer Post >