Gentle Natural Cleansers Made with Flowers
How skin-friendly florals stack up against common cleanser ingredients - plus the best cleansers to add to your skincare routine!
Posted on June 17, 2023
Written by: 100% PURE®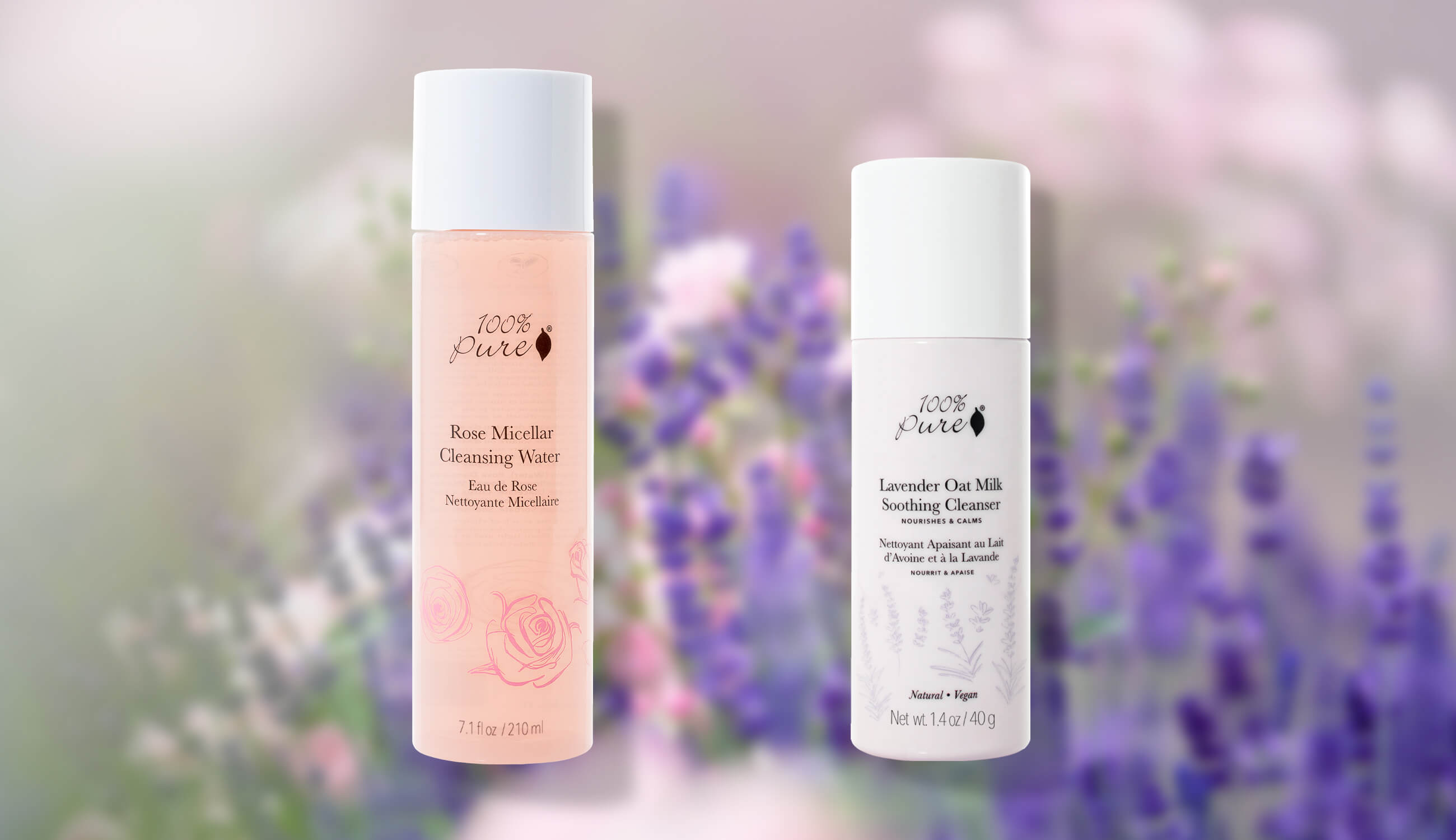 Building a skincare routine can be a complicated ordeal. Even with the best intentions, your routine can come crumbling down if one building block is out of place.
Every skincare routine begins with the same step: cleansing. A balanced, natural cleanser can help suppress bacterial growth, remove makeup and impurities, and create a clean slate for nutrient absorption.
Unfortunately, not all cleansers are suitable for your skin – and may even contain harsh chemicals such as sodium laureth sulfate or alcohol. So, if your skincare regimen has been failing you lately, you may want to check the ingredients in your daily cleanser.
We've found flowers to be supremely gentle on delicate skin, while other ingredients can be downright destructive. We believe that the best face cleansers should be gentle – not harsh – for a well-balanced natural skincare routine. To guide you more, listed below are a few key tips about choosing the most effective cleanser for you.
Cleanser Ingredients to Avoid
To know what's really in your cleanser, you have to first analyze the ingredient list. This may seem like a daunting task, but eventually you'll learn that many undesirable ingredients have been hiding right under your nose.
Here's a cheat sheet of ingredients to avoid, especially in a facial cleanser:
Mineral Oil
Sodium Laureth Sulfate
Artificial Fragrance
Parabens (methylparaben, butylparaben, propylparaben, and ethylparaben)
Aluminum
For those with acne-prone skin, harsh cleansers can actually be appealing. But don't let that burning sensation fool you: you shouldn't be fighting fire with fire to rid yourself of acne. All skin types can benefit from gentle cleansing, especially on a daily basis.
5 Floral Ingredients for Happy Skin
Thankfully there are plenty of clean, natural cleanser ingredients that can actually be gentler on your skin. This is where flowers come into play!
Lavender
While a soothing scent certainly adds to its appeal, lavender flower is also known for potent oil-regulating and antibacterial properties. Lavender can prevent or alleviate acne breakouts, while relieving inflammation and redness.
Lavender is also noted for its ability to calm eczema, not only through its anti-inflammatory properties but thanks to natural antifungal abilities.
Cornflower
While these beautiful blue flowers contain a vast array of beneficial compounds, anthocyanins are what make them prized for use in skin care.
Anthocyanins are a type of flavonoid associated with an immense amount of properties that can benefit human health. They also fight free radical and inflammatory damage, which is helpful when you're washing daily impurities and pollutants from your skin.
Rose
Rose hydrosol – a steam-distilled concentrate of rose petals – boasts ancient botanical fame. Rose continues to reign as a staple not only for natural cleansers, but also for toners, eye creams, and hair care.
Much like lavender, rose is a flower valued for much more than its delicate fragrance. Its anti-inflammatory properties are legendary for sensitive skin. Rose is also popular in anti-aging products, as it may help reduce the appearance of fine lines and wrinkles.
Rose petals and rose oil are also rich in antioxidants. According to one study, commonly used Rosa Damascena can inhibit lipid oxidation. This research claims that rose could potentially be "considered as a medical source for the treatment and prevention of many free radical diseases."
Coneflower
Coneflower, also known as echinacea, makes up a group of flowering botanicals known for their versatility in herbal medicine. These big, vibrant flowers have been known for their anti-inflammatory and antibacterial properties for centuries.
Coneflowers are concentrated with antioxidants, which is great news for our skin. As we know by now, antioxidants are our allies against free radicals like pollution and UV rays – major contributors to aging skin.
Antioxidants can reduce free radical activity, so including them in your diet and natural cleanser will go a long way in preserving your skin.
It's also been found that coneflower's anti-inflammatory benefits can slow the growth of Propionibacterium, a bacteria known to cause acne.
Calendula
When pursuing gentle skin care, we always try to seek out a natural solution first, and the calendula flower ranks top for its calming beauty benefits for any-bud-y full of reasons!
Let's just say this flower power is not your typical "garden variety" and lays ground for bragging rights among the plant arena. It ranks well in the A-plus categories of anti-inflammatory, antibacterial, antifungal, antioxidant, and anti-aging properties – plus other skin-efits!
Its pretty petal face can soothe and reduce skin redness, inflammation, and irritation. And when it comes to treating breakouts, calendula's gentle nature means it won't dry your skin out and it's safe to use with other acne-fighting ingredients.
The flowering superhero ingredient can come to the aid of dry and sensitive skin and help repair the skin's natural barrier. That means calendula can help you kick dry skin to the garden variety curb! Since calendula gives skin cells the ability to absorb nutrients and hold onto water longer, using a natural cleanser with this anti-aging superstar can lead to smoother, suppler, and more nourished skin.
Newsletter
Subscribe
for more blog updates and exclusive discounts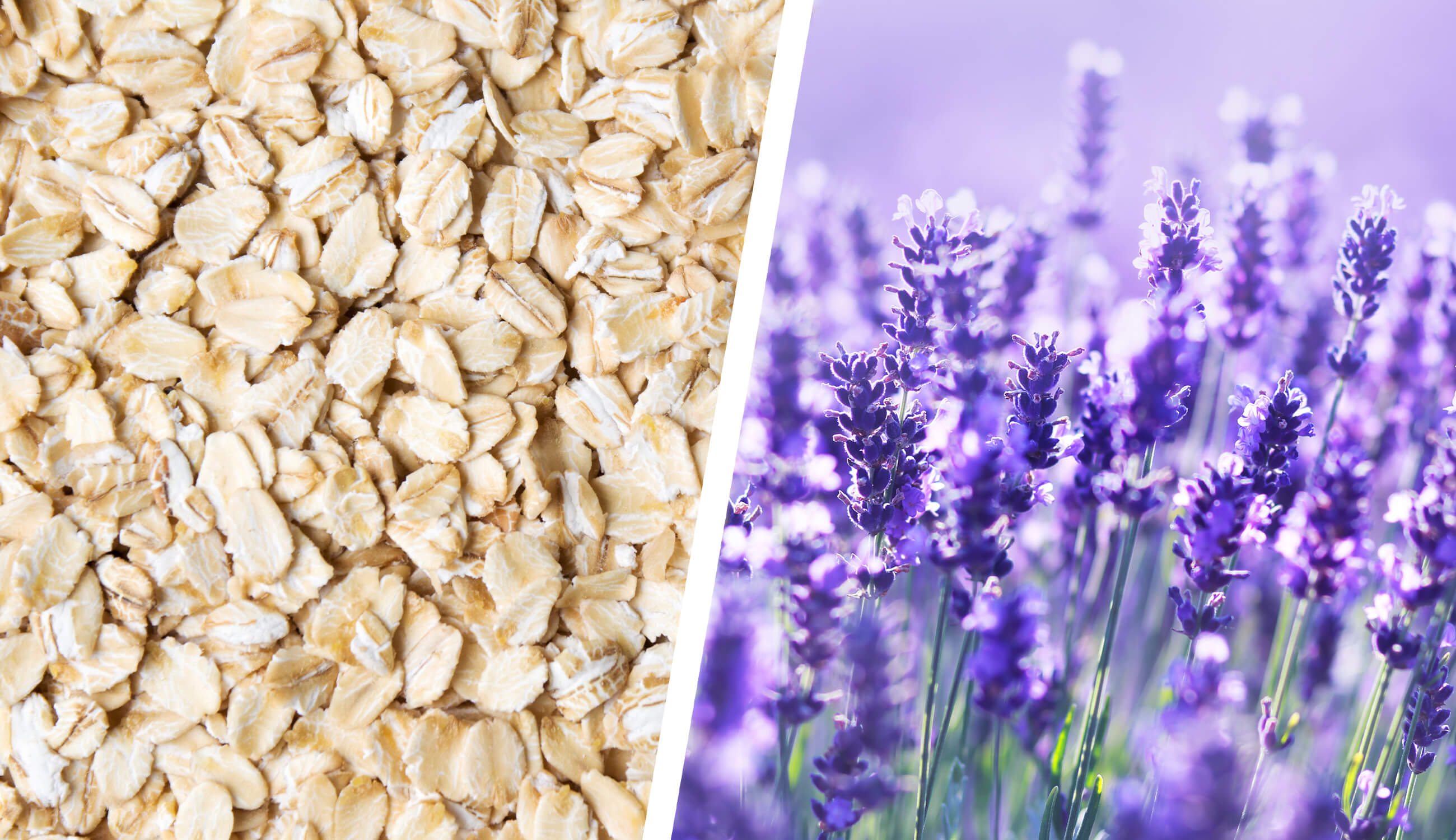 Try a Flower-Boosted Cleanser (or Two)
If you're ready to reset your cleansing routine with a natural cleanser packed with gentle, effective ingredients, look no further than our collection of flower-power skin superstars! It includes our Lavender Oat Milk Soothing Cleanser, Rose Micellar Cleansing Water, Calendula Flower Cleansing Milk, and the Nopal Cactus Cleanser, which also contains the botanical bliss of rose water.
Our Lavender Oat Milk Soothing Cleanser and Rose Micellar Cleansing Water contain a combined floral blend of 9 skin-soothing flowers:
Rose

Calendula

Lavender

Geranium

Coneflower

Chrysanthemum

Chamomile

Cornflower

Mallow
In addition, our Lavender Oat Milk Soothing Cleanser is a unique powder formula that features the gently exfoliating properties of baking soda and colloidal oatmeal, which can bring relief to irritated or congested skin. Green clay absorbs excess oil without leaving the skin feeling stripped or dry. A blend of calendula, geranium, coneflower, and chrysanthemum flowers are designed to deeply soothe and purify normal to acne prone skin.
Our Rose Micellar Cleansing Water combines the benefits of micellar water and rose water. While micellar water removes oil, makeup, and other debris from your skin, rose water tones your pores, eliminates excess oil, and both softens and balances your skin.
Our Calendula Flower Cleansing Milk is made with the addition of skin-calming chamomile and aloe, and gently sweeps away dirt and impurities without stripping skin of essential moisture. The addition of redness-reducing rose hydrosol balances the skin. For any dryness or sensitivity, the finishing touch of skin-conditioning sea buckthorn oil will leave your skin looking supple and radiant.
Our Nopal Cactus Cleanser features a trifecta of purifying, anti-aging, and anti-inflammatory properties, such as nopal cactus and prickly pear, which will have you saying hello to a softer, more hydrated complexion with every wash. As with any plant that grows in extreme conditions, cacti are packed with antioxidants; that means they're beneficial for cancelling out free radicals and inflammation in the skin.
Quick Floral Cleansing Routine
To get the most out of this natural cleanser team, it's best to start with a blank canvas.
STEP #1
Start with the Blood Orange Cleansing Balm to remove every last bit of makeup. High-fat vegetable oils such as avocado, olive, and coconut oils extract makeup and dirt from the pores – all while deeply moisturizing.
STEP #2
Once your makeup has been removed, take about a coin-size amount of Lavender Oat Milk Cleanser and combine with a small amount of Rose Micellar Cleansing Water. Activate the powder by creating a light, creamy lather – a little grit is normal. Gently massage into the skin using circular motions, before rinsing off with water.
STEP #3
To keep with our skin-friendly floral theme, follow up our Lavender Tonique to restore healthy pH balance and soothe the skin.
STEP #4
Finish with a moisturizing face cream to re-hydrate the skin. Our Hydra Drench Cream utilizes the anti-aging benefits of rose water, as well as omega fatty acid benefits from chia seed gel.
While this is a natural cleanser routine that should be suitable for all skin types, it should be cautioned that even the gentlest exfoliation may irritate some skin types with overuse. Carefully observe the way your skin reacts during the first few days to weeks of use, to ensure you are following the absolute best cleansing routine for you!
We carefully hand-select products based on strict purity standards, and only recommend products we feel meet this criteria. 100% PURE™ may earn a small commission for products purchased through affiliate links.
The information in this article is for educational use, and not intended to substitute professional medical advice, diagnosis, or treatment and should not be used as such.
Sign up to our email newsletter for more blog updates and exclusive discounts.
< Older Post | Newer Post >