Choosing Your Perfect Sheet Mask: Where to Begin?
Getting up close and personal with our Korean sheet mask collection – what they do, how they do it, and how you should use them
Posted on June 4, 2019
Written by: 100% PURE®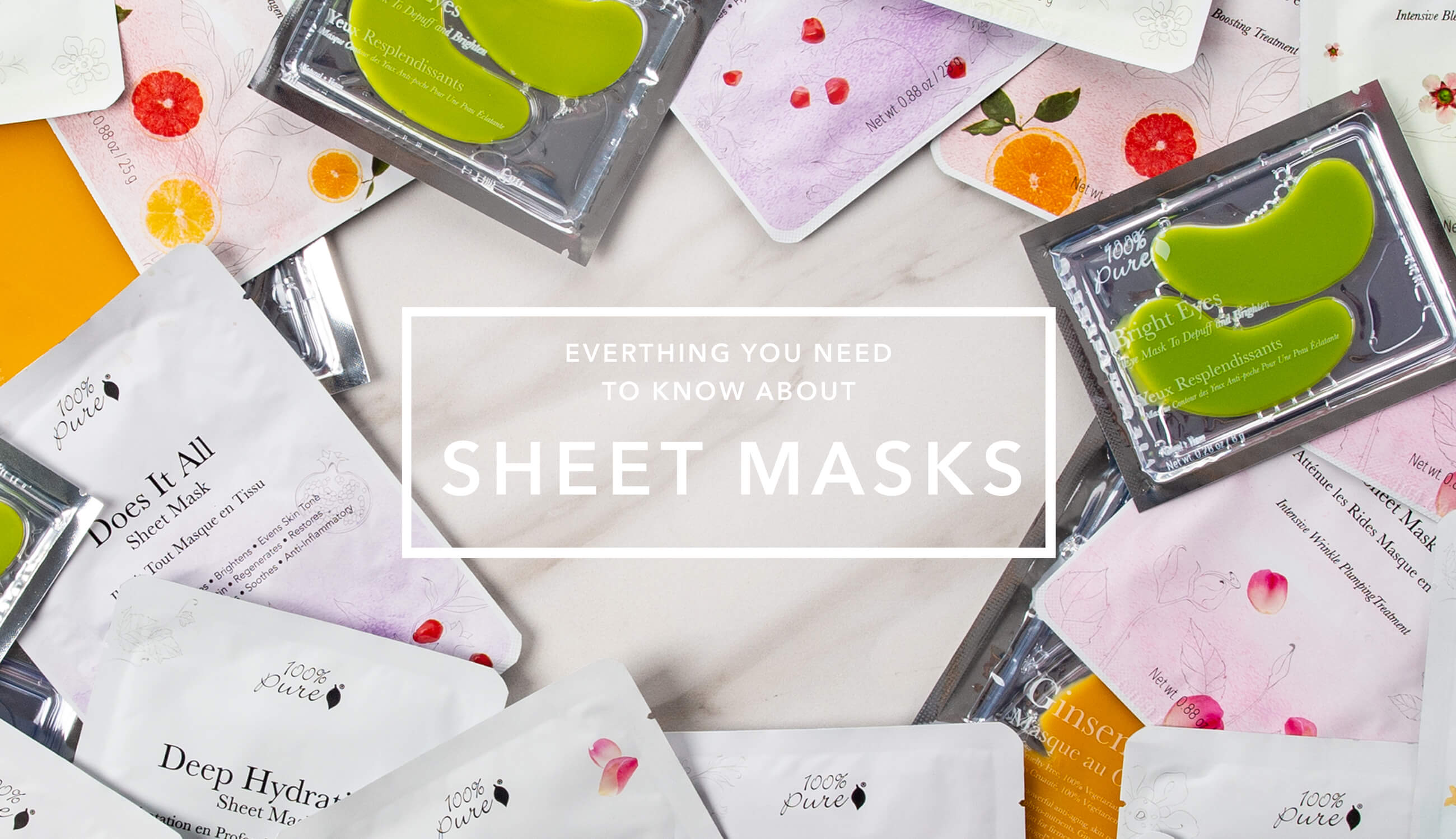 Sheet masks have completely shifted the beauty game across the globe, even for those of us that have little to no time for lavish skin care. Sheet masks have been in all our latest beauty hauls because they're easy to use, super effective, and are designed with variety in mind. Sheet masks come in sleek little packages and make ideal self care treats, bridesmaids gifts, and skin-saviors in your overnight bag.
Don't know how to use a sheet mask? Need recommendations on the best choice for your skin type? Keep reading for the scoop on our Korean sheet mask collection, and learn how to properly use them in your daily routine!
How to Identify Your Sheet Mask Needs
We have a sheet mask for every type and concern. It's important to identify your skin type first, so that you can select a sheet mask that will have the biggest impact on your skin. For example, dry skin would benefit from key ingredients like honey, glycerin, and hyaluronic acid. If your skin has been seeking revenge for all those late nights with Ben & Jerry's, go with calming ingredients like oatmeal and aloe vera; they can help control sebum (excess oil), meaning fewer breakouts and smoother skin.
Speaking of sebum: oily skin types will love sheet masks with kaolin clay, charcoal, tea tree, and citrus essential oils for mellowing out the shine. If your skin falls more in the "neutral" realm treat yourself to something illuminating – look for a mask that incorporates tropical fruits like papaya, pineapple, and lime. Different natural ingredients create a variety of mask results; don't fret, we'll break down each sheet mask formula in detail, so that you can pick the best one (or two or three) for your skin.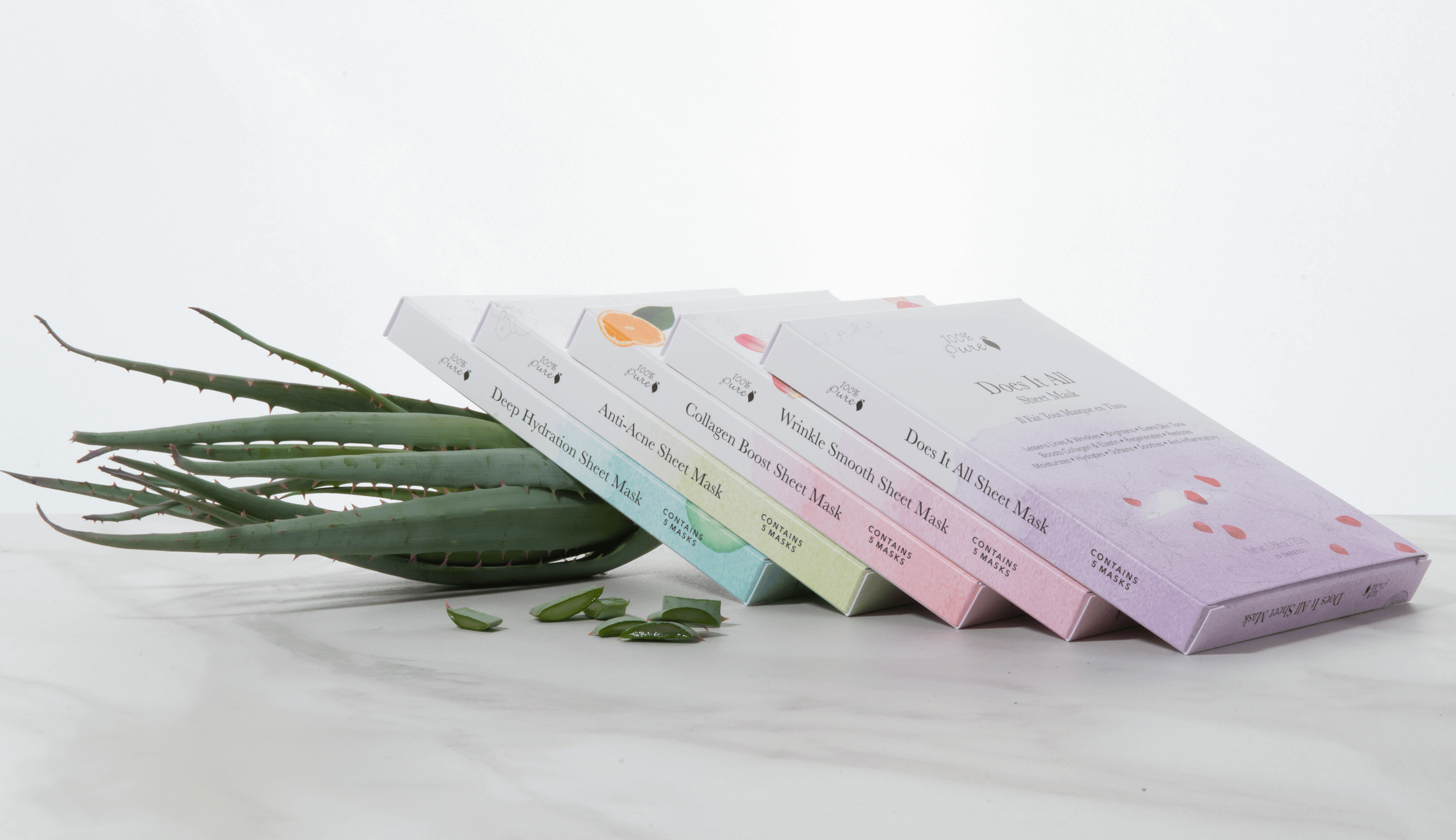 Guide to 100% PURE™ Korean Sheet Masks
Does It All Sheet Mask
Looking for a one-stop-shop in the form of a sheet mask? Look no further than our Does It All Natural Sheet Mask. This mask contains high concentrations of both aloe and hyaluronic acid. Aloe soothes, nourishes and heals, while hyaluronic acid replenishes essential moisture and plumps. Hyaluronic acid is considered a miracle anti-aging product, because just a single gram of it can hold up to six thousand times its weight in H2O. This helps to keep skin looking and feeling hydrated, even after a long day in the heat. This 'water molecule' promotes and supports collagen production, which keeps our skin looking youthful and supple.
This face mask is also packed with some serious anti-aging ingredients. Collagen naturally decreases as we age resulting in sagging skin and wrinkles. Retinol double down on fine lines and wrinkles, firms, and helps to gently resurface the skin to minimize dark spots and discoloration. Caffeine is a natural vasoconstrictor that gently tightens and refines, while reducing redness and inflammation.
The benefits don't stop there; this is our "does it all" sheet mask for a reason. We've also incorporated sake, vitamin C, grapefruit, and licorice for brightening and glow-boosting. Last, floral and herb extracts balance and reduce inflammation for soothed, spa-worthy results.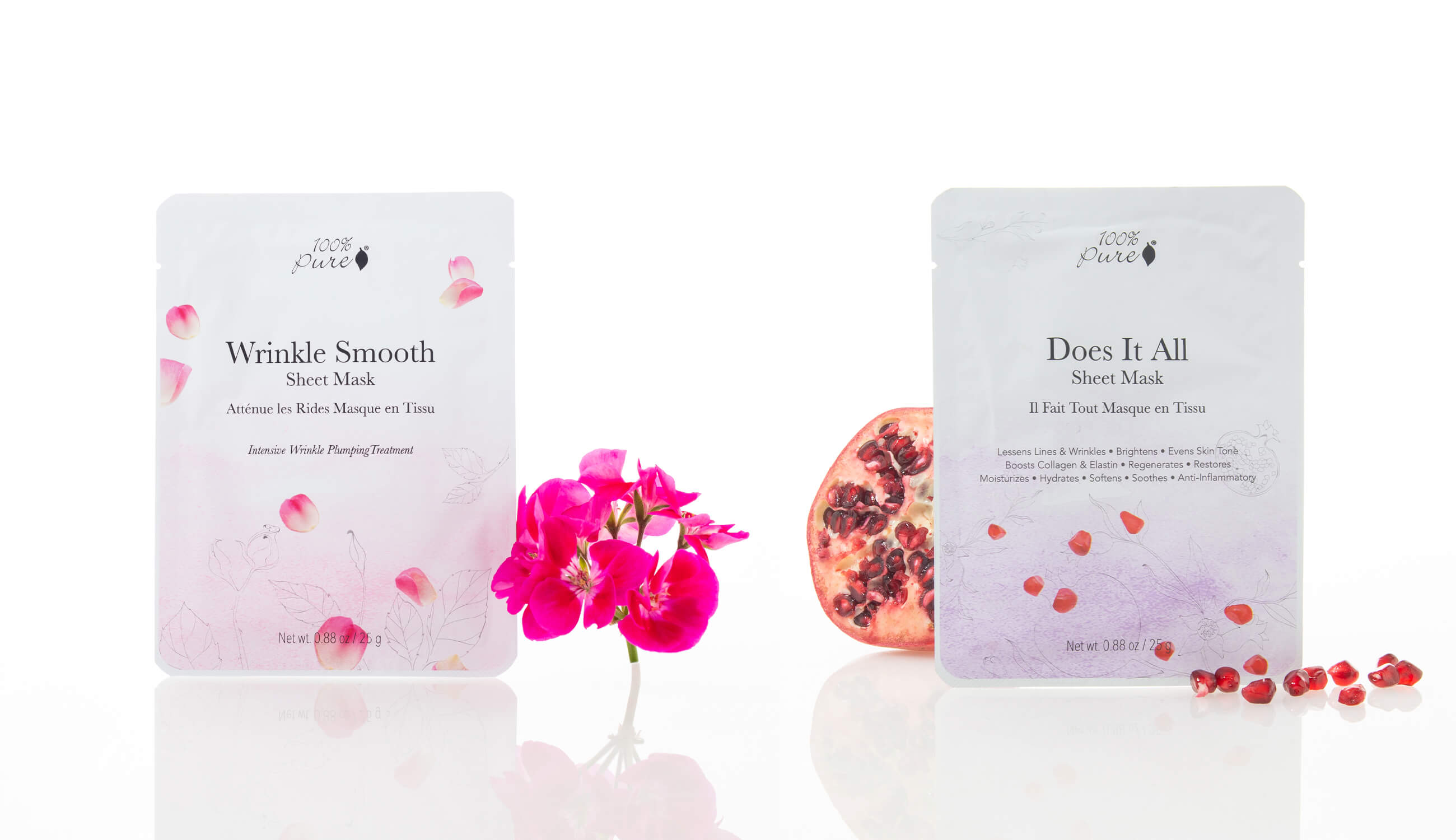 Wrinkle Smooth Sheet Mask
Smooth skin is just a mask away with our natural Wrinkle Smooth Sheet Mask. There are many reasons we might desire smoother skin – aging, blemishes, enlarged pores, or even dry skin. This mask comes at smoothing from all angles to deliver the most effective results. We included some natural exfoliants to buff away flakes and dullness, in the form of orange peel oil and grapefruit. These are gentle, natural exfoliants which are complete with skin smoothing effects and brightening properties.
This mask also features retinol, hyaluronic acid, and caffeine to tighten and lessen the appearance of fine lines and wrinkles. With increased circulation and blood flow from these ingredients, nutrients are restored to the skin and skin becomes visibly hydrated, plumped, and taut.
The addition of topical antioxidant CoQ10 helps to fortify against further skin damage, and lessen the appearance of sun damage spots and scarring. Honeysuckle, ylang ylang, and geranium floral extracts soothe and provide a calming sensation. These florals provide anti-inflammatory benefits and nourish the skin to help fight active and future blemishes. Even if anti-aging isn't your primary concern, with all the hydrating and soothing benefits of this mask, we'd also recommend it for dry, irritated, and sensitive skin types.
Collagen Boost Sheet Mask
This skin plumping, mega hydrating mask is a must for those with dull, dry, or crepey skin. The ingredients in this facial mask support collagen production. Collagen is a major protein found naturally in skin. This key protein is responsible for firmness, elasticity, and suppleness in skin – three major markers of youthful skin. As we age, collagen begins to break down, therefore losing its ability to plump and firm the skin. This mask delivers in the collagen support department, packing some serious plant based skin hydrators to make it fit for any skin type.
Revitalizing ginseng, retinol, and vitamin c: three vital ingredients for stimulating collagen and elastin production. They also help to lessen the appearance of lines, wrinkles, and to increase firmness. Water quenching aloe juice and hyaluronic acid lock in long lasting hydration (another mark of youthful skin), while rosehip oil softens and improves skin texture. Citrus essential oils of grapefruit and blood orange brighten skin, enhance glow, and energize your senses.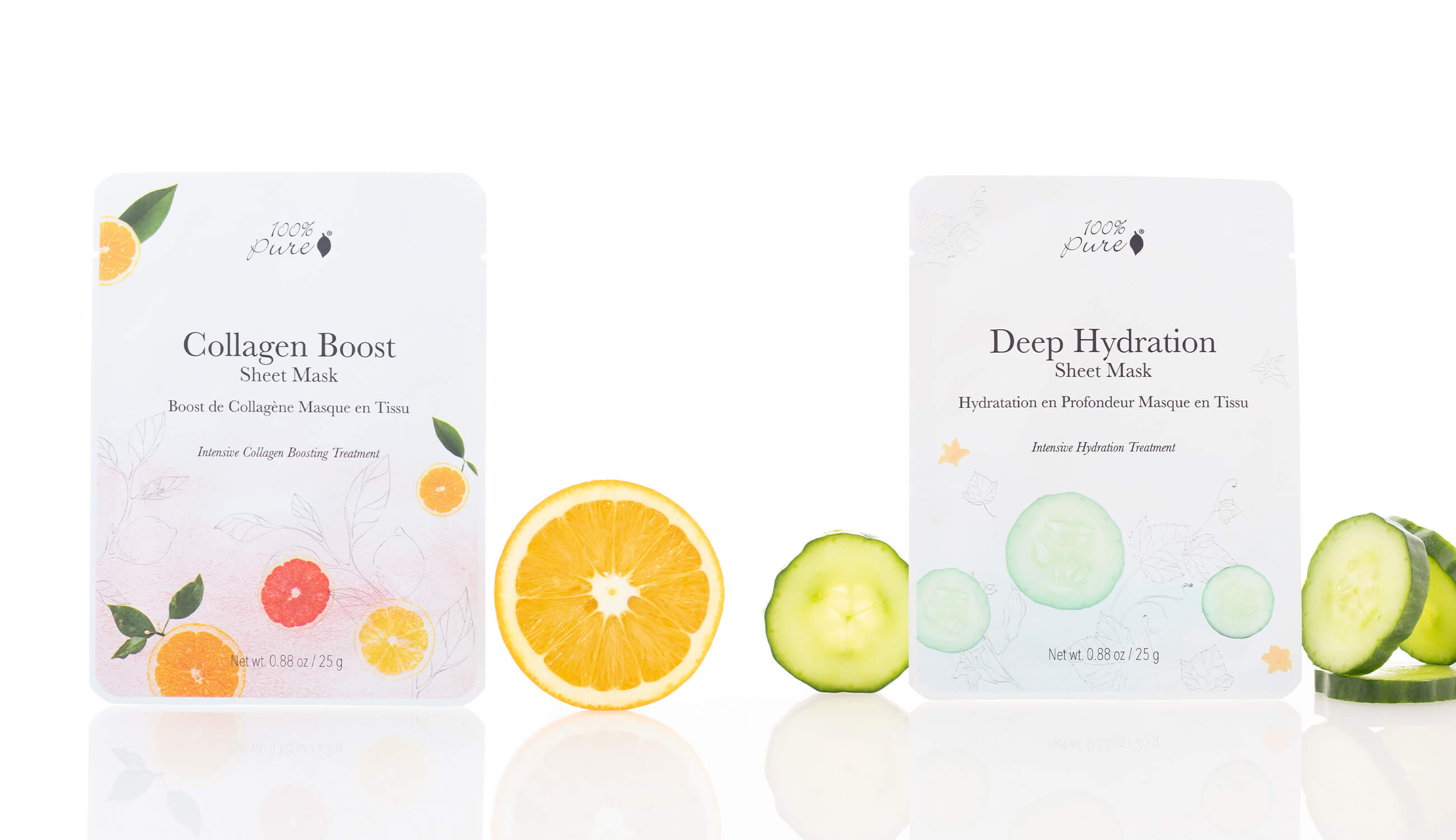 Deep Hydration Sheet Mask
Unwind with this ultra-relaxing, hydrating and calming face mask. A deluxe pamper-me treat, our Deep Hydration Sheet Mask is formulated in a base of pure aloe leaf juice. We all know by now that aloe is healing, hydrating, and calming. But it also helps to soothe skin conditions including itchiness, dryness, burns, scarring, blemishes, rashes and breakouts.
Infused with cucumber (a spa favorite), this mask is super refreshing on hot, sunburned, or inflamed skin. Hydrating and humectant cucumber is responsible for a number of benefits in this sheet mask. This veggie is naturally jam-packed with silica – which helps to firm sagging skin – while its hydration content keeps skin nourished and plump.
Another #major ingredient in this mask is ginseng. Used for centuries in skin care and as a digestif, ginseng has powerful anti-aging properties and supports collagen production. This benefit results in visibly toned skin and a subtle brightened effect. Beta-glucan reduces redness while ceramides keep skin strong and bonded to allow moisture to penetrate to the innermost layer of the skin. Fatty acids from the everlasting flower oil and carrot seed oil help to enhance moisture absorbing properties, especially in mature or severely dry skin. This mask is basically a 20-minute face lift in a packet. Need we say more?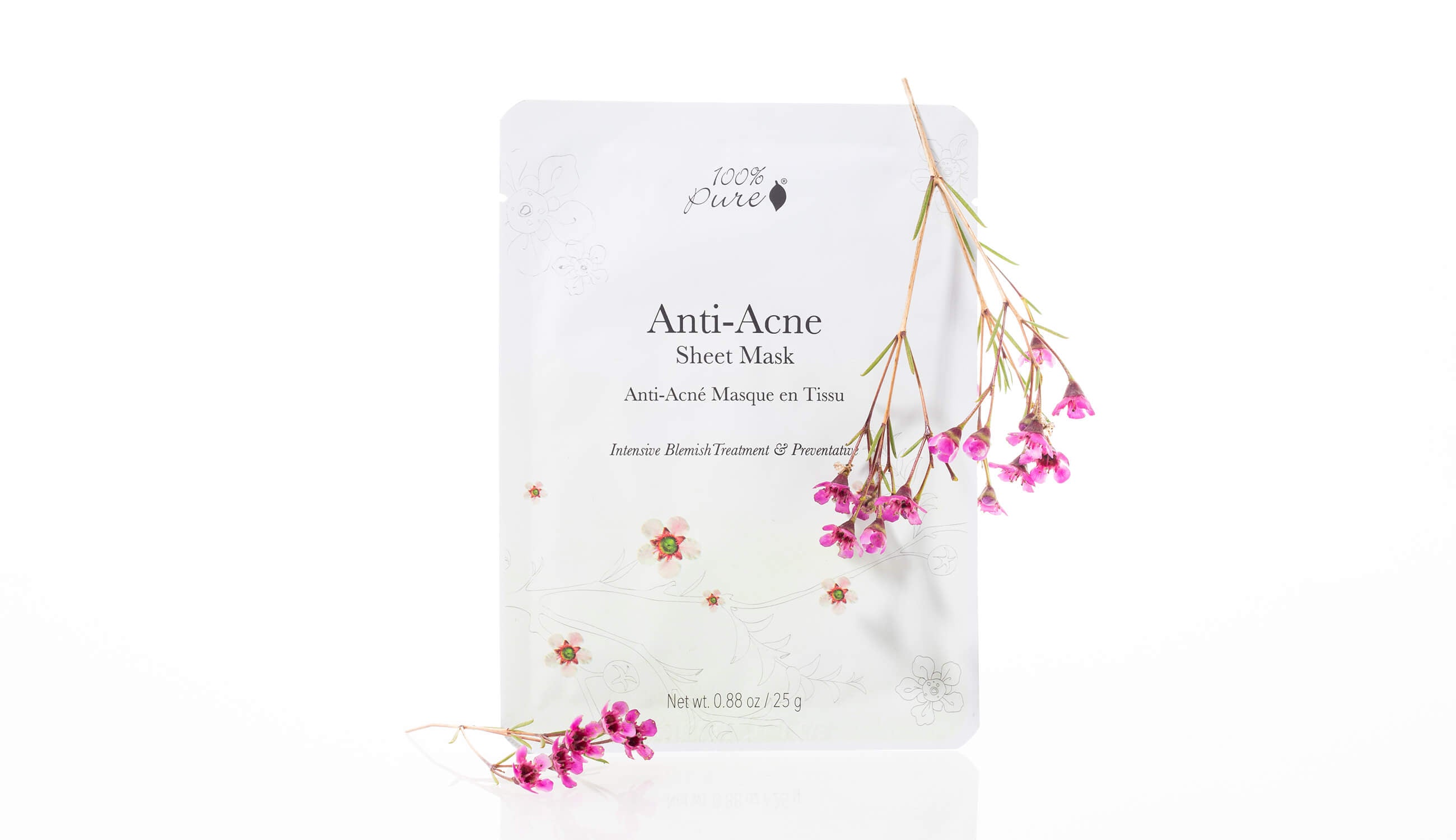 Anti-Acne Sheet Mask
We all know how it goes; we break out, stress out about breaking out, then break out some more. Such is life – but as they say, we've got a mask for that. The Anti-Acne Sheet Mask has soothing ingredients like rosemary and parsley, willow bark, and witch hazel. These blossoms have super soothing and sebum controlling components to bring your skin back to balance. Tea tree oil is included to kill acne-causing bacteria on the skin's surface, while reducing inflammation from stubborn bumps and cystic acne.
To treat acne (dirt and debris currently active within the skin), we infused salicylic acid to help clarify and reduce breakouts. Argan oil, hyaluronic acid, and aloe soothe and hydrate skin and round out this mask for the perfect balance of clarification and hydration.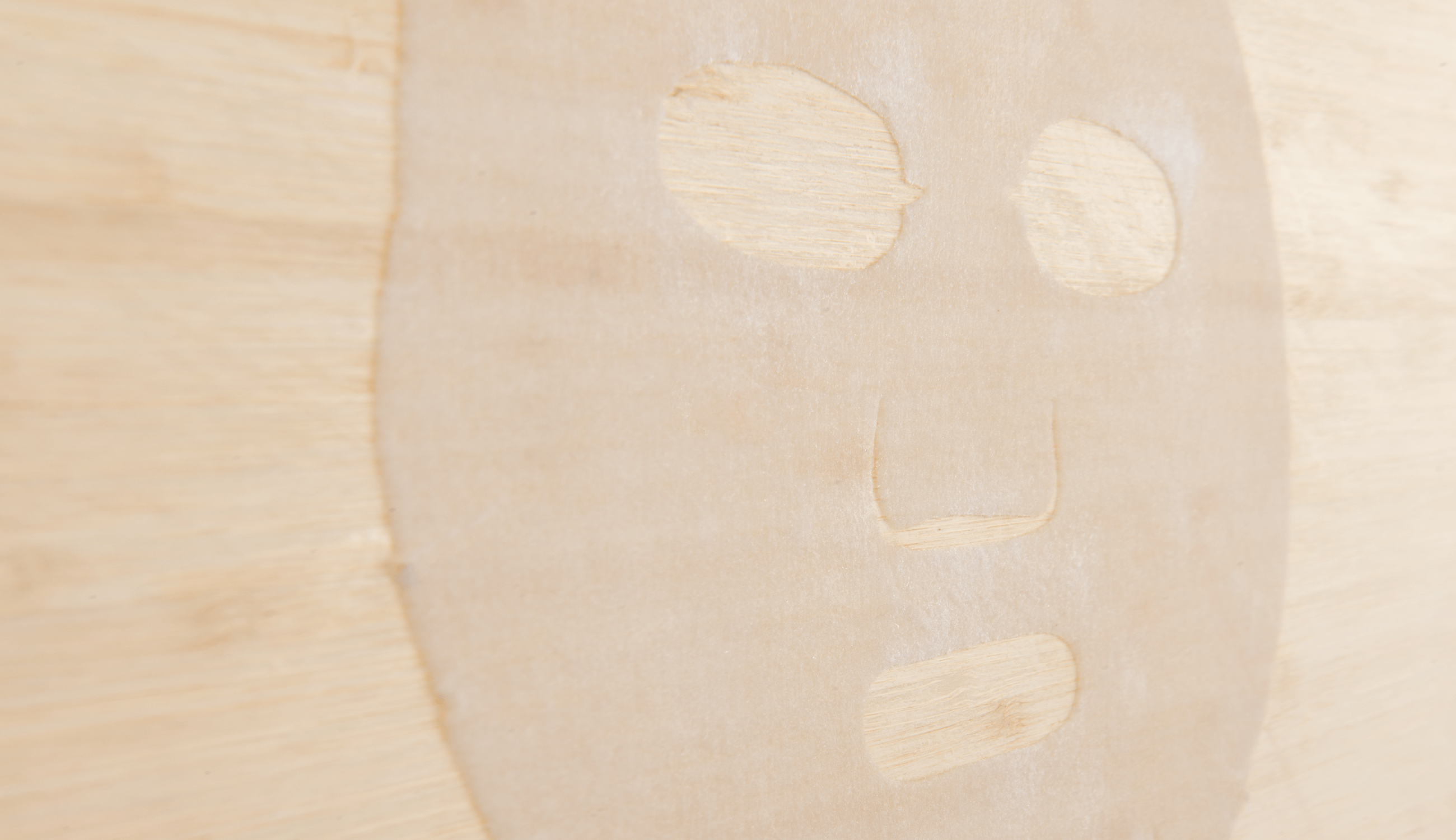 100% PURE sheet masks are made of sustainable, naturally antibacterial bamboo cloth.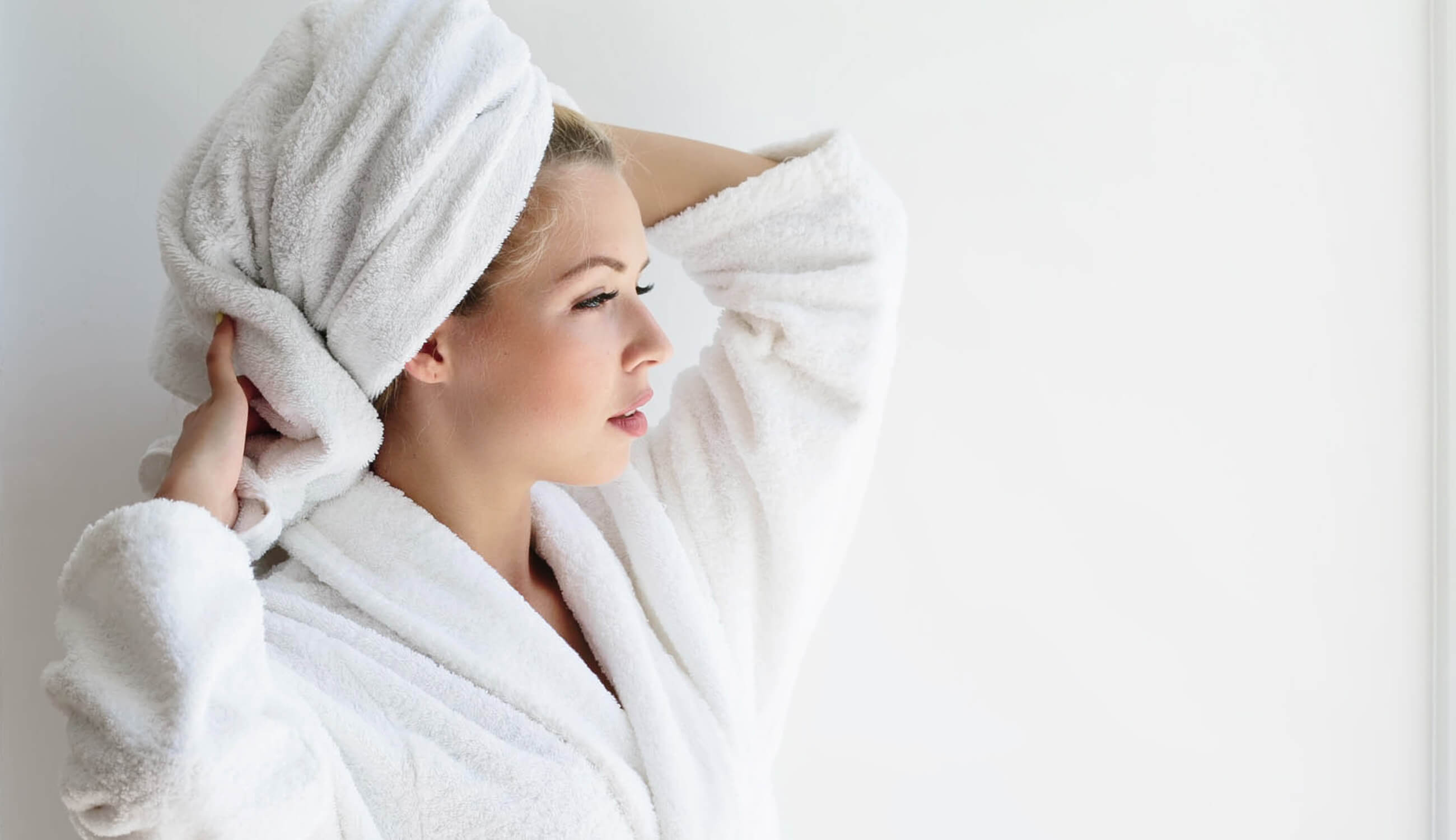 How to Use Your Sheet Mask
First, choose the environment where you plan on wearing your mask. This bit is totally up to you! You can lounge on your couch, in your bed, on your patio, even in your yard (sorry not sorry, neighbors) – but we prefer a steamy environment. If you don't have access to a sauna or natural mineral spring (in a perfect world, we all would), opt for a steamy bathroom. This will open your pores to accept and absorb the nutrients in your sheet mask.
PRO TIP: Leave your masks in the refrigerator before use, for a deliciously cooling, soothing, and tingling effect. A cool sheet mask is also great for reducing puffiness in the face and eye area.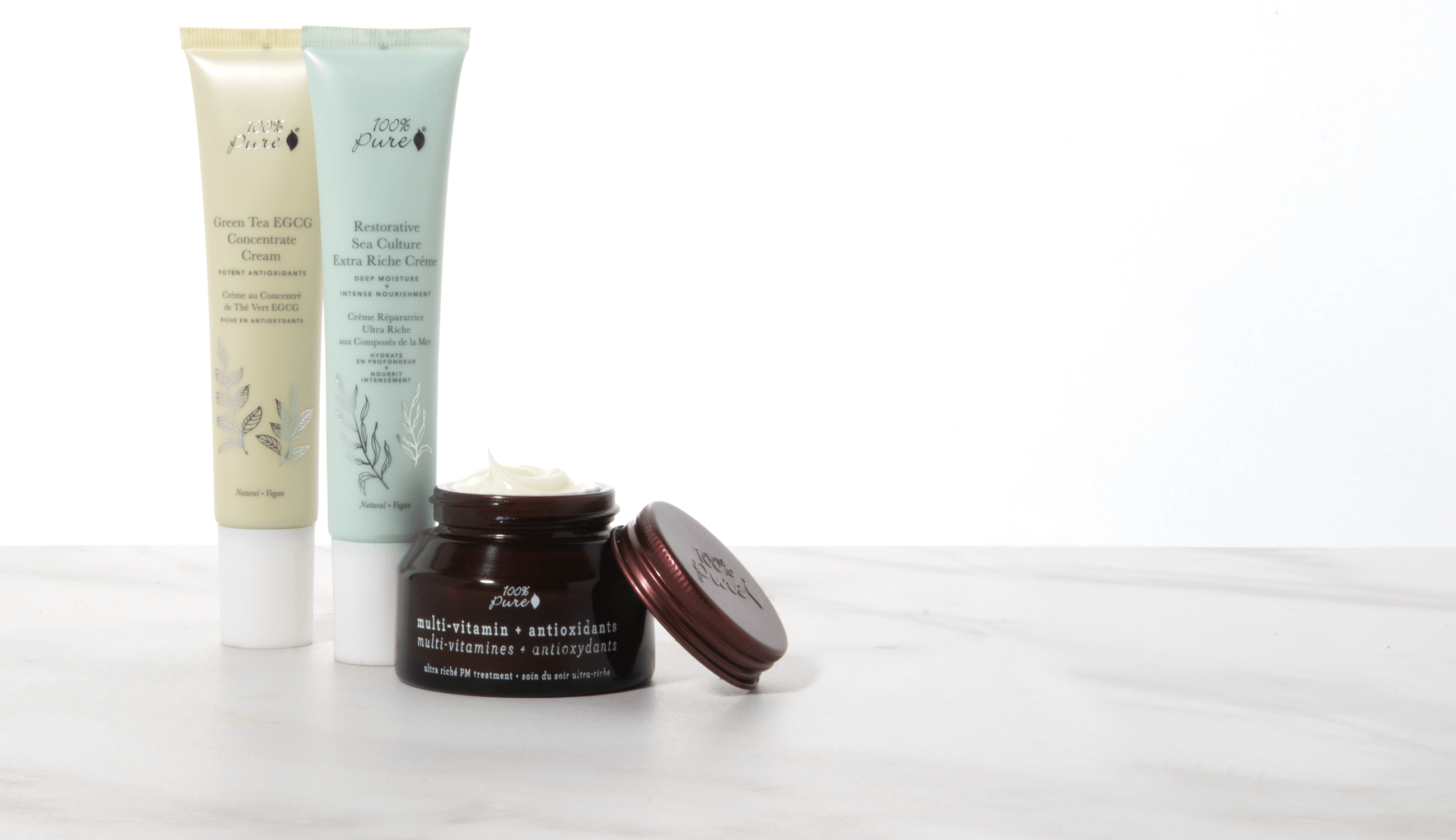 Deeply cleansing skin before using a face mask is crucial. You can remove makeup with the Blood Orange Cleansing Balm, which introduces skin to softening nutrients from rich avocado butter. We recommend double cleansing before a mask; this means following your balm with a water-based cleanser like the ultra gentle Argan Oil Creamy Cleanser or detoxifying, gently exfoliating Charcoal Clay Cleanser. This way you can ensure that skin is free of all makeup, sweat, dirt, and environmental toxins, while also being totally primed for absorbing vital nutrients and hydration from your sheet mask.
Apply the sheet mask to the face, in line with your features. Press gently around nostrils, jawline, and under eyes to ensure full contact with skin. Leave on the skin for 20 minutes minimum while you relax, catch up on your favorite streaming series, or enjoy an afternoon nap.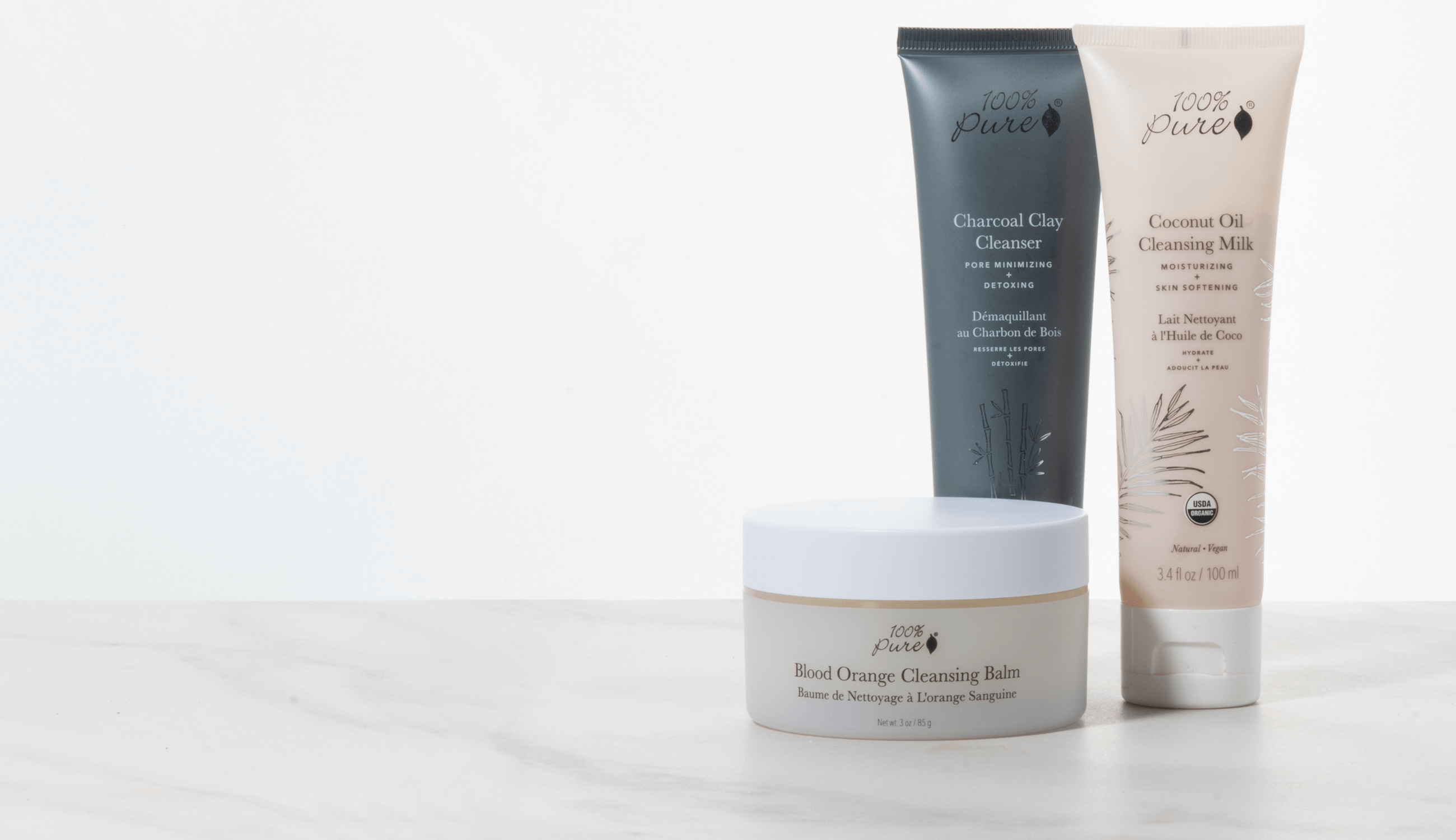 Once the product is mostly absorbed into your skin, remove the mask. Treat the sheet mask liquid like a serum – don't waste any of it! Massage the excess solution into face, neck, and decollete. Do not rinse! Finish up with a moisturizer to seal in the sheet mask's nutrients, for fabulously dewy, refreshed, and softened skin.
We carefully hand-select products based on strict purity standards, and only recommend products we feel meet this criteria. 100% PURE™ may earn a small commission for products purchased through affiliate links.
The information in this article is for educational use, and not intended to substitute professional medical advice, diagnosis, or treatment and should not be used as such.
Sign up to our email newsletter for more blog updates and exclusive discounts.
< Older Post | Newer Post >