Perfect your chest care routine to maintain supple and balanced skin!
Posted on July 21, 2022
Written by: 100% PURE®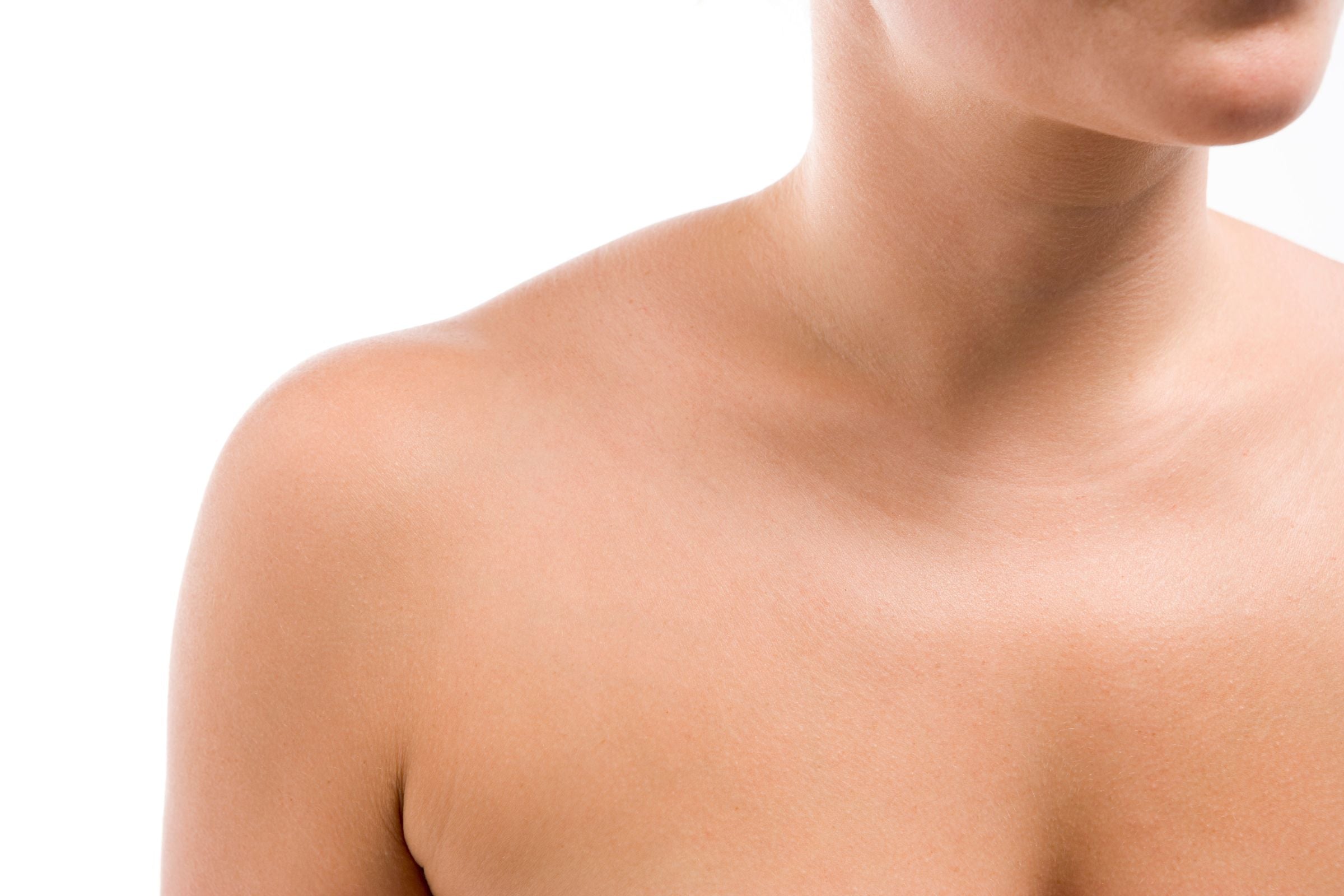 While we're big fans of getting older - looking older? Not so much. Having great skin doesn't just mean taking care of our faces. Besides the skin of our face, telltale signs of aging on the neck and chest can impact a youthful appearance - or lack thereof. If we think of skin as our largest organ, then we can imagine that our neck and chest is just an extension of our face. We can even experience breakouts in this area, just like we would on our faces! We aim to maintain the same smooth, supple, balanced skin from hairline to neckline - which is why we're all about taking care of it! Stay tuned to discover our routine for a smooth and glowing décolletage.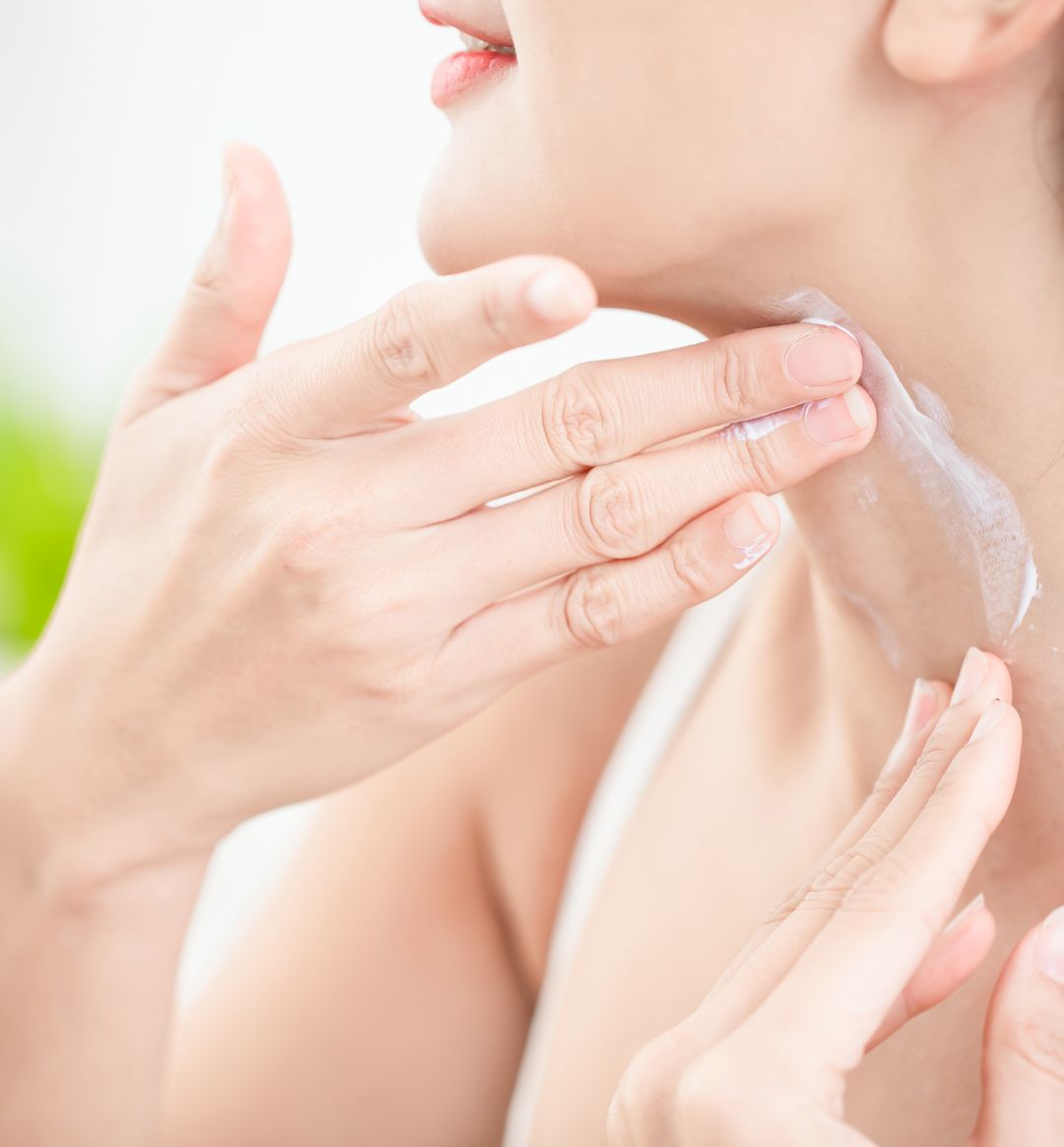 Why should we take care of our chest?
Beyond taking the time to pick out jewelry and accessories to compliment our clothing, we don't think about the neck and chest area very much. It can go unnoticed so much that prioritizing it can even sound silly. But as our skin grows with us, and changes over time, the chest area can become one of the first areas to experience the effects of aging.
When we think about it, our chest is really front and center. We can start to notice freckles, age spots, and melasma developing on the skin of our chest even as young as our 30's. And this rather rigid zone gets a surprising amount of wear and tear, stretching to accommodate dressing, frequent exposure to the sun, not to mention it's a high-traffic zone for cosmetics and irritants. With all this in mind, the chest area is very prone to wrinkles, dull skin, dryness, and breakouts. Really, it's just as important and needy as the skin of our faces, which is why designing a skincare routine that addresses moisture and elasticity is paramount to preserve this often overlooked zone.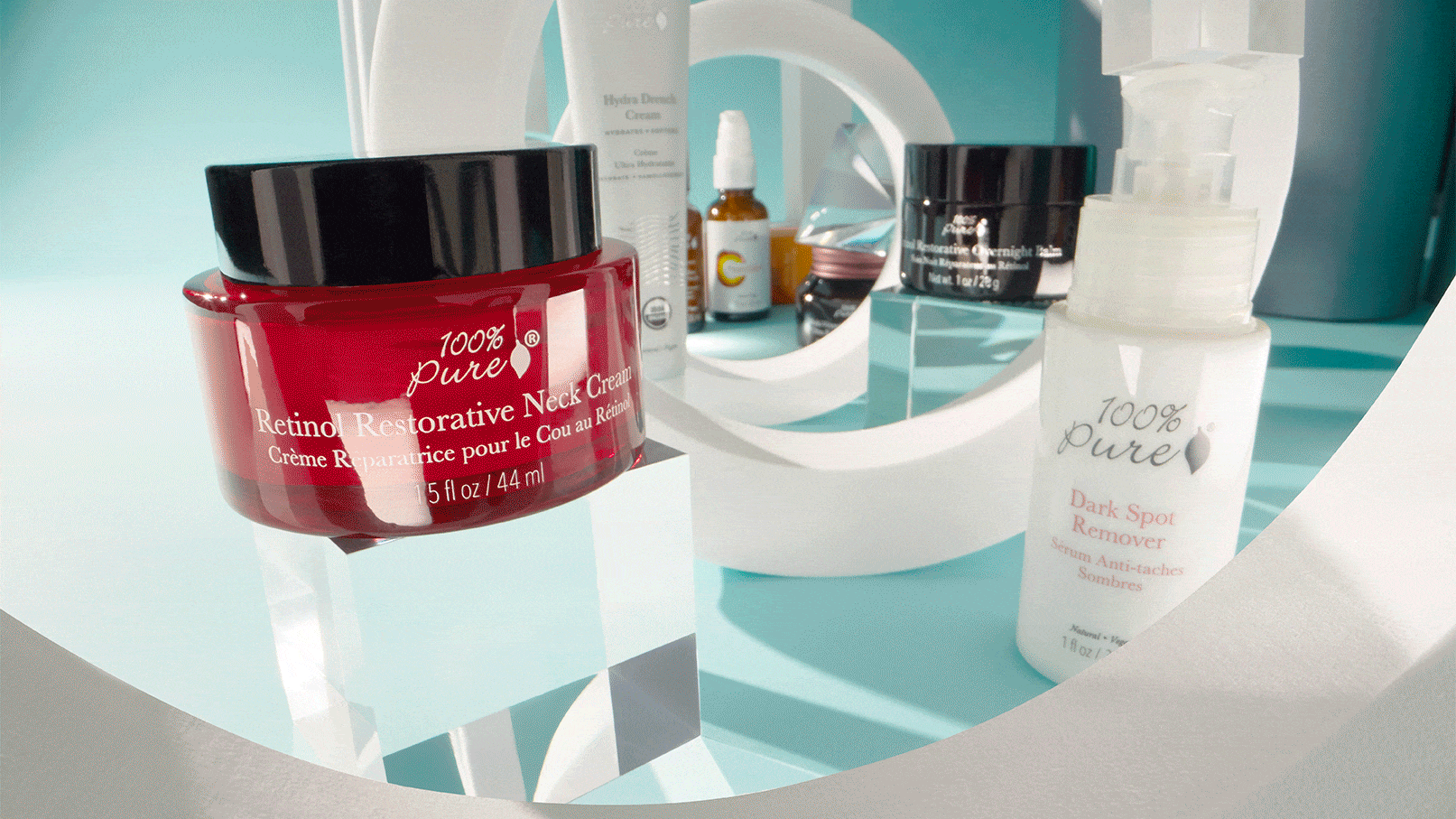 Our go-to décolletage routine.
Once the skin of our neck and chest ages, it becomes nearly impossible to rewind the clock. The secret of maintaining this skin is to start early with restorative and preventative ingredients. Though preserving the delicate skin of our neck and chest area can sound like work, this is where designing a satisfying self-care routine can make all the difference. Here's how we keep things looking and feeling lovely.
Start with a softening and hydrating cleanser.
Because the décolletage - especially the neck - is often exposed, it is more prone to drying out. Often we experience this as subtle itchiness and dull looking skin, but this can lead to flaking and rashes if not treated properly. Soothing ingredients that prevent irritation along with hydrating ingredients to nurture the skin keeps the décolletage area smooth and shining.
Newsletter
Subscribe
for more blog updates and exclusive discounts
LAVENDER OAT MILK SOOTHING CLEANSER | lavender buds, rose petals, and oat calm the skin while silky coconut milk hydrates and softens.

CALENDULA FLOWER CLEANSING MILK | calendula supports collagen in the skin for smoothness and elasticity while sea buckthorn oil and aloe juice heal and deeply hydrate.

CHARCOAL KONJAC SPONGE | get rid of dull skin and buildup with this gently exfoliating charcoal sponge cleanser that detoxifies, tones, and softens.
Tone the neck and chest, just like the face.
Because of the high exposure and activity in the neck and chest area, we often notice discoloration and uneven skin tone on this part of the body. A toner can help address this, while adding moisture and helping prevent signs of aging.
LAVENDER TONIQUE | in a word - purifying. Calming lavender and healing, soothing aloe along with youth-rejuvenating MSM make a toning dream team.
RESTORATIVE SEA CULTURE HYDRATING TONER | secrets to ageless skin are exposed with the enriched restorative power of algae and sea kelp. Deeply penetrating hydration from chia seed water, hyaluronic acid, and glycerin make this toner practically age-defying.
Layer on the moisturizer.
None of the routine matters if the skin of our décolletage doesn't get a moisturizer to seal everything in. This final protective layer is extra impactful for avoiding texture and fine lines.
HYDRA DRENCH CREAM | a light hydration that adds a bit of spring to the skin with calming and hydrating rose water, enriched fatty acid chia for skin preservation, and antioxidant-rich cactus extracts for skin repair.
ROSE WATER HYDRATING MILK | great for all skin types this gentle rose and aloe formula restores skin with softening, calming, and hydrating ingredients.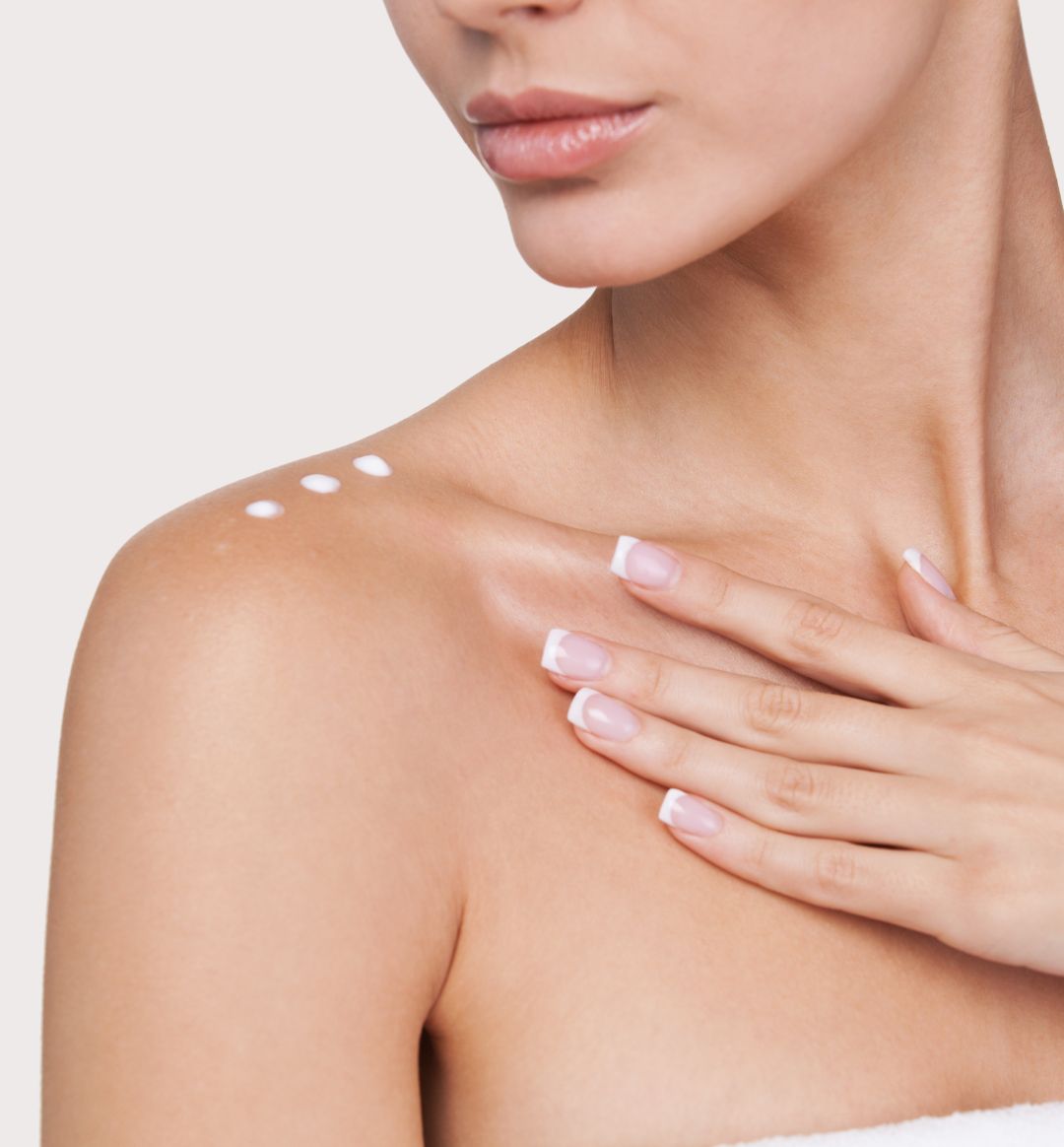 More décolletage-care tips.
Crafting a routine like the above that's designed to address the décolletage is going to take us a long way to healthy, glowing skin, but those aren't the only techniques we utilize in neck and chest skin care. Here are some of our other tips and tricks for that ageless décolletage.
While this one seems simple and straightforward, many of us forget to add sun protection to our bodies on a daily basis, outside of outdoor activities. It should become a practice to extend the sun protection we use on our face down our neck, onto our chest, and even across the hands for good measure.
Incorporate anti-aging products.
While the skin of our décolletage ages like our face, the type of skin in these areas is a bit different. Even still, adding in antioxidant-rich products regularly and even a weekly retinol treatment can drastically improve the glow and health of this area.
A cream or balm like a Retinol Restorative Neck Cream chock full of skin supporting ceramide and niacinamide can deliver anti-aging retinoids to tighten, brighten, and smooth this sultry area. As retinoids can be a bit strong, incorporate this evening cream slowly - starting at just weekly - and be sure to rinse clean and apply SPF during the day.
Choose fabrics and accessories wisely.
The skin of the neck and chest is often roughed up by our clothing and accessories, which is why lightweight fabrics like cotton and soft fabrics like satin can be more forgiving on the skin. This also goes for wearing hypoallergenic jewelry and disinfectant accessories regularly to keep the neck and chest smooth and clean.
Live a healthy lifestyle.
We may sound like a broken record at this point, but we can't skincare-repair our way out of a poor lifestyle. Uplifting physical activity that keeps the muscles tight and strong in this area along with sweating out toxins can also aid in supple skin. Lots of water for great skin hydration and of course, wearing sun protection, can take the décolletage from just another area to one of the best spots to show off!
We carefully hand-select products based on strict purity standards, and only recommend products we feel meet this criteria. 100% PURE™ may earn a small commission for products purchased through affiliate links.
The information in this article is for educational use, and not intended to substitute professional medical advice, diagnosis, or treatment and should not be used as such.
Sign up to our email newsletter for more blog updates and exclusive discounts.
< Older Post | Newer Post >