Antioxidant Serums: Unleashing the Power of Skin Protection
Discover the Key to Radiant and Youthful Skin
Posted on June 12, 2023
Written by: 100% PURE®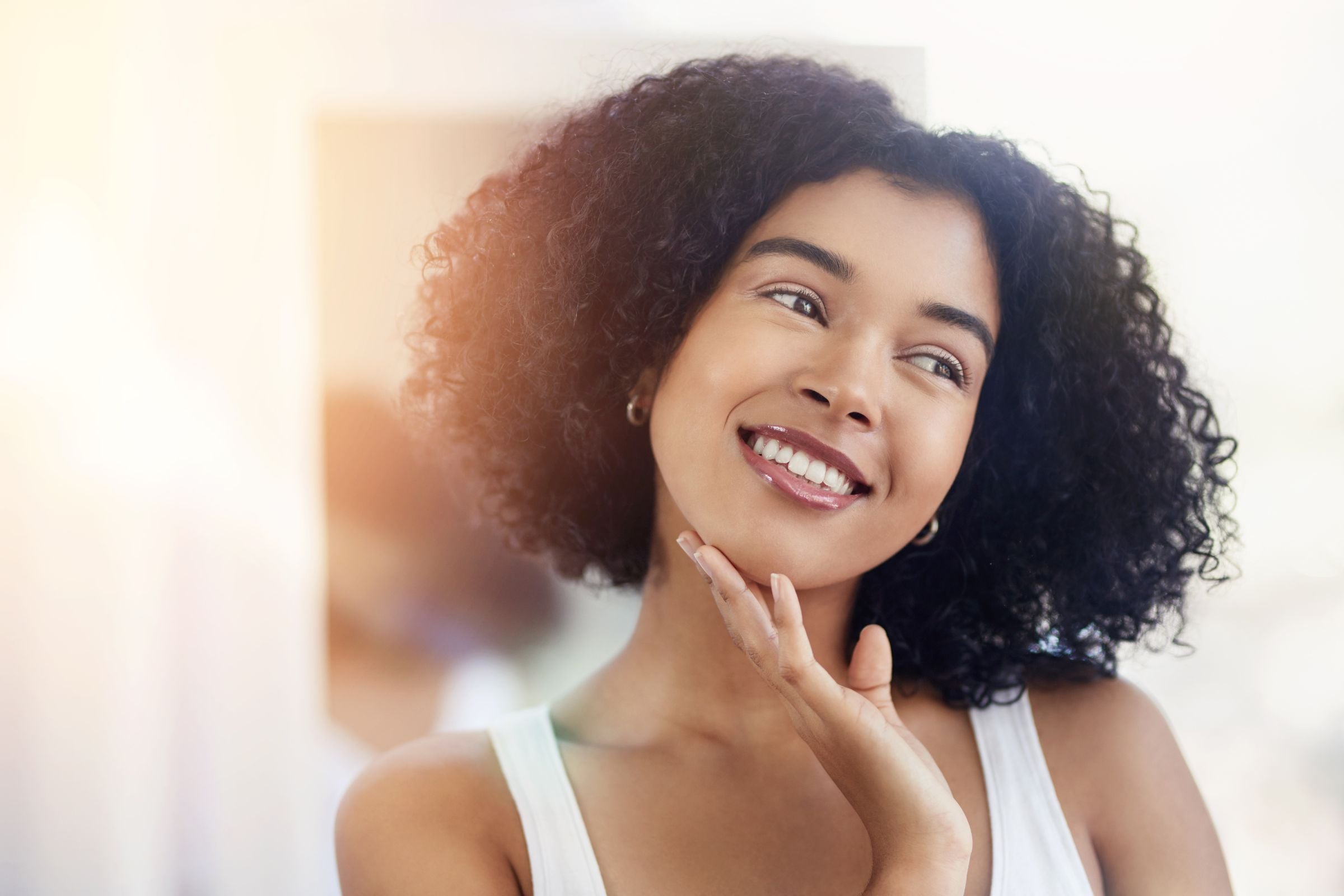 In an era where self-care and wellness have become paramount, the significance of skincare cannot be overlooked. Our skin, the largest organ of the body, serves as the first line of defense against external aggressors, making it essential to protect and nourish it. One of the key factors in maintaining healthy, youthful-looking skin lies in the power of antioxidants. These remarkable compounds play a vital role in shielding our skin from the damaging effects of free radicals, environmental pollutants, and harmful UV rays.
Among the multitude of skin care products available, antioxidant serums have emerged as a powerful tool in the pursuit of healthy, glowing skin. These serums are carefully formulated with concentrated doses of antioxidants, designed to deliver potent protection and rejuvenation directly to the skin. Unlike other skincare products, serums offer a more targeted approach to skincare, penetrating deeply into the skin's layers and delivering a high concentration of active ingredients.
Understanding Antioxidants and Their Role in Skincare
Antioxidants are compounds that can counteract the harmful effects of free radicals. Free radicals are highly reactive molecules that can cause damage to our skin cells. They are generated as a byproduct of various processes in the body, including exposure to environmental factors like pollution, UV radiation, and even stress. Free radicals can lead to oxidative stress, which triggers inflammation, collagen breakdown, and DNA damage in the skin. This oxidative damage contributes to premature aging, fine lines, wrinkles, and other skin concerns.
Antioxidants work by neutralizing these unstable molecules, preventing them from causing further damage to the skin. Antioxidants can donate an electron to the free radicals, stabilizing them and reducing their reactivity. This process breaks the destructive chain reaction caused by free radicals and helps protect the skin's cells from oxidative stress.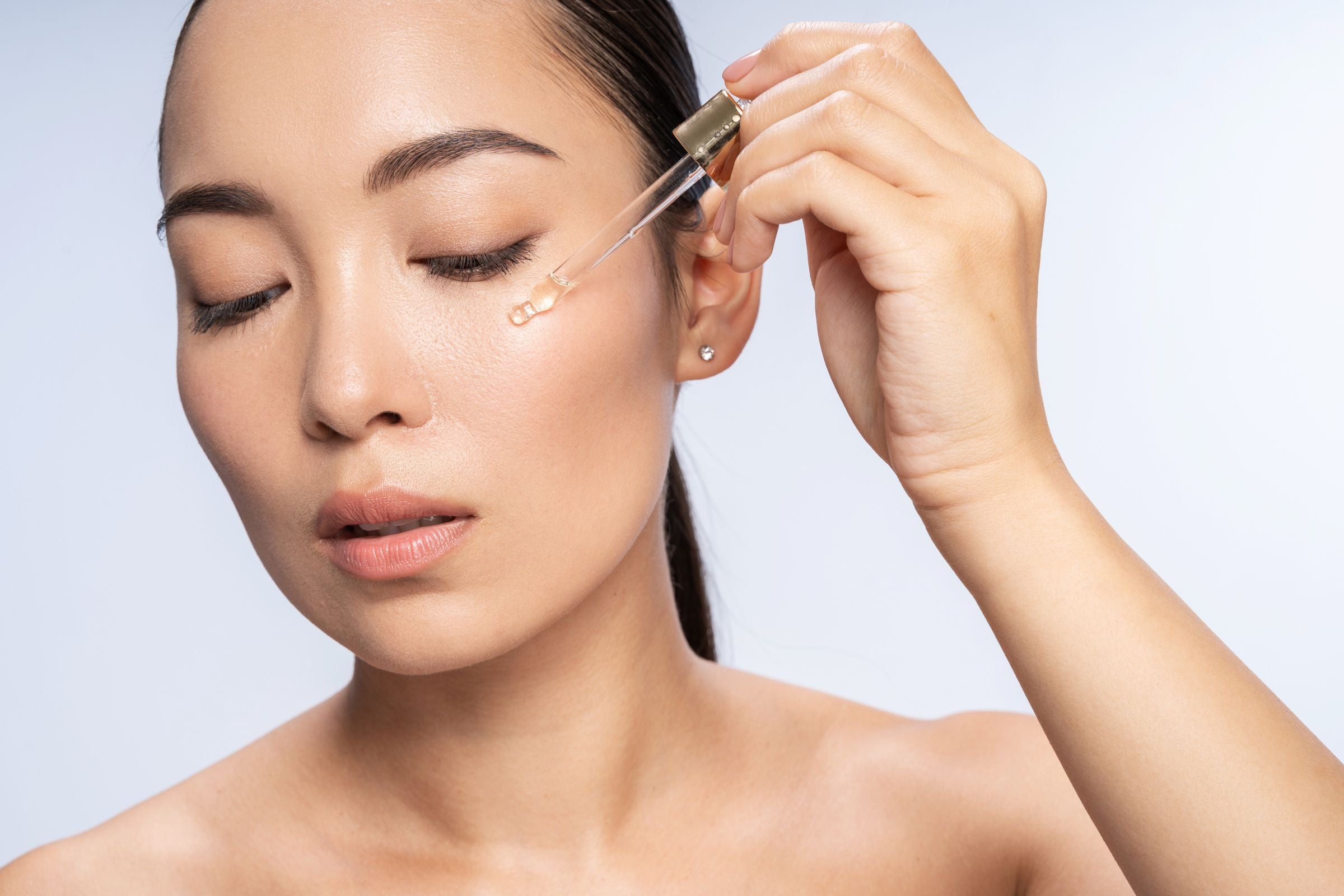 Benefits of Using Antioxidant Serums
Protection against environmental damage: Antioxidant serums are formulated with potent ingredients that help shield the skin from environmental stressors like pollution, UV rays, and free radicals. By neutralizing these harmful agents, antioxidant serums provide a protective barrier, preventing oxidative damage and reducing the risk of premature aging caused by external factors.
Reduction of fine lines and wrinkles: The powerful combination of antioxidants in serums helps stimulate collagen production, which is essential for maintaining the skin's elasticity and reducing the appearance of fine lines and wrinkles. Antioxidants also assist in preventing collagen breakdown caused by free radicals, helping to preserve a more youthful and smoother complexion.
Promotion of a youthful and radiant complexion: Antioxidant serums improve the overall appearance of the skin by promoting a youthful and radiant complexion. These serums help even out skin tone, minimize the appearance of age spots and hyperpigmentation, and enhance the skin's natural glow. By combating oxidative stress and inflammation, antioxidant serums support the skin's health, resulting in a revitalized and more vibrant complexion.
Key Antioxidant Ingredients in Serums
Common antioxidants used in skincare include vitamins C and E, resveratrol, green tea extract, coenzyme Q10, and many plant-derived extracts like aloe vera and rosehip oil. These antioxidants not only neutralize free radicals but also provide additional benefits such as brightening the skin, promoting collagen synthesis, and reducing inflammation. Let's discuss the properties of three critical antioxidants in detail:
Vitamin C

Vitamin C is a powerhouse antioxidant known for its numerous benefits for skin health. It helps brighten the complexion, even out skin tone, and fade dark spots and hyperpigmentation. Vitamin C also aids in collagen synthesis, promoting firmer and more elastic skin. When used topically, stability is a key consideration as vitamin C can degrade when exposed to light and air. Formulations with stabilized forms of vitamin C, such as L-ascorbic acid or ascorbyl glucoside, ensure optimal effectiveness.
Vitamin E

Vitamin E is a deeply nourishing antioxidant that provides moisturizing benefits to the skin. It helps strengthen the skin barrier, improving its ability to retain moisture and protecting against dehydration. Vitamin E also works synergistically with other antioxidants, such as vitamin C, enhancing their effectiveness. Its ability to neutralize free radicals contributes to its anti-aging properties, helping to reduce the appearance of fine lines and wrinkles.
Green Tea Extract

Green tea extract is a powerful antioxidant derived from the Camellia sinensis plant. It contains polyphenols, particularly epigallocatechin gallate (EGCG), known for its anti-inflammatory and soothing properties. Green tea extract helps calm irritated skin, reduces redness, and can even help alleviate acne symptoms. Additionally, it offers protection against UV damage by neutralizing free radicals generated by sun exposure, thus assisting in the prevention of photoaging.
Newsletter
Subscribe
for more blog updates and exclusive discounts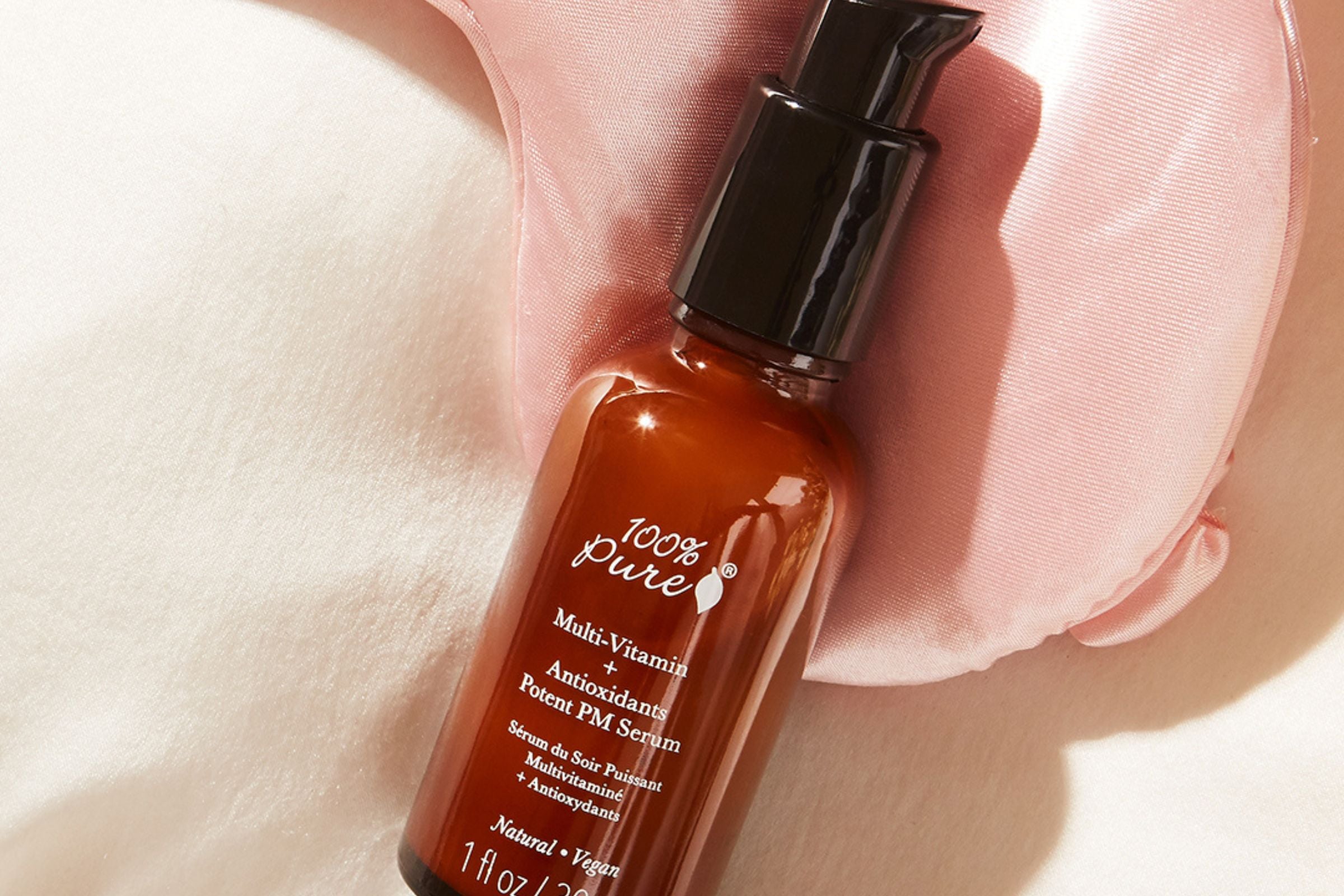 Top Antioxidant Serums from 100% PURE
By incorporating antioxidant-rich serums by 100% Pure into your skincare routine, you can enhance the skin's defense against environmental damage and support its overall health and appearance. Here, take a quick look at our best antioxidant serums.
Vitamin C Serum: This serum is a potent blend of vitamin C, hyaluronic acid, and antioxidants that work together to brighten, even out skin tone, and promote a youthful complexion.
Green Tea EGCG Concentrate Serum: This serum is a targeted treatment for soothing and protecting the skin. It harnesses the power of green tea extract, particularly the potent antioxidant EGCG.
Multi-Vitamin + Antioxidants Potent PM Serum: This serum is a potent cocktail of antioxidants, including vitamins E and C, to nourish and rejuvenate the skin while you sleep.
These antioxidant serums from 100% PURE offer targeted skincare solutions with natural and effective ingredients. They are free from harsh chemicals, synthetic fragrances, and artificial colors, making them suitable for sensitive skin.
Frequently Asked Questions about Antioxidant Serums
How do antioxidant serums differ from other skincare products?
Unlike moisturizers or cleansers, serums are formulated with higher concentrations of active ingredients, allowing them to penetrate deeply into the skin. By specifically targeting free radicals and oxidative stress, antioxidant serums provide enhanced protection against environmental damage, promote skin repair, and help combat signs of aging. Their lightweight texture and ability to address specific concerns make them a valuable addition to any skincare routine.
Can antioxidant serums be used with other skincare products?
Absolutely! Antioxidant serums are versatile and can be easily incorporated into your existing skincare routine. They complement other products like moisturizers, sunscreens, and cleansers. To maximize their effectiveness, apply antioxidant serums after cleansing and toning but before moisturizing. Layering them with other products enhances their benefits and creates a well-rounded skincare regimen that targets multiple concerns for healthier, glowing skin.
How long does it take to see results from using antioxidant serums?
Results from using antioxidant serums can vary depending on individual factors and the specific product. However, noticeable improvements in skin texture, brightness, and hydration can often be seen within a few weeks of consistent use. For more significant changes, such as a reduction in fine lines and wrinkles, it may take several months of regular application.
Can antioxidant serums help with acne-prone skin?
Yes, antioxidant serums can be beneficial for acne-prone skin. Antioxidants help reduce inflammation, control sebum production, and fight acne-causing bacteria. Look for serums containing ingredients like vitamin C, niacinamide, and green tea extract. They can promote a clearer complexion, soothe irritation, and minimize the appearance of acne scars, making them a valuable addition to your skincare routine.
Conclusion
Antioxidants offer a multitude of positive effects, safeguarding your skin from damage while promoting its overall health and vitality. To optimize results, explore a variety of antioxidant serums tailored to your specific needs and skin concerns. However, remember that consistency is key. By establishing and maintaining a regular skincare regimen, you can ensure long-term benefits and unlock the full potential of antioxidants for radiant, youthful-looking skin.
We carefully hand-select products based on strict purity standards, and only recommend products we feel meet this criteria. 100% PURE™ may earn a small commission for products purchased through affiliate links.
The information in this article is for educational use, and not intended to substitute professional medical advice, diagnosis, or treatment and should not be used as such.
Sign up to our email newsletter for more blog updates and exclusive discounts.
< Older Post | Newer Post >