https://purity-res.cloudinary.com/image/fetch/q_auto:best,f_auto,fl_lossy,w_auto,c_limit,dpr_auto/https://cdn.shopify.com/s/files/1/0648/1955/products/f98e5dfb93d23f05ddee293fadd6608a.png?v=1530053528
https://purity-res.cloudinary.com/image/fetch/q_auto:best,f_auto,fl_lossy,w_auto,c_limit,dpr_auto/https://cdn.shopify.com/s/files/1/0648/1955/products/X3zkMUs6QuOLbzvZdoKi.jpg?v=1544741259
https://purity-res.cloudinary.com/image/fetch/q_auto:best,f_auto,fl_lossy,w_auto,c_limit,dpr_auto/https://cdn.shopify.com/s/files/1/0648/1955/products/ty1Pm4i3QZeo3Hv3TQKu.jpg?v=1544741259
https://purity-res.cloudinary.com/image/fetch/q_auto:best,f_auto,fl_lossy,w_auto,c_limit,dpr_auto/https://cdn.shopify.com/s/files/1/0648/1955/products/Zeq8BTKJSMWtWksg4p6E.jpg?v=1544741259
https://purity-res.cloudinary.com/image/fetch/q_auto:best,f_auto,fl_lossy,w_auto,c_limit,dpr_auto/https://cdn.shopify.com/s/files/1/0648/1955/products/sRTybQ3vSYW1X2jJItwX.jpg?v=1544741259
https://purity-res.cloudinary.com/image/fetch/q_auto:best,f_auto,fl_lossy,w_auto,c_limit,dpr_auto/https://cdn.shopify.com/s/files/1/0648/1955/products/qktcZWDR9ukmgMn8fpnQ.jpg?v=1544741259
https://purity-res.cloudinary.com/image/fetch/q_auto:best,f_auto,fl_lossy,w_auto,c_limit,dpr_auto/https://cdn.shopify.com/s/files/1/0648/1955/products/yK0ZZan8STGuWKbpsJle.jpg?v=1544741260
https://purity-res.cloudinary.com/image/fetch/q_auto:best,f_auto,fl_lossy,w_auto,c_limit,dpr_auto/https://cdn.shopify.com/s/files/1/0648/1955/products/lxJxWRRsTjip9BiJNLG9.jpg?v=1544741260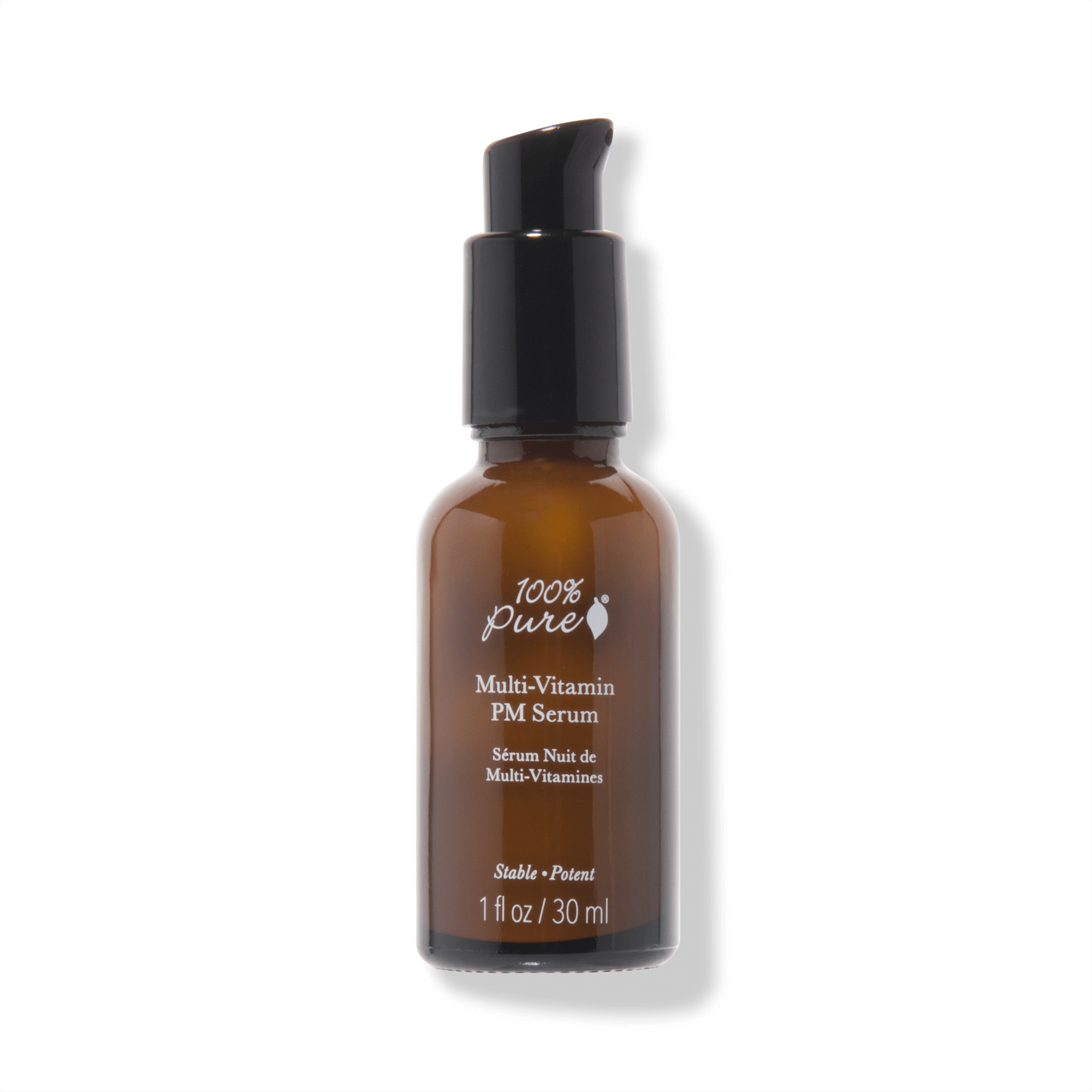 Multi-Vitamin + Antioxidants Potent PM Serum
Natural

Vegan

Cruelty Free

Gluten Free
Potent, stabilized vitamins in this PM serum work synergistically to reduce lines and wrinkles, increase firmness and elasticity, brighten and even skin tone.
For Normal, Dry, Oily, Combination Skin Types

Potent, stabilized vitamins work synergistically to lessen appearance of fine lines and wrinkles, increase firmness and elasticity, and brighten and even skin tone. Niacinamide and Vitamin C are two anti-aging superstars but not usually formulated together because of their different pH levels. However, we formulated with Magnesium Ascorbyl Phosphate: the highest quality, most stable form of Vitamin C, which has a pH balance of 6 — the same as Niacinamide. This allows the two vitamins to work harmoniously to restore a youthful, glowing complexion.

Directions

For PM use. Shake before use. After cleansing and toning, gently pat a quarter sized amount of serum onto face (including eye area) and neck. Serums may be layered. Use SPF every morning. Avoid direct sunlight, store in a cool, dry, dark space.

Every ingredient we use is beneficial, here are a few:

Coenzyme Q10

Coenzyme Q10 deeply enhances collagen production.

Retinol

Retinol diminishes fine lines and wrinkles.

Niacinamide

Niacinamide tones and firms skin.

Vitamin E (Tocopherol)

Vitamin E restores and protects from free radical damage.

Vitamin C

Vitamin C brightens, boosts collagen and elastin production.

Complete list of ingredients:

Organic Rosa Centifolia (Rose) Water, 10% Magnesium Ascorbyl Phosphate (Vitamin C), 10% Niacinamide, 10% Vitamin E, 1% Retinol, Organic Rosa Canina (Rosehip) Oil, Lonicera Japonica (Honeysuckle) Flower Extract, Algin, Hyaluronic Acid, Organic Optunia Streptacantha (Nopal Cactus), Organic Hippophae Rhamnoides (Seabuckthorn) Oil, Solanum Lycopersicum (Tomato) Powder*, Spinacia Oleracea (Spinach) Powder*, Oleracea Italica (Broccoli) Powder*, Squalane, Ubiquinone (Coenzyme Q10), Citrus Paradisi (Grapefruit) Oil, Citrus Bergamia (Bergamot) Oil, Citrus Sinensis (Sweet Orange) Oil *Natural Source of Alpha Lipoic Acid (ALA)
Multi-Vitamin + Antioxidants Potent PM Serum
has a rating of
4.7
stars based on
439
reviews.
Customer Reviews
skin
serum
face
products
ingredients
lines
results
gift
stuff
something
N
05/14/2019
Nicole
The best serum out there!
It didn't irritate my skin, evened my skin tone and made it brighter! It may be a placebo effect but I also feel as though it's helping the sun damage on my skin a bit too. My only complaint is the outrageous price - I received this as a sample in a bag, and I'm sad im about to run out!
Love this serum.
Worth every penny! I have perioral dermatitis under my nose and nothing natural or chemical has helped. I saw a review on this product that it cleared someone else's dry patches and figured it was worth a shot. This is such a beautiful, non greasy serum. It smells delightful! And guess what, madness under my nose has cleared! I also have these round raised spots on my legs that randomly popped up that my doctor says are granuloma annulare. I put some of this on the spots because what could it hurt? Well...it's clearing them! After a few years of Lyme, Epstein Barr, mystery illness, I'm used to weird things cropping up and usually have to just ride it out. I'm so thankful to have something to alleviate these annoying symptoms. Please don't ever discontinue this product! Taking one star off for the bottle/top. The packaging and box was not damaged, however it leaked about half of the product into the box. Stephanie from customer service sent out a new bottle immediately and same thing, leaking bottle. I transferred them into a dark bottle with a dropper but lost a lot of product doing so. Please fix the bottles, bottle tops!
Great Ingredients, Very Balanced
I've made a lot of skincare changes recently so its hard to tell what helped most. But I do think all of the good ingredients in this must be doing something for my hyperpigmentation. This definitely hasn't made me break out, and feels very good when I put it on each night. Definitely going to buy it again.
Good Serum but packaging need to be improved
The serum is on point. I love it so much but I took 2 stars off because the packaging is very bad quality. When I got the bottle, there is some serum leaked inside the lid.
Awesome
This stuff is truly awesome and worth every single penny. I am hard to please and have been using 100% Pure since they started, so I compare everything to their original line (which was extremely good). This is just as good, if not better, than their old skincare line. I have sensitive skin and this does not irritate it and absolutely does not give me any pimples (if anything, it keeps my skin clear). More importantly it tightens, brightens, evens out my skin tone, smooths out fine lines, brightens my under eye area and makes my dark circles go away (I know...crazy), hydrates my skin, plumps it up and smells amazing! I do not like the price and the small quantity, but I do understand that it takes hard earned hours to formulate and these formulas require high quality ingredients. And I am willing to pay more for a product that works. Thx 100% Pure...you pulled me back in with this product :-)
Complete the Package
Continue Shopping →