https://cdn.no-toxic.com/q_auto:best,f_auto,fl_lossy,w_auto,c_limit,dpr_auto/v1597699722/products/1CTM-PARENT/1CTM_Fruit_Pigmented_Tinted_Moisturizer_ArmSwatch
https://cdn.no-toxic.com/q_auto:best,f_auto,fl_lossy,w_auto,c_limit,dpr_auto/l_Badges:badges,w_0.3,y_-0.3,x_0.34,fl_relative,pg_name:2019-elite-beauty/v1581632371/products/1CTMAR/1CTMAR_Fruit_Pigmented_Tinted_Moisturizer_Alpine_Rose_Primary
https://cdn.no-toxic.com/q_auto:best,f_auto,fl_lossy,w_auto,c_limit,dpr_auto/l_Badges:badges,w_0.3,y_-0.3,x_0.34,fl_relative,pg_name:2019-elite-beauty/v1581632634/products/1CTMC/1CTMC_Fruit_Pigmented_Tinted_Moisturizer_Creme_Primary
https://cdn.no-toxic.com/q_auto:best,f_auto,fl_lossy,w_auto,c_limit,dpr_auto/l_Badges:badges,w_0.3,y_-0.3,x_0.34,fl_relative,pg_name:2019-elite-beauty/v1581634088/products/1CTMWP/1CTMWP_Fruit_Pigmented_Tinted_Moisturizer_White_Peach_Primary
https://cdn.no-toxic.com/q_auto:best,f_auto,fl_lossy,w_auto,c_limit,dpr_auto/l_Badges:badges,w_0.3,y_-0.3,x_0.34,fl_relative,pg_name:2019-elite-beauty/v1581633801/products/1CTMS/1CTMS_Fruit_Pigmented_Tinted_Moisturizer_Sand_Primary
https://cdn.no-toxic.com/q_auto:best,f_auto,fl_lossy,w_auto,c_limit,dpr_auto/l_Badges:badges,w_0.3,y_-0.3,x_0.34,fl_relative,pg_name:2019-elite-beauty/v1581633628/products/1CTMPB/1CTMPB_Fruit_Pigmented_Tinted_Moisturizer_Peach_Bisque_Primary
https://cdn.no-toxic.com/q_auto:best,f_auto,fl_lossy,w_auto,c_limit,dpr_auto/l_Badges:badges,w_0.3,y_-0.3,x_0.34,fl_relative,pg_name:2019-elite-beauty/v1581633007/products/1CTMGP/1CTMGP_Fruit_Pigmented_Tinted_Moisturizer_Golden_Peach_Primary
https://cdn.no-toxic.com/q_auto:best,f_auto,fl_lossy,w_auto,c_limit,dpr_auto/l_Badges:badges,w_0.3,y_-0.3,x_0.34,fl_relative,pg_name:2019-elite-beauty/v1581633916/products/1CTMT/1CTMT_Fruit_Pigmented_Tinted_Moisturizer_Toffee_Primary
https://cdn.no-toxic.com/q_auto:best,f_auto,fl_lossy,w_auto,c_limit,dpr_auto/l_Badges:badges,w_0.3,y_-0.3,x_0.34,fl_relative,pg_name:2019-elite-beauty/v1581633469/products/1CTMMS/1CTMMS_Fruit_Pigmented_Tinted_Moisturizer_Mousse_Primary
https://cdn.no-toxic.com/q_auto:best,f_auto,fl_lossy,w_auto,c_limit,dpr_auto/l_Badges:badges,w_0.3,y_-0.3,x_0.34,fl_relative,pg_name:2019-elite-beauty/v1581632788/products/1CTMCO/1CTMCO_Fruit_Pigmented_Tinted_Moisturizer_Cocoa_Primary
Fruit Pigmented® Tinted Moisturizer
Fruit Pigmented®

Natural

Vegan

Cruelty Free

Gluten Free

Made in USA
For Normal, Dry, Combination Skin Types
Light to Medium Coverage
Dewy Finish

Ultra lightweight tinted moisturizer formula refreshes and leaves skin with a dewy, hydrated glow. Infused with organic white tea, açai and pomegranate oils, and hydrating aloe juice to calm and quench dry skin. Packed with vitamins and antioxidants from fruit to nurture and nourish. Colored with cocoa and fruit pigments for light to medium coverage and a dewy finish.

Coverage

Finish

Shade Chart

Alpine Rose

Fair with cool undertone

Créme

Fair with warm undertone

White Peach

Light with warm undertone

Sand

Light medium with neutral undertone

Peach Bisque

Medium with olive undertone

Golden Peach

Medium tan with warm undertone

Toffee

Tan with neutral undertone

Mousse

Tan dark with warm undertone

Cocoa

Deep with neutral undertone

Directions

Dot onto forehead, cheeks, nose, and chin. Blend outwards with a Cruelty Free Kabuki Brush, or use a clean and slightly damp Non-Latex Makeup Blender for an ultra dewy finish. For areas that require medium coverage, apply a second layer.

Every ingredient we use is beneficial, here are a few:

Goji Berry

Goji Berry boosts collagen production and skin elasticity.

Peach

Peach protects skin from UV rays with antioxidants.

Pomegranate Seed Oil

Pomegranate Seed Oil combats aging and repairs dry skin.

Acai Oil

Acai Oil conditions with antioxidants.

White Tea

White Tea combats sun damage with antioxidants.

Complete list of ingredients:

Aloe Barbadensis (Organic Aloe) Leaf Juice*, Cucumis Sativus (Cucumber) Juice, Euterpe Oleracea (Acai Berry) Fruit Oil, Punica Granatum (Pomegranate) Seed Oil, Oryza Sativa (Rice) Starch, Titanium Dioxide, Zinc Oxide, Extracts of Prunus Persica (Peach) Fruit, Camellia Sinensis (Organic White Tea) Leaf*, Prunus Armeniaca (Apricot) Fruit, Daucus Carota Sativa (Carrot) Root, Punica Granatum (Pomegranate), Theobroma Cacao (Cocoa Bean), Lycium Chinense (Goji Berry) Fruit and Solanum Lycopersicum (Tomato) Fruit/Leaf/Stem, Tocopherol (Vitamin E), Sodium Ascorbate (Vitamin C), Extracts of Euphorbia Cerifera Cera (Candelilla Wax), Rosmarinus Officinalis (Rosemary) Leaf, Origanum Vulgare (Oregano) Leaf, Thymus Vulgaris (Thyme) Flower/Leaf, Lonicera Caprifolium Flower, Lonicera Japonica (Honeysuckle) Flower Extract, Hydrastis Canadensis (Goldenseal), Cinnamomum Zeylanicum (Cinnamon) Bark *Certified Organic

Natural ingredients may vary in color and consistency
By using hashtag #100percentpure or #nodirtybeauty, I hereby grant to 100% PURE (Purity Cosmetics), it subsidiaries, agents and affiliates, the unlimited worldwide, perpetual, unending right to use, reproduce, distribute, and convey my image/photograph in any format or medium now known or subsequently developed, to modify and edit my image/photograph, to combine my image/photograph with other images, video, audio, text and other media, to create derivative works incorporating, including or based on my image/photograph. This grant shall be construed broadly.
---
Customer Reviews
Write a Review
Ask a Question
Filter Reviews:
skin
moisturizer
coverage
foundation
color
face
makeup
look
shade
finish
AH
10/14/2020
Ashley H.
Luxury Moisturizer
I LOVE the tinted moisturizer. It provides enough sun protection to prevent a burn with moderate activity and it is moisturizing. This is my favorite everyday use item. Just enough coverage to even out the skin tone.
Great tinted moisturizer
This is a good tinted moisturizer. It is very light coverage but exactly what I was looking for. the only thing to think about when choosing a color match is that the shades seem to be a little darker then the other foundations that 100% pure have.
Love it
I ordered shades creme, sand, and peach bisque. I thought peach bisque would be my shade, but I was surprised at how dark this was for me. Shade Creme was perfect! I only wish that these shades could be a little less orange over all, as I would love to gift these to my friends who are a little more pale and have pink tones to their skin. Unfortunately if you do not have yellow/warm tones to your skin, these are a no go. Creme and sand were very similar for me, but if you're looking for one with a little less warmth, go with creme, as sand is slightly more yellow. Other than that, love the coverage and its super light-weight! Will definitely purchase again!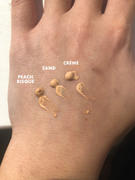 Game changer
Not a make-up wearer - LOVE this product.
Great foundation moisturuzer
Love this product. Goes on lightly and doesn't show lines and wrinkles. Easy to use
USE IT WITH
Continue Shopping →