Double Cleansing: Worth It or Double Trouble?
Covering the basics of double cleansing and why your skin will love – not loathe - the extra step for happy, healthy skin!
Posted on July 22, 2022
Written by: 100% PURE®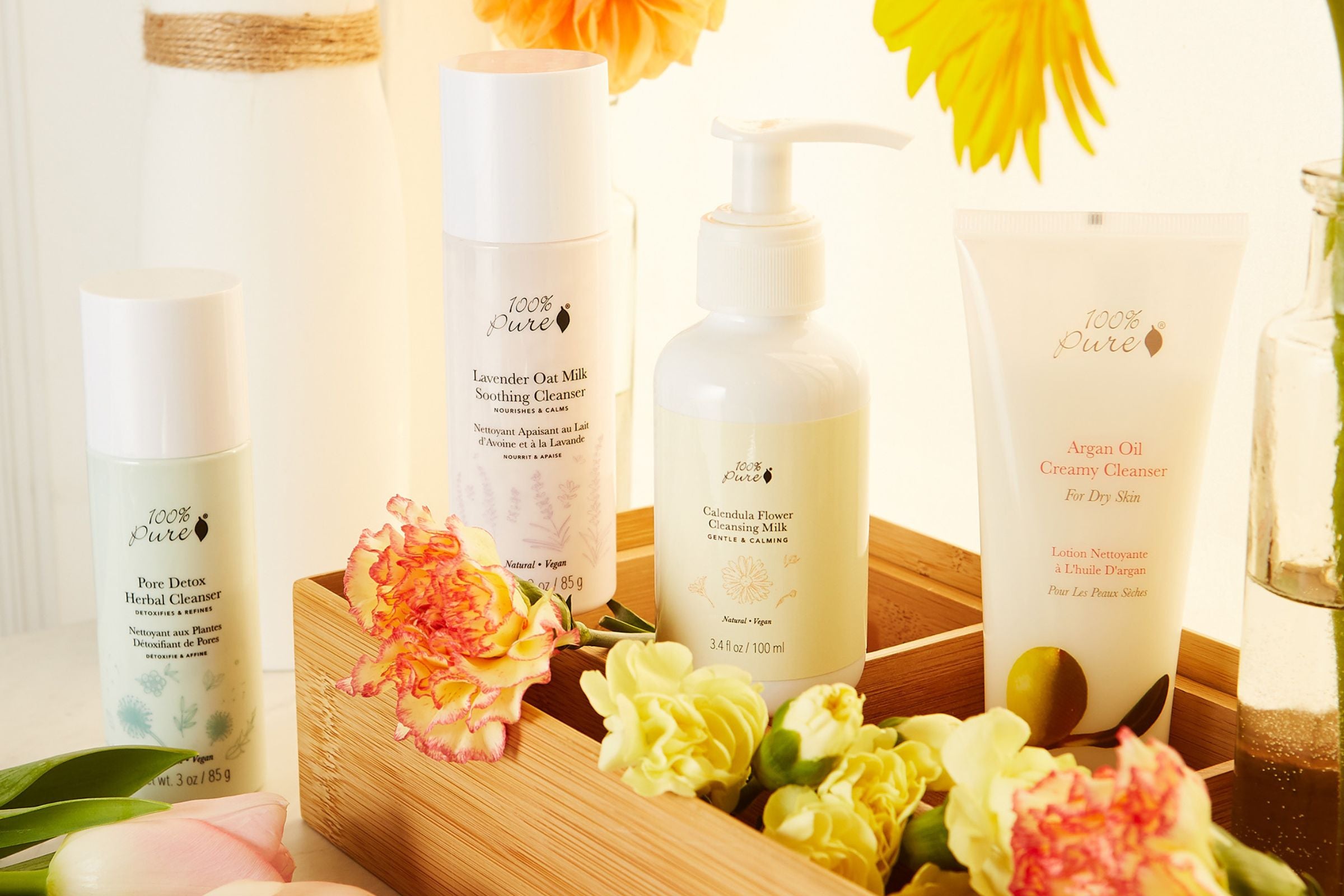 You've probably heard about double cleansing, and might be thinking it sounds like washing your face twice in a row. While double cleansing has been popularized for quite some time at this point, not all of us can really make sense of the 'extra step' method.
'Double' talk aside, double cleansing involves washing your face with two cleansers. Is this two-in-one cleansing session worth it?
Follow along as we cover how to double cleanse, what skin types would benefit the most from it, and the best kind of natural cleansers to use. Ready, set – take two!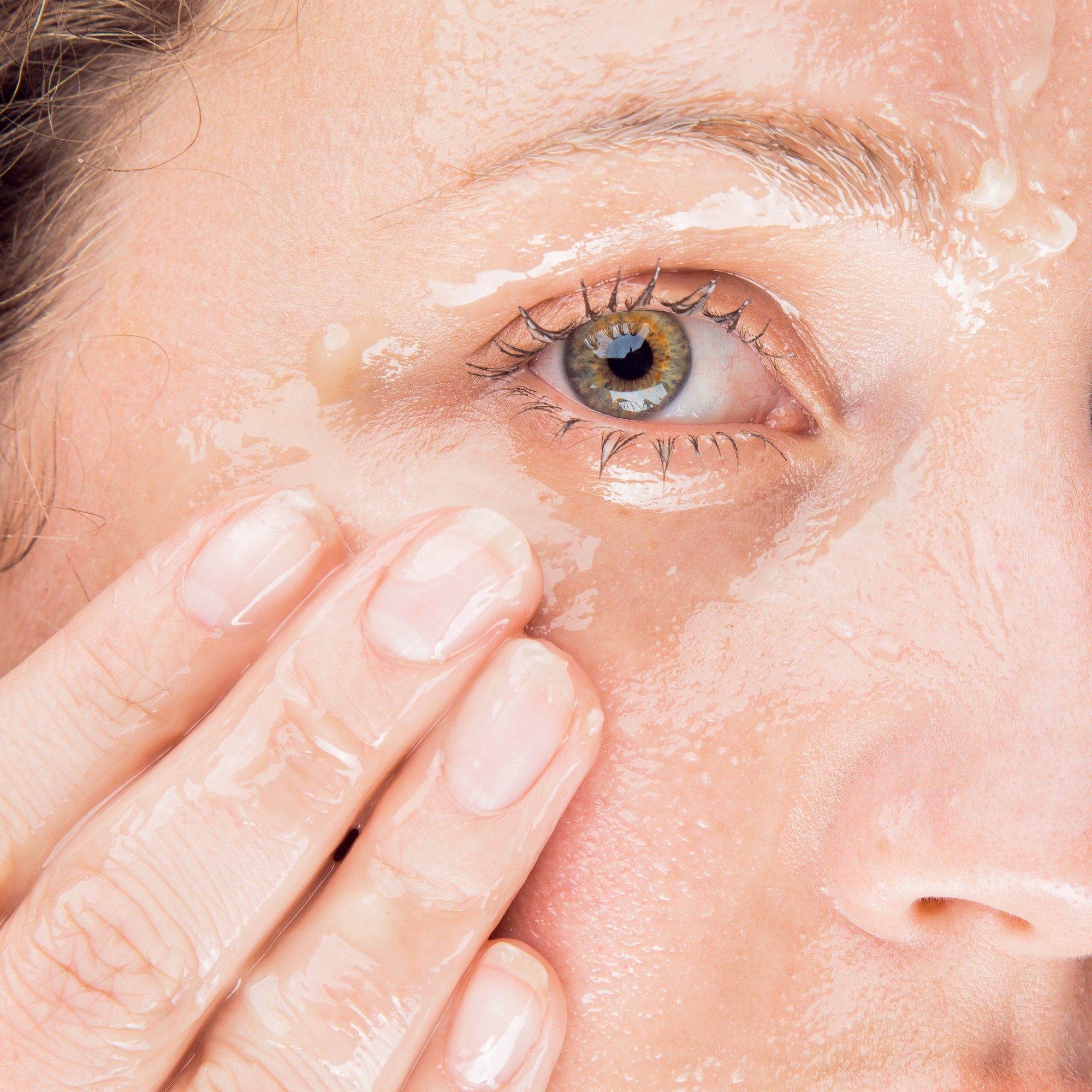 What Is Double Cleansing?
Washing your face seems straightforward. So, it would make sense that double-cleansing might mean washing your face twice in a row. It's partially correct that you are cleansing your face back-to-back. Is double cleansing a 'double' edged sword for clean yet overly taut, plastic-wrap-like skin? No, not when you're cleansing correctly!
Double cleansing involves washing your face with two natural cleansers: an oil-based cleanser, such as a cleansing oil or cleansing balm, followed by a water-based cleanser. Originally a Korean skin care ritual, this two-in-one washing method has been popularized for quite some time with plenty of double-cleansing gurus who will go as far to call it a life-changing step. We're all in!
Is Double Cleansing Effective?
If you've never double cleansed before, there's a good chance you're probably using your regular face cleanser to pull 'double' duty: to cleanse and appease your skin type. But is washing your face with a natural oil cleanser followed by a water-based cleanser effective? Is two really better than one? Why, yes!
Double cleansing works by effectively eliminating the grime, and here's why: the first cleansing step, which is oil-based (or a natural oil), is going to draw out those impurities that are also oil-based, which includes residual sunscreen, sebum, and pollutants from your environment. Then, that second cleansing step helps eliminate everything else, including dirt and sweat.
Think about it: when we don't properly cleanse on a regular basis, grime from our world can deposit into your skin. This buildup can become trapped in the pores, leading to clogging and enlarged pores, while the complexion might become noticeably dull. This duo draws impurities out of the skin like a magnet, and it can do wonders for our skin in the long run.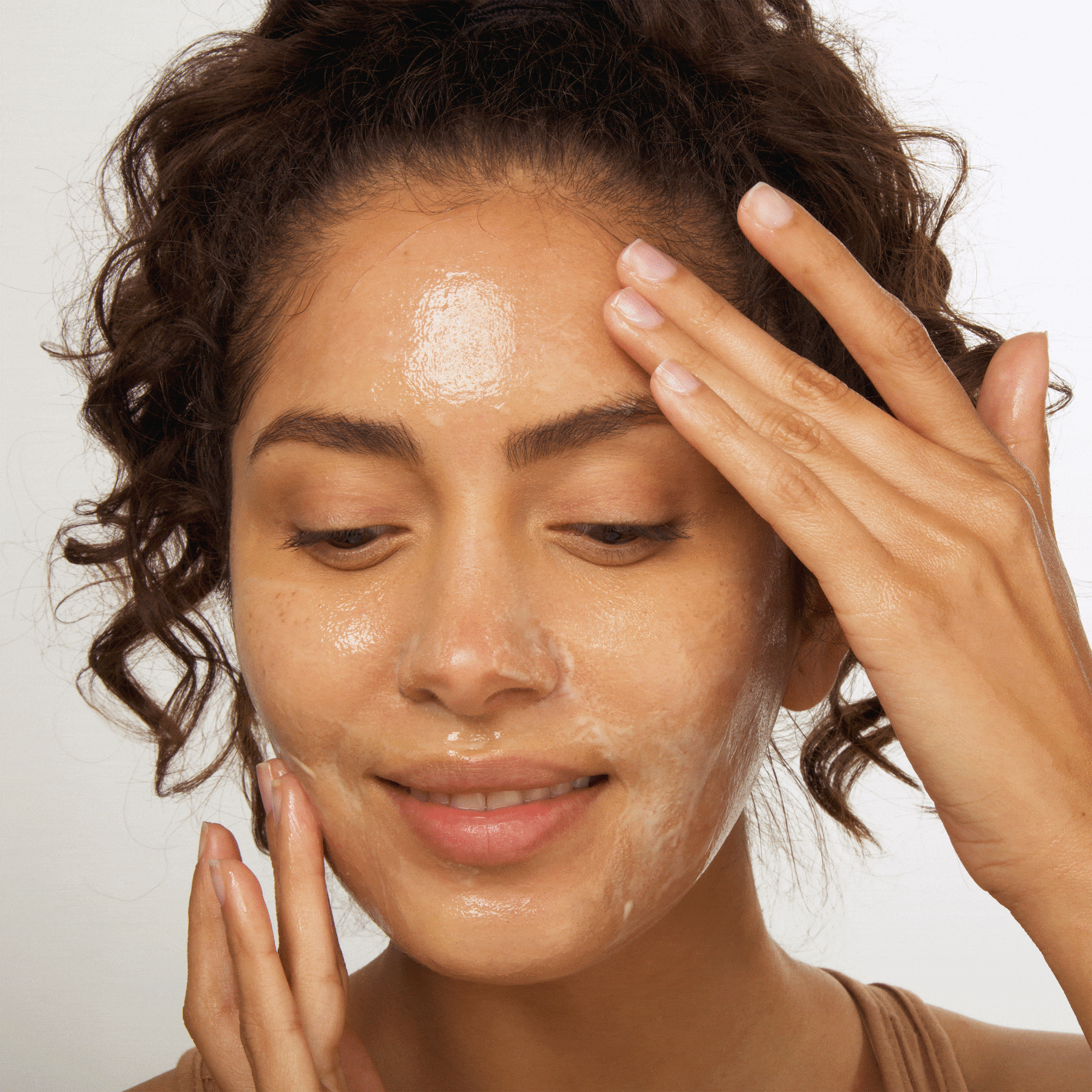 How to Double Cleanse
Before we get into how to double cleanse, let's be real for a second. We get it: sometimes it takes real effort to hype yourself up enough to wash your face. You're super tired, not awake yet, or just don't feel like doing it – so how on earth are we going to convince you to do it TWICE?!
Well, it will turn your skin type into skin hype! That's right!! Double cleansing helps to take EVERYTHING off, but it replenishes your skin so you can maintain skin balance – or happy skin equilibrium! The key is to double cleanse for your skin type. More on that in a bit!
Newsletter
Subscribe
for more blog updates and exclusive discounts
First, check out how to double cleanse for happy, healthy skin no matter your skin type:
Step 1: Apply a cleansing oil, balm or cleansing milk to dry skin.
Step 2: Use your fingers, a cotton pad or a soft cloth to massage the first cleanser into your skin, helping to break down makeup, sebum and sunscreen residue. Rinse with warm water.
Step 3: Apply a water-based cleanser and massage into skin. Rinse and pat your face dry.
PRO TIP: The number of times you can double cleanse in a week is a bit of a trial. We'd recommend starting with one to two times a week, and working up or down from there. If you start to notice any irritation or extra dryness on your skin, cut down on the number of times you double cleanse per week.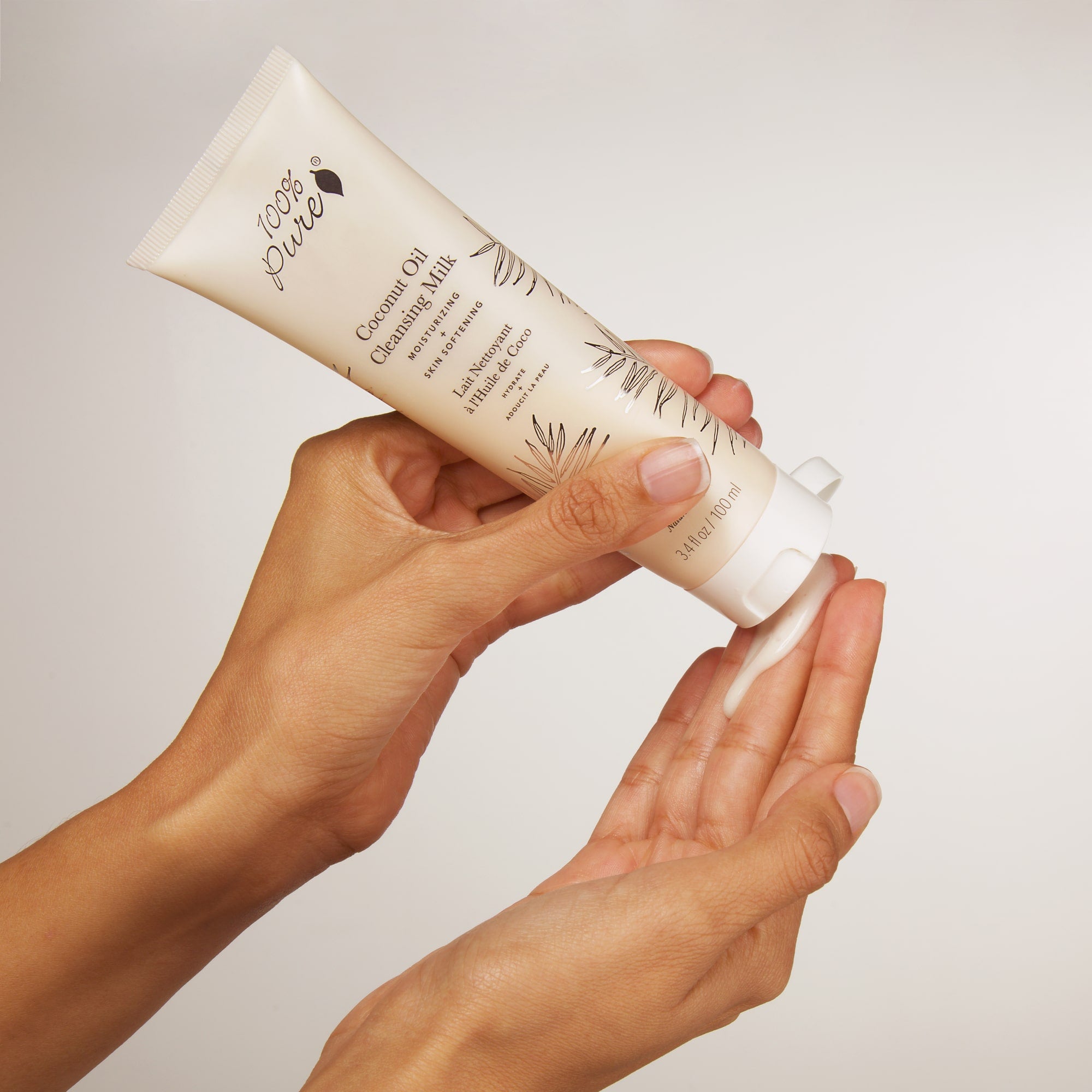 How to Double-Cleanse for Your Skin Type
The process of double-cleansing can vary a bit depending on your skin's type and needs. Here are some natural cleansers and methods to try.
Oily, Acne-Prone Skin
Our sumptuous Blood Orange Cleansing Balm works like a dream when applied to oily or acne-prone skin types and removed with a warm, dampened face towel. This balm is a moisturizing oil-based cleanser made with degreasing blood orange to seriously balance sebum surplus.
It also features coconut and olive oils to sweep away even the most stubborn makeup, debris, and impurities. This balm is also perfect for acne-prone skin due to its antibacterial essential oils and oil molecules that bond to and remove excess oil.
Next, reach for our Pore Detox Cleanser, which is a concentrated powder that's activated by water. That means you can customize its potency and texture depending on your preference. Made with superfine colloidal oatmeal and baking soda, it gently massages and exfoliates the skin for an ultra-thorough cleanse.
Dry/Sensitive/Mature Skin
Cleansing oils work best when applied to dry skin. Rather than rinsing your face with water like you normally would, you'll wipe away your day – or night –activities and impurities with a dampened, warm face towel.
We recommend using our Argan Oil Creamy Cleanser, which is loaded with silky smooth argan oil, infusions of anti-aging rosehip, and antioxidant-rich açai. This moisturizing superstar leaves skin super soft and supple, without stripping healthy lipids or moisture.
After an oil-based cleanser, you'll follow by a water-soluble cleanser to provide a deeper cleanse. A great multitasking superstar for this skin type and double-cleansing is our Coconut Oil Cleansing Milk, which is made with skin softening coconut milk, skin moisturizing coconut oil, hydrating coconut water, and intoxicating vanilla bean.
Normal Skin
For normal skin- or skin that's hit the genetic lottery - meet the skin-balancing floral wonder: Calendula Flower Cleansing Milk. Lighter in formula with the same delightful oil components, this cleanser is your skin type's perfect match. Skin-soothing calendula oil soothes and moisturizes while boosting hydration, as rose and chamomile balance skin's pH for a full refresh.
This dreamy option slips easily across our skin with gentle foaming action. We'll massage it in to get the full benefits before rinsing all our day's activities down the drain. Utilize warm water and our gentle Charcoal Konjac Sponge for the perfect spa-like finish
Follow up with a balancing cleanser, such as our Lavender Oat Milk Cleanser. This unique powder formula features the gently exfoliating properties of baking soda and colloidal oatmeal, while green clay absorbs any excess oil without leaving the skin feeling stripped or dry. A blend of calendula, geranium, coneflower, and chrysanthemum flowers are designed to keep skin in balance while reinforcing tone, texture, and hydration.
So, after this info and tips, is it worth the extra minute or 'two to use TWO' (say that twice) natural cleansers in one session? If you choose to incorporate or try double cleansing as part of your skincare routine, then congrats: you're a double cleanse convert! As the saying goes, it takes teamwork to make the dream work!
We carefully hand-select products based on strict purity standards, and only recommend products we feel meet this criteria. 100% PURE™ may earn a small commission for products purchased through affiliate links.
The information in this article is for educational use, and not intended to substitute professional medical advice, diagnosis, or treatment and should not be used as such.
Sign up to our email newsletter for more blog updates and exclusive discounts.
< Older Post | Newer Post >