https://purity-res.cloudinary.com/image/fetch/q_auto:best,f_auto,fl_lossy,w_auto,c_limit,dpr_auto/https://cdn.shopify.com/s/files/1/0648/1955/products/96bda55ff12ba0a8b3f28237627cb800_72291f5d-a7aa-4339-9d16-2c7d0fb4cb56.png?v=1530052581
https://purity-res.cloudinary.com/image/fetch/q_auto:best,f_auto,fl_lossy,w_auto,c_limit,dpr_auto/https://cdn.shopify.com/s/files/1/0648/1955/products/aOsy5FMuSJmUNCcoK82d.jpg?v=1544741284
https://purity-res.cloudinary.com/image/fetch/q_auto:best,f_auto,fl_lossy,w_auto,c_limit,dpr_auto/https://cdn.shopify.com/s/files/1/0648/1955/products/IZPUcxwATsq494BTg2Vn.jpg?v=1544741284
https://purity-res.cloudinary.com/image/fetch/q_auto:best,f_auto,fl_lossy,w_auto,c_limit,dpr_auto/https://cdn.shopify.com/s/files/1/0648/1955/products/3Q5qncV5QYO4Em5Tq5tZ.jpg?v=1544741284
https://purity-res.cloudinary.com/image/fetch/q_auto:best,f_auto,fl_lossy,w_auto,c_limit,dpr_auto/https://cdn.shopify.com/s/files/1/0648/1955/products/7Fhd2M86R3aobeh98ihF.jpg?v=1544741284
https://purity-res.cloudinary.com/image/fetch/q_auto:best,f_auto,fl_lossy,w_auto,c_limit,dpr_auto/https://cdn.shopify.com/s/files/1/0648/1955/products/kYaWEDxPSHe4fmHqcRlU.jpg?v=1544741284
https://purity-res.cloudinary.com/image/fetch/q_auto:best,f_auto,fl_lossy,w_auto,c_limit,dpr_auto/https://cdn.shopify.com/s/files/1/0648/1955/products/v1nW77M3TG2U2O1gXWYL.jpg?v=1544741285
https://purity-res.cloudinary.com/image/fetch/q_auto:best,f_auto,fl_lossy,w_auto,c_limit,dpr_auto/https://cdn.shopify.com/s/files/1/0648/1955/products/Df06URkSsG0NYEGym8ip.jpg?v=1544741285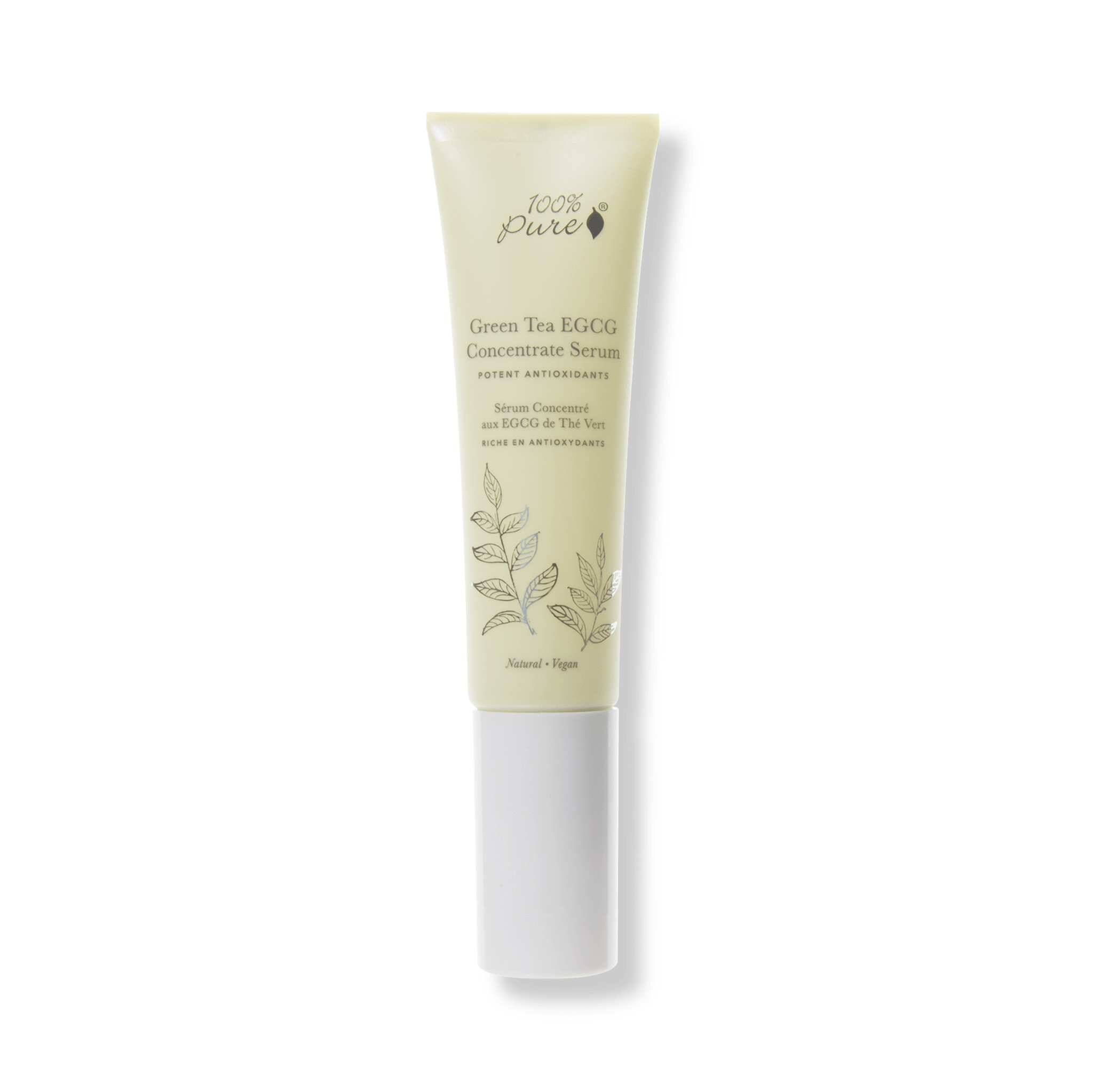 Green Tea EGCG Concentrate Serum
Natural

Vegan

Cruelty Free

Gluten Free
Lightweight, hydrating serum concentrated with EGCG, the key antioxidant in green tea that can delay signs of aging, and caffeine to tone, brighten, and depuff.
For Normal, Dry, Oily, Combination Skin Types

Daily protective serum concentrated with organic green tea and a potent dose of EGCG, the key phytonutrient in green tea. Green tea is an antioxidant that can help to delay signs of aging such as sagging skin, sun damage, age spots, lines, and wrinkles. Green tea's caffeine content can also calm redness, reduce the appearance of dark circles and puffiness under eyes, and enliven dull complexions.

Directions

After cleansing and toning, gently pat a quarter sized amount of serum onto face (including eye area) and neck. Serums may be layered. Use AM and PM.

Every ingredient we use is beneficial, here are a few:

Acai

Acai heals and protects with antioxidants.

Goji Berry

Goji Berry boosts collagen production and skin elasticity.

EGCG

EGCG protects from free radical damage.

Green Tea

Green Tea tones and protects with antioxidants.

Yerba Mate

Yerba Mate boosts skin firmness and elasticity with antioxidants.

Complete list of ingredients:

Organic Aloe Barbadensis (Aloe) Water, Organic Glycerin, Organic Lonicera Japonica (Honeysuckle) Flower Extract, Xanthan Gum, Hyaluronic Acid, Organic Ilex Paraguariensis (Yerba Mate), Organic Rosa Canina (Rosehip) Oil, Organic Persea Gratissima (Avocado Oil) Organic Camelia Sinensis (Green Tea), Organic Euterpe Oleracea (Acai), Organic Lycium Barbarum (Goji Berry), Olive Squalane, EGCG, Organic Essential Oil Blend: Citrus Aurantium Bergamia (Bergamot) Fruit Oil, Cedrus Atlantica (Cedarwood) Bark Oil, Vetivera Zizanoides (Vetiver) Root Oil, Citrus Sinensis (Blood Orange) Oil, Salvia Officinalis (Sage) Oil, Lavandula Angustifola (Lavender) Oil
Customer Reviews
skin
company
serum
texture
toner
face
ingredients
moisturizer
pump
amount
Everyday moisturizer
I love this stuff. I use it as an everyday moisturizer since every other moisturizer I have ever used in my entire life breaks me out. It does the job for me. My only complaint is the price. It's expensive for a smallish tube, but it's worth it to me. I'm done with my first tube and will be repurchasing.
Favorite serum
This serum is super light weight and feels amazing on the skin. A little goes a long way. I hope they never discontinue this product because it is my new favorite. I use it both AM & PM
Green tea love
I really enjoy this moisturizer. I only use it at night since it is a smaller bottle. I've had it since March & there is still a bit left. I only use 1 pump. It smells nice too & is light and creamy.
Great Serum
Great serum! Does not clog my acne-prone skin and it calms some inflammation. I put it on at night and it helps with dark spots and smoothing out the skin.
I feel like it works so well
I personally feel like this product is working really well on my skin. I wish it was glass packaging though!
Complete the Package
Continue Shopping →