https://purity-res.cloudinary.com/image/fetch/q_auto:best,f_auto,fl_lossy,w_auto,c_limit,dpr_auto/https://cdn.shopify.com/s/files/1/0648/1955/products/PfxAx88QRTWLWIvqU8vR.png?v=1537463932
https://purity-res.cloudinary.com/image/fetch/q_auto:best,f_auto,fl_lossy,w_auto,c_limit,dpr_auto/https://cdn.shopify.com/s/files/1/0648/1955/products/Phav8b6dRJih5Sv2DDyY.png?v=1537463932
https://purity-res.cloudinary.com/image/fetch/q_auto:best,f_auto,fl_lossy,w_auto,c_limit,dpr_auto/https://cdn.shopify.com/s/files/1/0648/1955/products/x1A5VnUS5WdsiS7WkqYx.png?v=1537463932
https://purity-res.cloudinary.com/image/fetch/q_auto:best,f_auto,fl_lossy,w_auto,c_limit,dpr_auto/https://cdn.shopify.com/s/files/1/0648/1955/products/Pkle3yrDT2qele4MP2Dk.png?v=1537463932
https://purity-res.cloudinary.com/image/fetch/q_auto:best,f_auto,fl_lossy,w_auto,c_limit,dpr_auto/https://cdn.shopify.com/s/files/1/0648/1955/products/PcPJAYIoRhGzKRW3mcjf.png?v=1537463932
https://purity-res.cloudinary.com/image/fetch/q_auto:best,f_auto,fl_lossy,w_auto,c_limit,dpr_auto/https://cdn.shopify.com/s/files/1/0648/1955/products/m7smvyRwQPuHlJYXB8tj.png?v=1537463932
https://purity-res.cloudinary.com/image/fetch/q_auto:best,f_auto,fl_lossy,w_auto,c_limit,dpr_auto/https://cdn.shopify.com/s/files/1/0648/1955/products/CcxvXijASlmL90hg9Rg0.png?v=1537463932
https://purity-res.cloudinary.com/image/fetch/q_auto:best,f_auto,fl_lossy,w_auto,c_limit,dpr_auto/https://cdn.shopify.com/s/files/1/0648/1955/products/vh662mQRQuRHH4eqXEMg.png?v=1537463932
https://purity-res.cloudinary.com/image/fetch/q_auto:best,f_auto,fl_lossy,w_auto,c_limit,dpr_auto/https://cdn.shopify.com/s/files/1/0648/1955/products/ipBq7yISRAST2a6xu9KQ.png?v=1537463932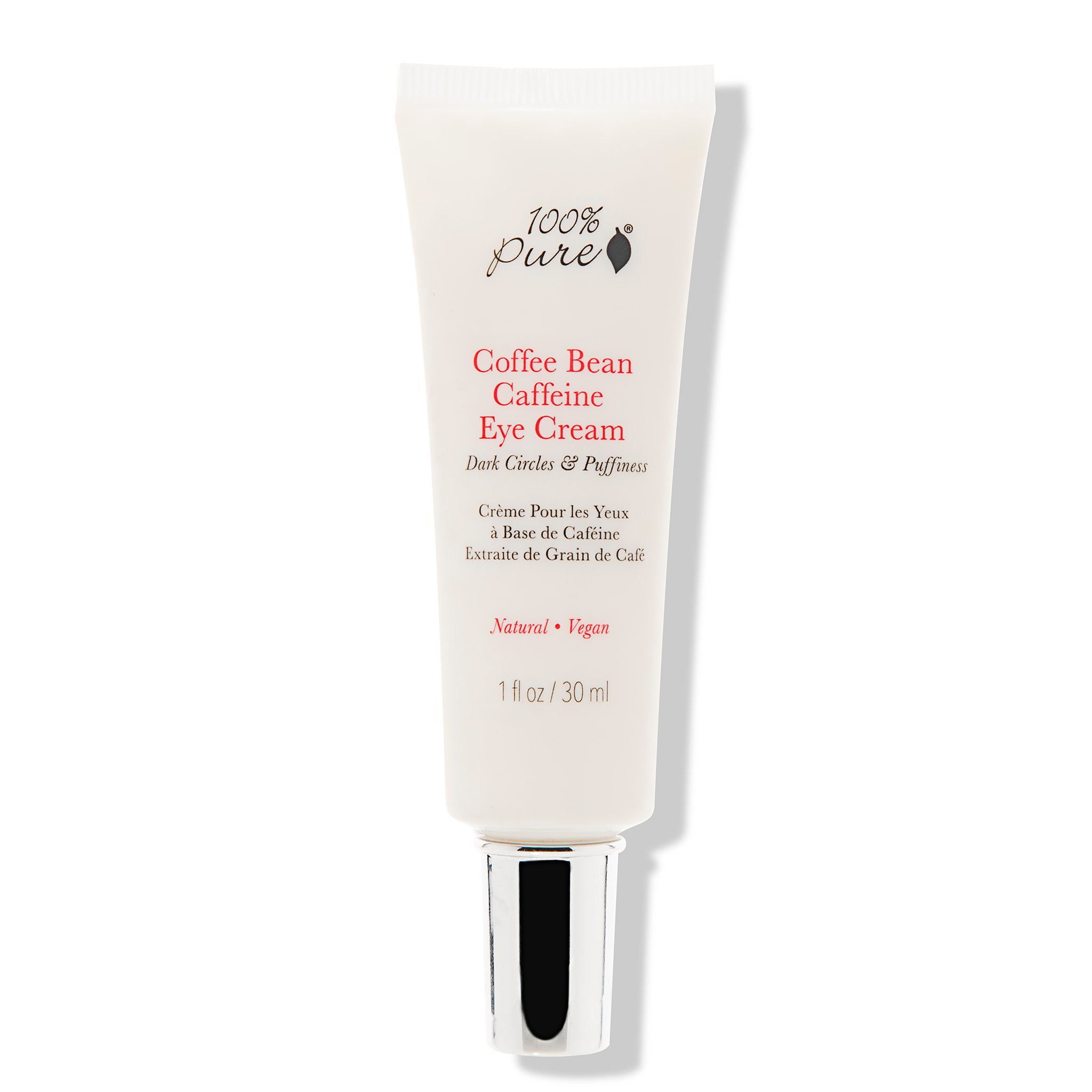 Coffee Bean Caffeine Eye Cream
Natural

Vegan

Cruelty Free

Gluten Free
Anti-inflammatory, caffeine rich green tea and coffee de-puffs while increasing circulation to brighten dark circles. Concentrated with potent anti-aging vitamins, antioxidants, and nourishing rosehip oil to make eye area look more awake and more youthful. Truly, 100% PURE.

** Results of an independent clinical 4 week study

GOOD BYE TO PUFFY EYES!

83% saw immediate reduction of puffiness
97% saw reduction of puffiness with continued use

SAY NO TO DARK CIRCLES!

73% saw an immediate reduction of dark circles
87% saw reduction of dark circles with continued use

SAY YES TO MORE HEALTHY, BEAUTIFUL, YOUTHFUL LOOKING EYES!

87% say they look more 'awake, rested and refreshed'
80% say that it instantly helped reduce the look of lines and wrinkles around the eye area
97% say skin around their eyes was softer and smoother
93% say it reduced the appearance of fine lines and wrinkles with continued use
100% say it improved skin hydration and moisturization
say it improved skin firmness/elasticity
say that the eye cream absorbs well

Every ingredient we use is beneficial, here are a few:

Vitamin E (Tocopherol)

Vitamin E restores and protects from free radical damage.

Vanilla Planifolia

Vanilla Planifolia conditions hair and skin.

Coffee Cherry

Coffee Cherry fights and lessens wrinkles.

Green Tea

Green Tea tones and protects with antioxidants.

Green Coffee

Green Coffee boosts collagen production and blood circulation.

Complete list of ingredients:

Aloe Barbadensis (Organic Aloe) Leaf Juice*, Rosa Centifolia Flower Water (Rose Hydrosol), Rosa Canina Seed Extract (Rosehip Oil), Coffea Arabica (Green Coffee) Seed Extract, Camellia Sinensis (Green Tea) Leaf Extract, Tocopherol (Vitamin E), Sodium Ascorbate (Vitamin C), Extracts of Coffea Arabica (Coffee Cherry) Seed, Rosmarinus Officinalis (Rosemary) Leaf, Origanum Vulgare (Oregano) Leaf, Thymus Vulgaris (Thyme) Flower/Leaf, Hydrastis Canadensis (Goldenseal), Vanilla Planifolia (Vanilla Absolute) Fruit, Euphorbia Cerifera Cera (Candelilla Wax) * Certified Organic
By using hashtag #100percentpure or #nodirtybeauty, I hereby grant to 100% PURE (Purity Cosmetics), it subsidiaries, agents and affiliates, the unlimited worldwide, perpetual, unending right to use, reproduce, distribute, and convey my image/photograph in any format or medium now known or subsequently developed, to modify and edit my image/photograph, to combine my image/photograph with other images, video, audio, text and other media, to create derivative works incorporating, including or based on my image/photograph. This grant shall be construed broadly.
---
Coffee Bean Caffeine Eye Cream
has a rating of
4.6
stars based on
1630
reviews.
Customer Reviews
eye cream
eyes
skin
smell
puffiness
dark circles
cream
tube
eye area
stuff
Miracle
I bought this along with the retinol eye cream and these two products combined were the only things that cured my eyelid eczema!!! I was struggling so much with eyelid eczema this winter, and anytime there's breakouts again, this product heals it right up. Being a makeup artist, have a smooth surface to work with is SO CRUCIAL! I'm finally able to make more posts. :)
Amazing eye cream!
As a new mom I definitely needed this! It did a great job of keeping my eyes protected through zero sleep. Great texture and lasted ages. Will keep using. Highly recommend.
LOVE
Ok I absolutely LOVE this product. The smell is amazing!! I love the consistency of the cream and how it makes my skin feel tighter. HIGHLY RECOMMEND THIS PRODUCT!!
Love this eye cream
Best smelling eye cream! Best results noted in reducing my dark circles and bags under the eyes. Highly recommend this eye cream.
The best eye cream I've tried
So this may be a bit pricey per ounce, but I loved what it did for my bags under my eyes so much that I used it as a face cream. Not only does it decrease the puffiness under your eyes and the purple-ish coloration that I have had most of my life, but it doesn't cause me to break out. I have particularly difficult skin and have tendencies towards all sorts of acne, so this stuff was a godsend (that being said I am looking at other products 100% pure has out there that are actually geared towards skincare). Everyone has different skin and maybe this isn't the product for you, but I found this to be the only product to actually do anything for the bags under my eyes.
Complete the Package
Continue Shopping →