Simple Steps of How to Use Body Scrub to Get Great Skin
Need-to-know tips for full body exfoliation, featuring our new sea salt body scrubs!
Posted on November 7, 2023
Written by: 100% PURE ®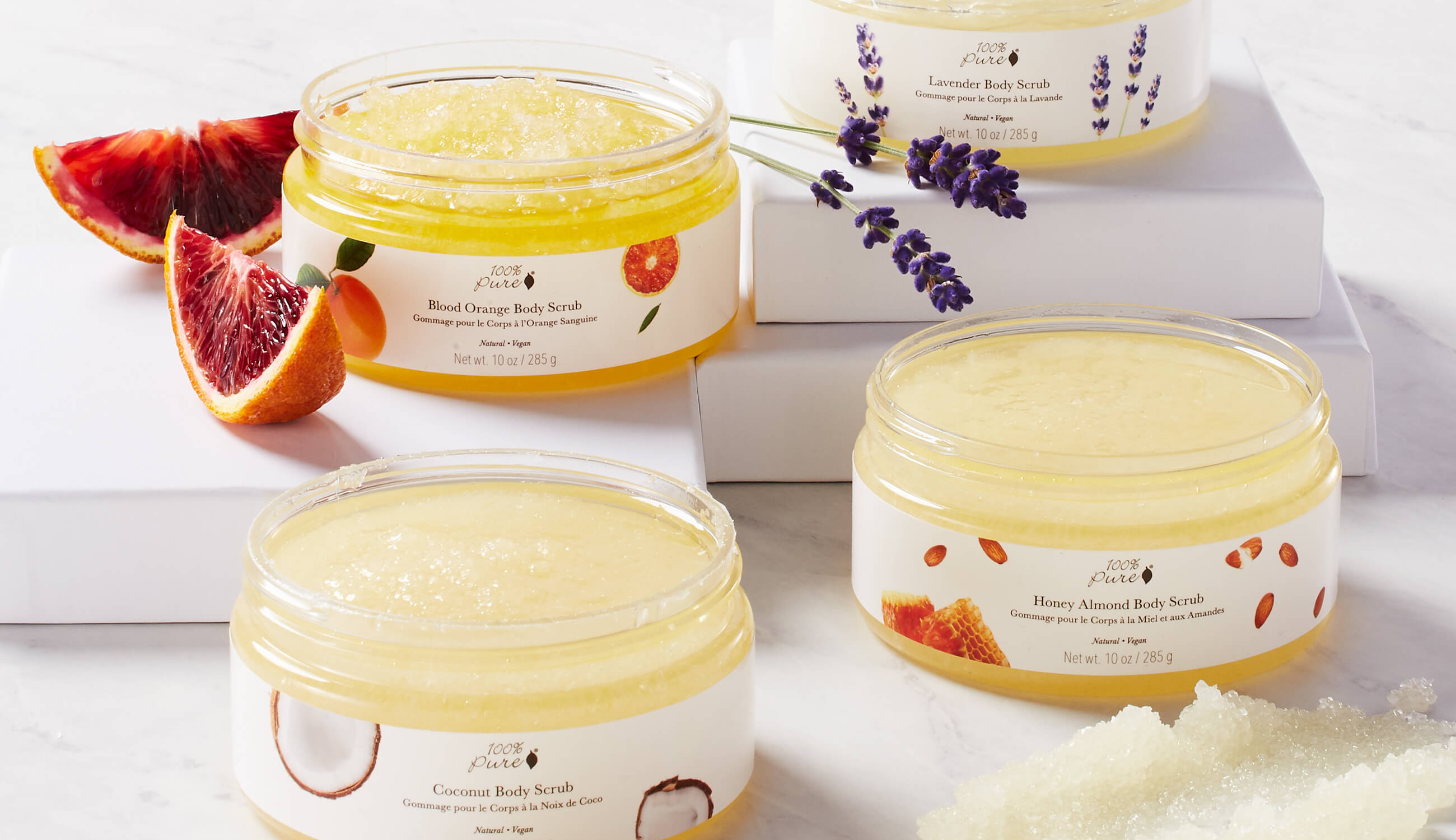 Exfoliation can work wonders on skin that's a little rough around the edges. Bumps, flakes, dry patches? They'll be ancient history once you nail down a proper full body exfoliation routine.
The key to exfoliating is using natural, earth-friendly exfoliants and nourishing oils. Otherwise you might fall prey to overly dry skin, or be guilty of polluting the environment with toxic byproducts.
It can be hard to find a quality body scrub: made without synthetic dyes, plastic beads, or toxic perfumes. But at 100% PURE, you can shop for clean beauty with confidence, because all of our products are vegan, cruelty-free, and formulated with efficacious plant-derived ingredients. And when you're looking for some natural body exfoliation, our Body Scrubs make the perfect choice!
Stick around for the benefits and uses of a body scrub, and how to use them for softer, healthier looking skin.
Health and Beauty Benefits of Full Body Exfoliation
Dryness, flaking, dullness, and grey patches on the skin can all be improved with regular exfoliation. Fluctuating temperatures can have a harsh impact on our skin, causing it to lose its usual brightness and luster. From environmental factors to free radical damage, your skin deals with a lot on a day to day basis.
Using a body scrub is one of the best tools for returning skin to optimal health. Body exfoliating rejuvenates your skin by buffing away bumps, flakes, and dry skin – that means more radiant skin, and smoother texture overall.
Exfoliation is great for stimulating healthy circulation, removing buildup of dead skin cells, and allowing our skin to better absorb moisture from body creams and body oils.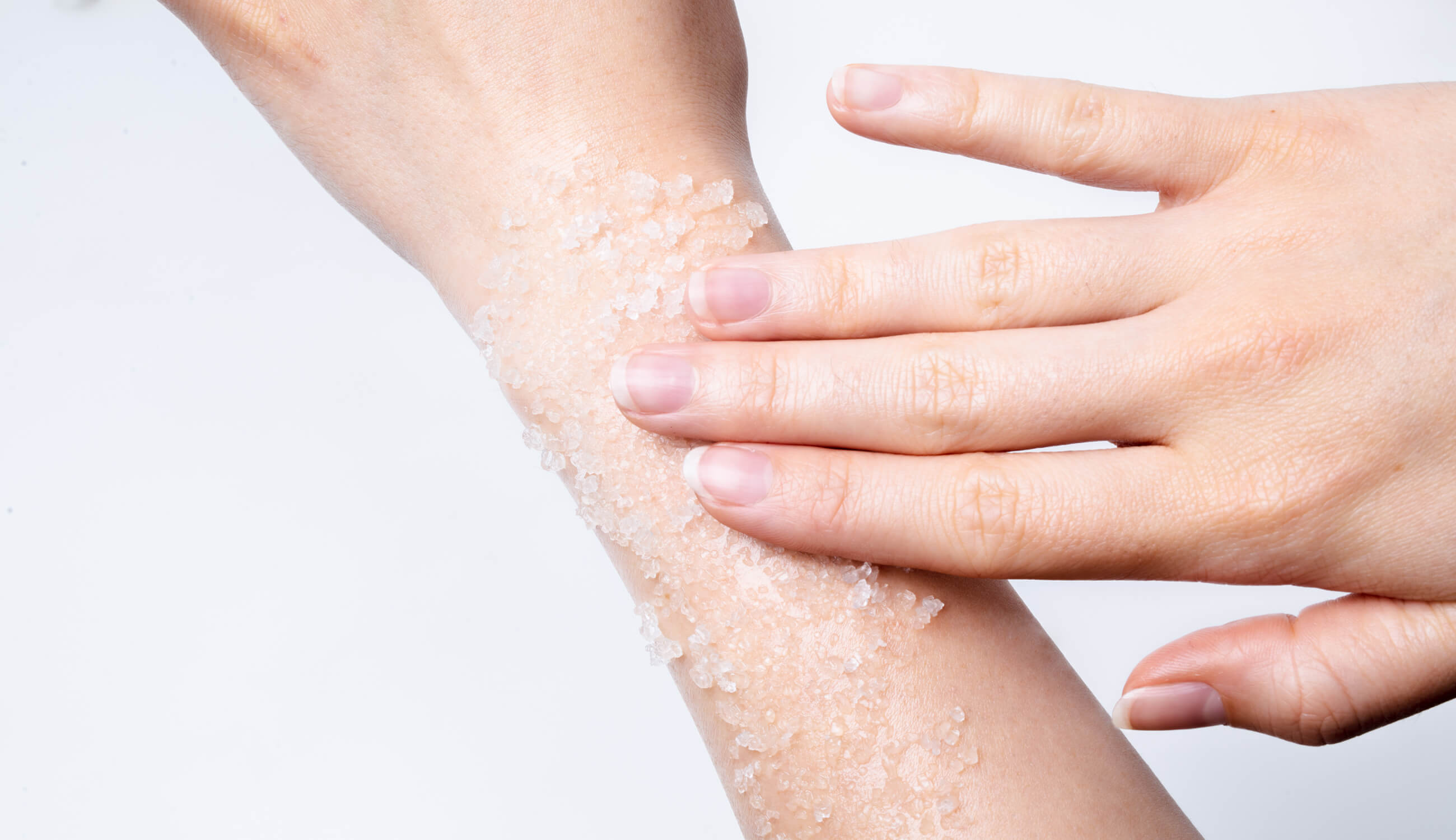 How to Properly Use a Body Scrub
Exfoliation is something that every skin type needs. Those with sensitive or dry skin may prefer a gentler option, while those with body acne may be better suited to clarifying scrubs. No matter your skin type, scrubs are a key player for healthy skin – but first, you'll need to learn how to use them properly.
Check out these quick and easy steps for applying a body scrub:
Step 1
Before scrub-a-dub-dubbing, you'll want to remove surface impurities and excess oils from your skin. Use a hydrating shower gel or moisturizing bar soap, lathered up with a gentle bath sponge.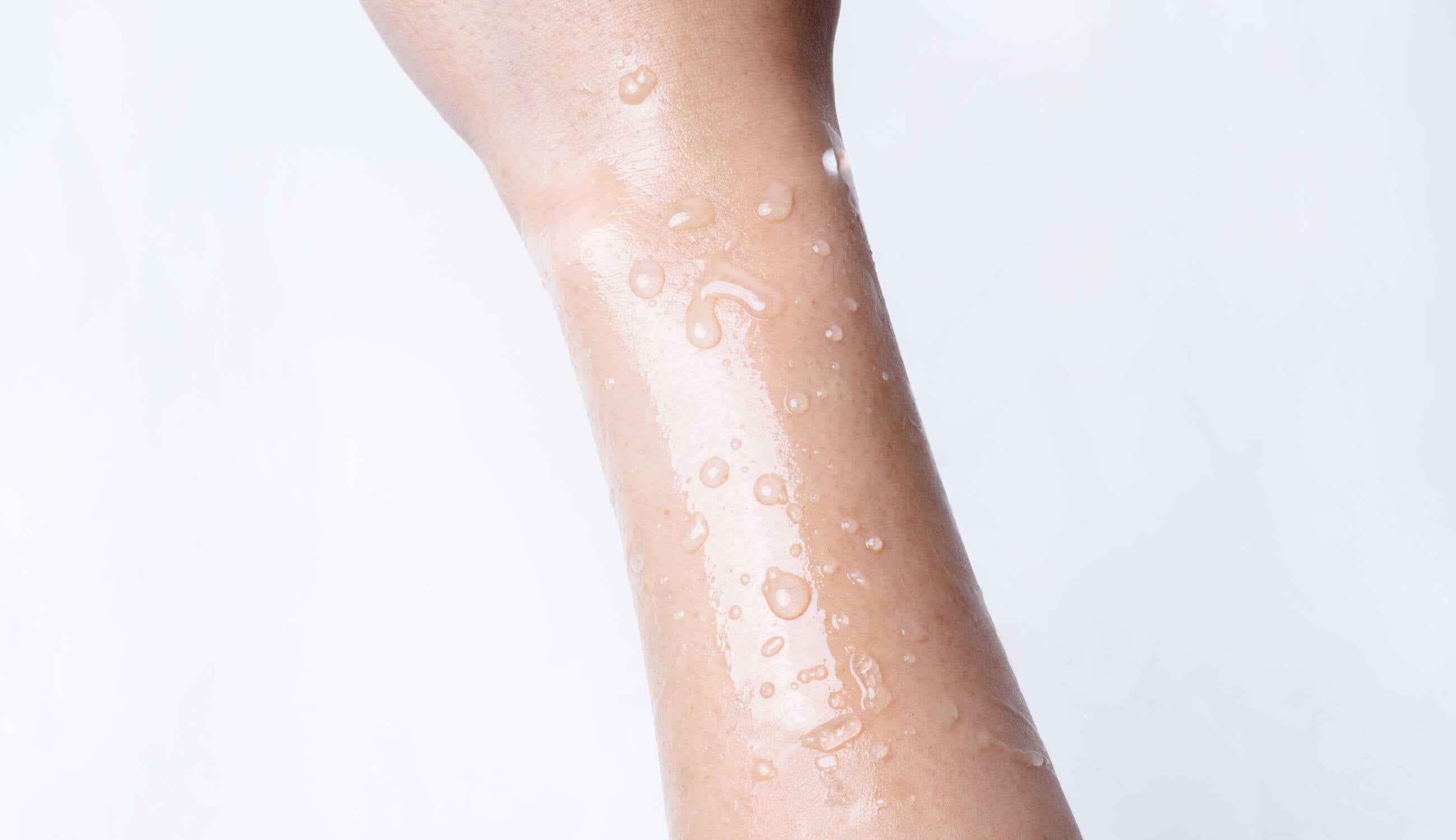 Step 2
Make sure your skin is thoroughly wet and softened with warm water – overly hot water can dry out and sensitize your skin.
Massage body scrub onto clean, wet skin while in the shower or bath. Pay extra attention to dry, rough areas like the legs, elbows, knees, and arms. Avoid areas of broken or freshly shaved skin, and avoid scrubbing too hard or for too long. Even dry, rough skin is delicate, and will only need about 10 seconds for a thorough exfoliation.
PRO-TIP: The salt crystals in this natural formula will settle to the bottom of the jar between uses. Use clean, dry fingers to stir your body scrub before each use, to ensure oils and salts are evenly distributed and easily spreadable.
Newsletter
Subscribe
for more blog updates and exclusive discounts
Step 3
Rinse thoroughly with clean, cool water and pat dry with a towel. Re-moisturize any extra dry areas, like knees or elbows, with a body butter or body cream. The rest of your skin will be thoroughly moisturized and silky smooth from the oils in the body scrub.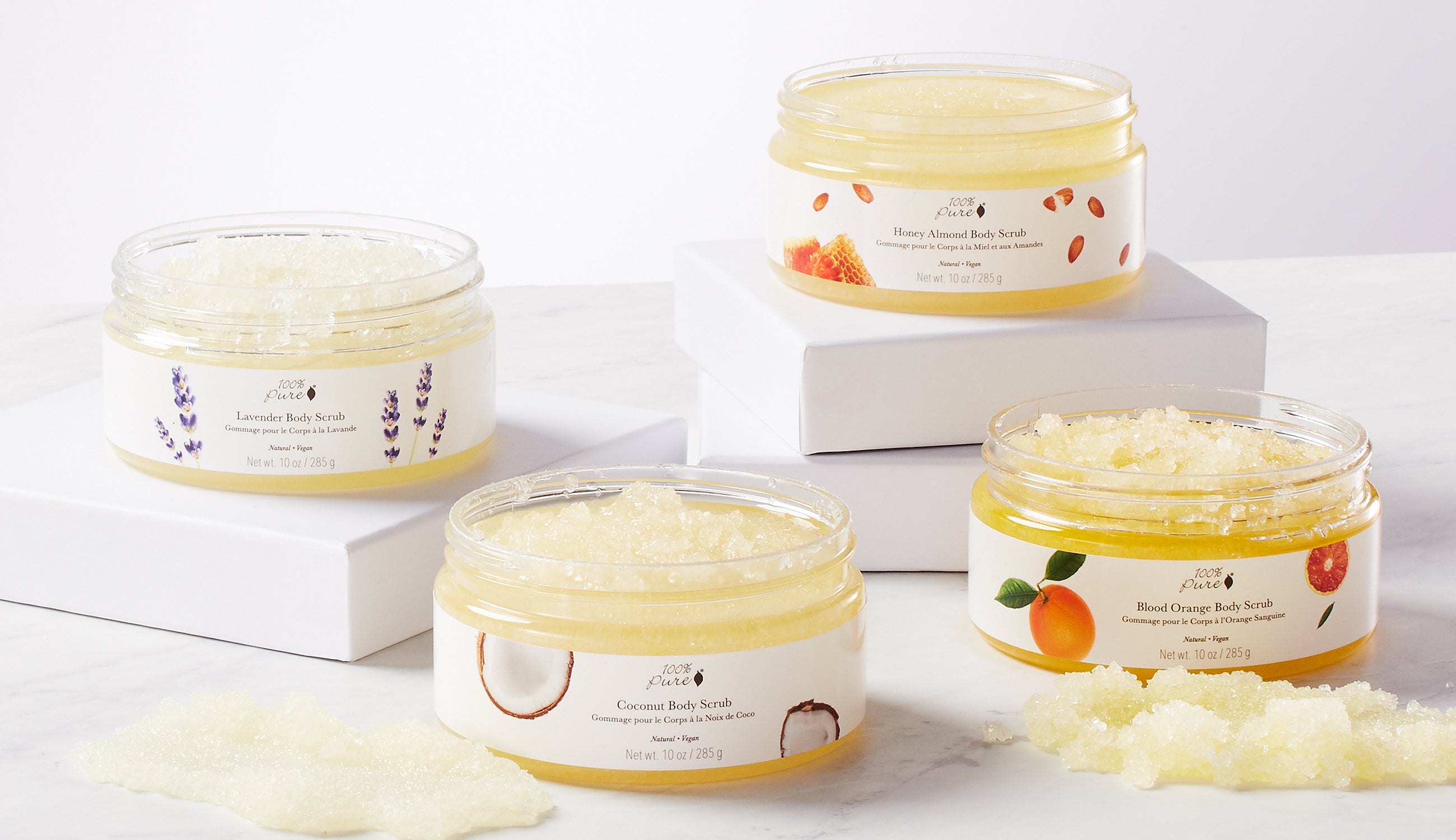 The 100% PURE™ Body Scrub Collection
Our new body scrub collection features 4 delectable scents, derived from essential oils and natural food-grade flavors.
These therapeutic scrubs are designed to calm the mind and lighten the soul, while providing skin with some much needed TLC. Detoxifying sea salt crystals are the star in this collection, joined by a supporting cast of nourishing plant and seed oils for super soft skin.
Each one is special in its own right, so good luck choosing your favorite!
Made with energizing and uplifting citrus oils

Deeply moisturizes skin with silky sunflower and apricot oils

Apricot oil is a non-greasy, moisturizing oil that enhances skin suppleness and elasticity

Orange, pink grapefruit, and lemon essential oils offer antibacterial benefits for acne-prone skin

Citrus oils promote skin luminosity and glow

The perfect pick-me-up for sunny summer mornings

Naturally pigmented by a trio of nutrient-rich citrus oils
Infused with the warm, tropical scent of coconut

Makes you want to sing "Don't Worry, Be Happy" in your shower (which, by the way, is encouraged)

Deeply moisturizes skin with silky sunflower, apricot, and jojoba oils

Jojoba oil has anti-inflammatory and emollient properties that can soothe dryness and chafing for smooth, comfortable skin

The combo of sea salt and coconut transport your skin and senses to a tropical island paradise
Lavender essential oil provides purifying properties to banish acne-causing bacteria

Lavender promotes deep relaxation with aromatherapeutic properties

Sunflower, apricot, and jojoba oils balance the skin's delicate moisture barrier

Vitamin E and lavender essential oil work to lighten the appearance of scarring
Infused with the mouth-watering scent of honeyed almonds (but it's totally vegan!)

Leaves skin silky smooth to the touch after exfoliation with a blend of sunflower, apricot, and jojoba oils

Sunflower oil is an emollient that's rich in vitamin E and other antioxidants, which are essential for nourishing the skin

Lightly pigmented by natural almond flavor, not synthetic dyes

Smells like a rich, decadent dessert – but with a healthy body polishing bonus!
No matter the season or skin type, body exfoliating is an essential step in your self-care routine. What better way to restore that youthful luster and glow, than with a luxurious body scrub?
Want to de-stress and decompress, but need help planning your DIY spa day? Check out our tips for making your own body scrub and more body nourishing basics.
Frequently Asked Questions About Natural Body Scrubs
What is a body scrub and how does it benefit the skin?
A body scrub is a skincare product designed to exfoliate the skin, removing dead skin cells through abrasion. Exfoliation from a body scrub promotes the regeneration of new skin cells, resulting in smoother, brighter skin. Regular exfoliation can also improve skin texture, aid in moisture absorption, and help prevent ingrown hairs.
How often should I use a body scrub for optimal skin health?
The frequency of body scrub use depends on your skin type and the scrub's abrasiveness. Generally, it's recommended to use a body scrub 2-3 times a week for normal skin. For sensitive or thin skin, once a week is sufficient. Over-exfoliating can strip the skin of natural oils, so it's essential to find a balance.
What is the correct way to apply a body scrub?
To use a body scrub effectively, start with wet skin in the shower—warm water helps to soften the skin and prepare it for exfoliation. Apply the body scrub in a circular motion, starting from the ankles and moving upwards, to boost circulation. Rinse off with warm water and follow with a moisturizer to hydrate the skin.
Can I use a body scrub on my face?
It's generally not advisable to use a body scrub on your face. The skin on the face is more delicate and can be easily damaged by the larger, rougher particles in a body scrub. Instead, use a facial scrub or exfoliant designed specifically for the sensitive skin on the face.
What should I do after using a body scrub to maintain soft skin?
After using a body scrub, it's important to hydrate the skin to maintain its softness. Pat your skin dry with a towel and apply a rich body lotion or oil while your skin is still slightly damp to lock in moisture. Also, ensure you're drinking plenty of water to keep your skin hydrated from the inside out.
We carefully hand-select products based on strict purity standards, and only recommend products we feel meet this criteria. 100% PURE™ may earn a small commission for products purchased through affiliate links.
The information in this article is for educational use, and not intended to substitute professional medical advice, diagnosis, or treatment and should not be used as such.
Sign up to our email newsletter for more blog updates and exclusive discounts.
< Older Post | Newer Post >